Simon Sherrington
Contributing Analyst,
Heavy Reading
Simon is an independent consultant who contributes regularly to Heavy Reading and to other Heavy Reading projects...
MORE
Danny Dicks
Contributing Analyst,
Heavy Reading
Danny is an analyst and consultant with more than 20 years' experience in technology markets who contributes regularly to Heavy Reading Insider and to other Heavy Reading projects...
MORE
To view reports you will need Adobe's Acrobat Reader. If you do not have it, it can be obtained for free at the Adobe web site.


REPORTS
EXECUTIVE SUMMARY
The 3GPP's standards for Long Term Evolution (LTE) Release 13 (frozen) and 14 (nearing completion) are associated with the term LTE-Advanced Pro (LTE-A Pro). Vendors building the many Release 13 and 14 features into their solutions, and operators deploying them in their networks, can apply this term in their marketing. But as with previous milestones in network technology, what is meant to clarify sometimes has the opposite effect.

While one of the key attributes of LTE-A Pro networks is faster speeds for users, this is reliant on suitably capable devices – and these are currently not available. "Gigabit LTE" is the current state of the art in commercial networks.

2017 will be the year of LTE-A Pro – although vendors might not describe it quite like that. While the focus of the mobile industry will be firmly on 5G, numerous technology paths are being followed by operators that will involve the deployment of 3GPP Release 13 features this year.

Carrier aggregation will continue to be used throughout 2017, in a variety of bands and modes. True multi-Gigabit LTE networks that really meet the LTE-A Pro targets of >3 Gbit/s throughput in the downlink are a couple more years into the future, however; by then, some of those will be "5G," using pre-standard Release 15 features.

LTE-Advanced Pro: Deployment Progress reviews the state of LTE-A Pro technology development and deployment. It highlights the key networking features encapsulated by LTE-A Pro, and shows how far vendors and operators have got in terms of developing, trialing and, in some cases, deploying the technologies. It also profiles leading vendors of mobile RAN systems, as well as a leading LTE-A Pro chipset vendor, showing how far along they are with implementing Release 13 standards in their technologies, how they are differentiating their approaches to LTE development in advance of the advent of 5G and how far they have come in terms of trialing and deploying the Release 13 networking features.

VIEW COMPANIES COVERED
VIEW TABLE OF CONTENTS
VIEW EXECUTIVE SUMMARY AS PDF


Key characteristics of LTE-A Pro networks are that they should be able to deliver peak throughput in excess of 3 Gbit/s (compared with in excess of 1 Gbit/s for LTE-A networks), and should exhibit latencies lower than 2 ms (compared with latencies lower than 10 ms for LTE-A networks). The following excerpt lists some of the key features that are enshrined in 3GPP Release 13 (and set to be enshrined in Release 14). They represent just a subset of many features and specifications covered by the two releases.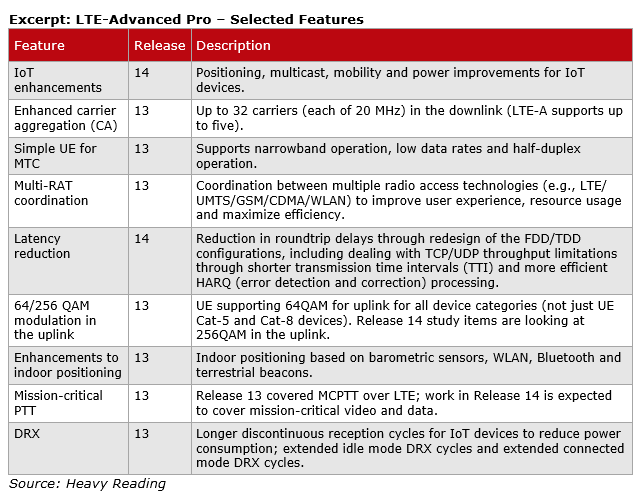 LTE-Advanced Pro: Deployment Progress is published in PDF format.