Craig Leddy
Contributing Analyst,
Heavy Reading
Craig is a veteran cable industry writer, speaker and market analyst, and a regular contributor to Heavy Reading...
MORE
To view reports you will need Adobe's Acrobat Reader. If you do not have it, it can be obtained for free at the Adobe web site.


REPORTS
EXECUTIVE SUMMARY
During a recent Light Reading Live conference on service provider security, experts made an assessment of the current state of hacking threats, cyberattacks and video piracy that can best be summed up in two words: nothing good.

Following a spate of recent breaches of service provider infrastructure around the globe, security experts foresee an increase in attacks designed to disrupt service, steal confidential data, extort ransom or pirate content. Together, these criminal activities comprise a multi-pronged threat on service providers and the pay-TV business.

For pay-TV providers, security used to be a more straightforward process because video was delivered in a linear chain. Cable, telco and satellite companies could employ encryption and conditional access systems (CAS) while content providers could largely rely upon digital rights management (DRM) solutions. But in today's IP world of multiple platforms and devices, security is much more complex.

Traditionally, pay-TV providers have used dozens of weapons to combat pirates, including encryption, subscriber authentication, DRM and disabling unauthorized devices. But, according to security experts, these techniques will only be successful in the future if they are combined with IT security in a holistic way to protect the entire enterprise. Security experts recommend a holistic approach to pay-TV security in which protections and policies for video, data and operations are integrated into a tight defense.

Based on the views of many security experts, most service providers are not adequately prepared for the widening array of attacks that can strike throughout their operations. As providers add more IP devices and apps for video and the IoT, they face increasing exposure to hackers and video pirates. Service providers are in an arms race with hackers, and they appear to be losing. Recent attacks on service providers, content companies – and even governments – show how vulnerable organizations can be.

The other important element is the human factor. Many breaches are found to be the result of human error in failing to erect a defense or making a costly mistake that exposes data. Companies need to hire and retain the right personnel and maintain their security skillsets.

Pay TV Faces New Security Threats: Are Providers Ready? assesses the new threats facing pay-TV service providers, including video piracy and cyberattacks, based on analysis by security technology experts. It discusses the vulnerabilities that are exposing providers, as well as new solutions for protection. The report includes an overview 10 pay-TV security suppliers that offer products in the U.S. cable market.

VIEW COMPANIES COVERED
VIEW TABLE OF CONTENTS
VIEW EXECUTIVE SUMMARY AS PDF


Today, pay-TV service providers and content companies face a wider variety of security threats than ever before. As highly visible enterprises, they increasingly have become targets of hackers and pirates who not only want to steal video, but also seek to disrupt service, extort ransom and steal sensitive company or customer information. The excerpt below shows the widening range of security vulnerabilities that pay-TV providers face.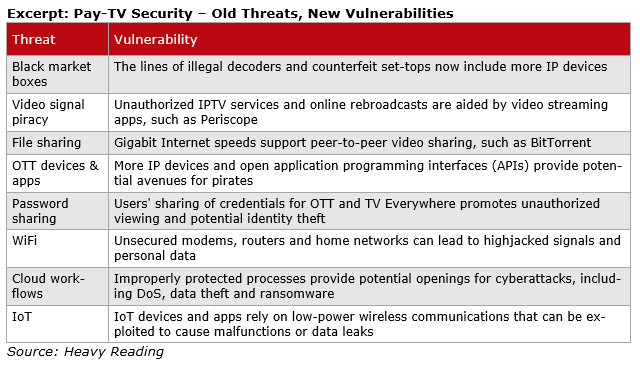 Pay TV Faces New Security Threats: Are Providers Ready? is published in PDF format.