Sandra O'Boyle
Senior Analyst – CEM & Customer Analytics,
Heavy Reading
Sandra leads Heavy Reading's research on customer experience management and customer analytics related to the network and services, customer care, billing and marketing...
MORE
To view reports you will need Adobe's Acrobat Reader. If you do not have it, it can be obtained for free at the Adobe web site.


REPORTS
EXECUTIVE SUMMARY
Communications service providers (CSPs) are at a critical point where an intimate understanding of customers is needed to win their loyalty, as well as drive further value from the customer relationship. Customer experience management (CEM) is the process of managing "all customer touchpoints" to ensure a positive relationship with a brand. As digital touchpoints continue to grow, analytics is an essential tool for CSPs in managing CEM. CSPs are implementing analytics to understand not just the health of the network, but the full customer journey and touchpoints, including billing, customer care, etc., as well as real-time service quality and the overall customer experience, across fixed and mobile networks. Of course, the human and emotional element is important as well, but that will come from "knowing" customers better and implementing customer-centric processes.

CSPs have to start somewhere and typically take a use-case approach to customer and network analytics to solve key business problems, particularly around CEM. This can range from understanding churn predictors to gaining insight into customers' actual service experience in real time and taking proactive action if a service is degraded – or, even better, predicting where service could be disrupted and fixing the problem before a customer even notices.

As customer expectations continue to increase and digital competition escalates, there is mounting pressure to deliver an excellent customer experience. For CSPs, this means transforming legacy processes and systems to measure and proactively manage the actual quality of customers' experience in real time. This involves shifting focus from reacting to network issues to predicting what could happen and taking proactive action to avoid subscriber impact.

This is reflected in the move by CSPs to set up service operations centers (SOCs) to monitor and measure the quality of actual services that customers buy, as a way to manage the customer experience. CSPs are also using the single customer experience index (CEI), which represents the sum total of each customer's experience of their CSP, to benchmark customer experience across organizational domains, including across operating companies, raising internal visibility of CEM. This helps to overcome one of the biggest challenges for CSP organizations and culture, because CEM by definition is undermined by siloed activity, technology, analytical insight or strategy.

With CSPs undergoing massive technology change on the network side with the move to NFV and SDN, CEM tools and solutions will be required to manage services and the customer experience more effectively and in real time – for both enterprise customers and consumers. There will also be further challenges to deal with, such as changing business models, e.g., freedom of customers to switch providers with eSIMs, revenue sharing, content and commerce partnerships, mobile advertising, the Internet of Things (IoT), etc.

Analytics-Driven CEM: A Strategic Asset for CSPs looks at the state of CEM in CSPs today, analyzing the market trends that are driving the next wave of customer experience, the competitive landscape for CEM vendors, and how vendors are meeting CSP needs for CEM solutions.

VIEW COMPANIES COVERED
VIEW TABLE OF CONTENTS
VIEW EXECUTIVE SUMMARY AS PDF


The CEM competitive landscape is broadening as CSPs transform their business to be more customer-centric with digital processes and faster time to market with new service launches. Big data analytics and service assurance vendors have shown particular interest in CEM – the former because generic big data and analytics technologies can collect and crunch the range of data sources/metrics needed to create customer experience analytics; the latter because the network is the foundation of a telco business, and therefore the primary source of customer experience.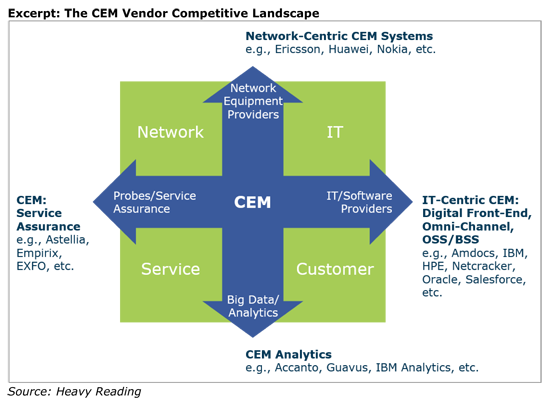 Analytics-Driven CEM: A Strategic Asset for CSPs is published in PDF format.