Craig Leddy
Contributing Analyst, Heavy Reading
Craig is a veteran cable industry writer, speaker and market analyst, and a regular contributor to Heavy Reading...
MORE
To view reports you will need Adobe's Acrobat Reader. If you do not have it, it can be obtained for free at the Adobe web site.


REPORTS
EXECUTIVE SUMMARY
As 2017 promises to be "The Year of Docsis 3.1" for cable, the industry is working to supercharge its Internet delivery upstream. While Docsis 3.0 and 3.1 have set the stage for downstream speeds at gigabit levels, the upstream return path has been limited, putting cable at a potential competitive disadvantage as cloud, video, business services, Internet of Things (IoT) and other rich applications eat up upstream capacity.

To overcome its upstream limitations, the cable industry is rallying around full-duplex Docsis (FDX). As an extension of Docsis 3.1, FDX enables multi-gigabit speeds in the upstream path using the same bandwidth that is used for downstream. It is like a high-speed train going in one direction, sharing a track with a high-speed train traveling in the opposite direction. To avoid a collision, FDX employs echo cancelling technology and unique techniques to eliminate interference.

FDX will not arrive quickly, and it faces challenges. CableLabs specifications are not expected to be completed until the end of 2017, with trials and rollouts to follow in 2018 and 2019. During that time, upstream traffic will grow and cable competitors, including Google Fiber, Verizon, AT&T and CenturyLink, will continue to push their gigabit services.

The rollout of Docsis 3.1 raises the nagging question of whether cable should stick with HFC and Docsis or undergo expensive rebuilds to use fiber-to-the-home (FTTH – also known as fiber-to-the-premises, FTTP). Altice USA, owner of the former Cablevision Systems and Suddenlink Communications, rocked the cable world by announcing that it would forego Docsis in favor of a five-year, all-fiber rebuild plan called Generation GigaSpeed.

It was only a couple of years ago that the cable and broadband industry was debating over the need to provide gigabit Internet service. Today 1 Gbit/s of downstream is a widely assumed goal, multi-gigabit speeds are in the offing and now symmetrical, multi-gigabit upstream capability is being developed.

Each MSO will need to go through its own reality check by forecasting its upstream needs, calculating the costs to implement FDX and estimating the potential business upside. At the least, FDX puts another tool in the toolbox that cable can use to meet customer needs.

Cable Bets on Full Duplex for Symmetrical Broadband explores FDX, including the market drivers, requirements and challenges. It includes an update on Docsis 3.1, recent MSO activity and how the supplier market is shaping up.

VIEW TABLE OF CONTENTS
VIEW EXECUTIVE SUMMARY AS PDF


In addition to extending Docsis 3.1, FDX fits with other networking trends that are taking place from the data center to the node and to the home CPE. In particular, converged cable access platform (CCAP) and remote physical layer (PHY) are viewed as important elements that support FDX. The excerpt below shows some of the technology initiatives that will benefit FDX, and vice versa.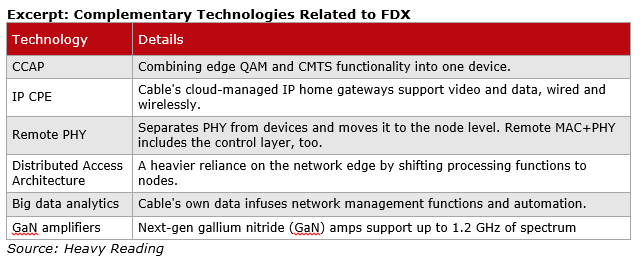 Cable Bets on Full Duplex for Symmetrical Broadband is published in PDF format.