James Crawshaw
Senior Analyst,
Heavy Reading
James leads Heavy Reading's OSS/BSS research service. He examines the breadth of software used by CSPs in customer, business, service and infrastructure management...
MORE
To view reports you will need Adobe's Acrobat Reader. If you do not have it, it can be obtained for free at the Adobe web site.


REPORTS
EXECUTIVE SUMMARY
The operations support system (OSS) is the Cinderella of the telecom industry. For years, it has been confined to the back office while its more glamorous stepsister, the business support system (BSS), has enjoyed lavish attention. Indeed, with the advent of network functions virtualization (NFV), some pundits even suggested that OSS is dead and operators will simply wave a magic orchestration wand to enable fully automated network management.

In reality, however, operators will be running hybrid networks for the foreseeable future, with a combination of physical infrastructure and virtualized network functions (VNFs) used to deliver services. Even in highly virtualized networks, OSS will probably still play a key role as the interface between customer-facing portals and an underlying end-to-end orchestration layer.

As such, operators should use NFV as an opportunity to rethink their OSS, rather than leave it to languish. As in the classic fairy tale, it is time for OSS to come out of the kitchen and step into the spotlight. In this case, that means showing operators how -- if only they would take the trouble to modernize it -- OSS can be an enabler of the agility and flexibility that is at the core of their NFV ambitions.

There are two key factors that have led to OSS becoming a bottleneck for operators: the need to support legacy services and the consolidation of the telecom industry itself. Webscale Internet companies, such as Facebook and Google, face neither of these challenges, as they have mainly grown organically and are facing little pressure to maintain legacy services (viz. Google Buzz, Orkut, Facebook Deals, Facebook Parse). Incumbent telecom service providers often have hundreds of legacy systems and networks dating back to pre-privatization in the 1990s. Each legacy system has to be maintained and integrated with new systems, creating an operational complexity unlike most other industries, let alone Webscale upstarts.

The other factor hampering OSS is that since the dot-com bubble and crash at the turn of the century, telecom operators have grown through a series of mergers and acquisitions. Initially these were driven by a desire for geographic spread, and subsequently by a push for in-country, fixed/mobile convergence. This has led to a tangled web of disconnected operations systems, as the costs and risks of integration have been prohibitive.

Operators are not just thinking from the bottom up about how to reshape their internal IT systems; more pressing, at least to C-level management, is how telcos can learn from the enterprise and consumer IT world (notably Amazon and Google) about how to reposition themselves as service platforms -- or as the marketing folks would say, digital service providers -- rather than just the proverbial dumb pipes. NFV is an enabler in that it should make operators more agile and easier to integrate with third parties. Such openness will be key to monetizing the Internet of Things (IoT).

However, widespread adoption of NFV will only happen when robust management, orchestration and OSS architectures are defined and implemented. Operators that seek to implement NFV without preparing their OSS to support it are unlikely to be successful in capturing the new revenue-generating and cost-saving opportunities that NFV promises. OSS should not be an afterthought; it will continue to be central to the operational efficiency and agility of the service provider.

Next-Gen OSS for Hybrid Virtualized Networks discusses how OSS needs to evolve to meet the needs of hybrid NFV networks. It explores interactions between OSS and NFV Management and Orchestration (MANO) and examines the various open source initiatives that are attempting to define how OSS must change to support the new, dynamic environment of NFV. The report also reviews the next-generation OSS work done by ETSI and TM Forum, as well as Vodafone's proposed OSS architecture under project Ocean.

VIEW TABLE OF CONTENTS
VIEW EXECUTIVE SUMMARY AS PDF


NFV significantly increases the pace of change of network topology, and thus requires greater autonomy and automation in the network. NFV will also require OSS, cloud management, data center management and new orchestration functions to work together more closely. Building a reliable, complete view of a dynamic network across all technology domains and suppliers poses a significant challenge, given the heterogeneous and fast-changing nature of the data. The excerpt below, based on an original Heavy Reading survey, shows that most operators regard OSS integration as a barrier to their NFV deployment.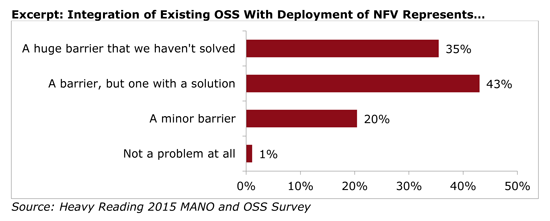 Next-Gen OSS for Hybrid Virtualized Networks is published in PDF format.