Craig Leddy
Contributing Analyst, Heavy Reading
Craig is a veteran cable industry writer, speaker and market analyst, and a regular contributor to Heavy Reading...
MORE
To view reports you will need Adobe's Acrobat Reader. If you do not have it, it can be obtained for free at the Adobe web site.


REPORTS
EXECUTIVE SUMMARY
In 2013, when virtualization was becoming The Next Big Thing, the U.S. cable industry's largest convention held its first panel session on network functions virtualization (NFV) and software-defined networking (SDN). The panelists did their best to define the key virtualization technologies, and they discussed the concepts and promises behind them. But in the end, many of the audience members (including this writer) came away from the panel more confused than enlightened.

As with many emerging technologies, it has been difficult to translate the concepts of NFV and SDN into concrete action. Cable has a long tradition of hardware-based infrastructure: amplifiers, satellite dishes, video servers, edge quadrature amplitude modulation (QAMs), cable modem termination system (CMTS) equipment, modems and set-top boxes (STBs). Software and cloud networking no doubt can be used to manage and improve cable infrastructure and operations, but how can virtualization technologies actually be applied?

Lately, cable's technology community has been exploring the potential for virtualization across virtually every part of the cable distribution chain. Use cases that offer intriguing possibilities and the potential for far-reaching effects are starting to emerge. Based upon recent conference panels, technical papers, interviews and announcements, Heavy Reading has identified four use cases that have become key points of industry focus: virtualized equipment functions, self-service automation, business services and energy savings.

The recent SCTE/ISBE Cable-Tec Expo '16 included a heavy focus on virtualization, including a Light Reading breakfast session on the topic. Unlike the cable convention in 2013, panel sessions discussed concrete applications of virtualization, although they often were tampered with caution about the complex challenges of implementation. It is expected to take five years or more for cable to significantly shake off its hardware legacy and implement virtual technologies.

In a relatively short time, cable has awakened to the promise of virtualization. The industry has moved toward having only a vague understanding of virtualization concepts to making it a primary technology focus. The industry's concentration on NFV, SDN and related technologies was underscored during many panel sessions and discussions at the SCTE/ISBE Cable-Tec Expo '16 and it will continue in other venues.

Virtualization plays a major role in moving cable toward a next-generation smart network, featuring high-speed capacity on-demand, self-automated services, performance optimized through data analytics and greater efficiency overall. The time is ripe for cable to make virtualization a reality.

Four Use Cases for Cable NFV & SDN Virtualization explores virtualization for cable and the four use cases that appear to be most prominent in the industry's agenda. Included is an analysis of the supplier market, including the latest products for virtual CCAP (vCCAP).

VIEW TABLE OF CONTENTS
VIEW EXECUTIVE SUMMARY AS PDF


For cable, the implementation of SDN or NFV technologies is expected to take five years or more. After all, this is an industry that still is wrapping up its transition from analog to all-digital video delivery, which began more than 10 years ago. The transition from all-digital to all-IP and cloud delivery is still in its early stages. Cable's interest in virtualization is tied to many other related initiatives, some of which began before the SDN/NFV trend took hold. Together, these initiatives point in a similar direction: a more intelligent, more automated ultra-high speed network that can handle all manner of services and customer demands in a highly efficient and cost-effective manner. The following excerpt shows some of the technology initiatives that will benefit from virtualization, and vice versa.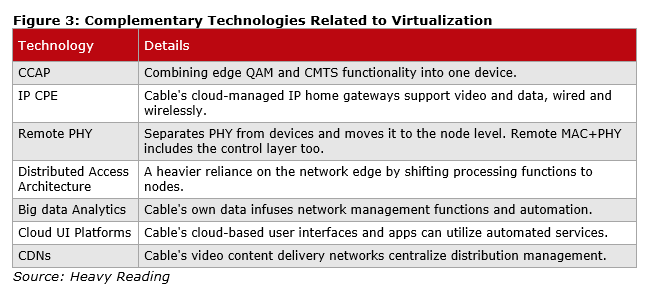 Four Use Cases for Cable NFV & SDN Virtualization is published in PDF format.