Simon Sherrington
Contributing Analyst, Heavy Reading
Simon is an independent consultant who contributes regularly to Heavy Reading and to other Heavy Reading projects...
MORE
Danny Dicks
Contributing Analyst, Heavy Reading
Danny is an analyst and consultant with more than 20 years' experience in technology markets who contributes regularly to Heavy Reading Insider and to other Heavy Reading projects...
MORE
To view reports you will need Adobe's Acrobat Reader. If you do not have it, it can be obtained for free at the Adobe web site.


REPORTS
EXECUTIVE SUMMARY
There has been great excitement about the Internet of Things (IoT) over the last couple of years, with staggering forecasts of the number of devices that will be connected to the Internet – Ericsson's Mobility Report from June 2016 forecasts 26 billion devices by 2020.

Some parts of the IoT have seen significant traction (wearable fitness devices is one example, smart metering and utility grids another), and others are the subject of intensive efforts by major verticals, such as manufacturing (through Industrial Internet Consortium and Industrie 4.0 initiatives), automotive, real estate and retail. Smart city efforts are also driving an increase in connected devices of various kinds, from street lights and transportation infrastructure to dense networks of environmental sensors and building control systems. However, there is a sense that IoT is finding some barriers hard to overcome – and one of the most significant of those barriers is the need for very low-cost, power-frugal and ubiquitous networking.

It is in this context that low-power, wide-area (LPWA) communications technologies have a role to play. Yes, very many connected devices in the IoT will be connected via a gateway, using local networks, such as WiFi, Bluetooth, ZigBee and various proprietary, industry-specific local wireless and fixed protocols, but there is also a large and growing choice of options for direct connectivity to the Internet for devices that are battery powered (and therefore need the communications to be "low power") and too far from a gateway (hence, "wide area") to use these short-range networks.

It is very early days for LPWA. Much of its success will depend upon the anticipated demand for wide-area IoT solutions actually crystallizing. It will also depend upon finding a business model that justifies the costs of roll out but that does not make IoT economically unattractive. Services demanding excessive ongoing monthly payments will look unattractive for many IoT solutions.

Low-Power, Wide-Area Networking: Opportunities & Options considers the types of IoT applications that might be served by LPWA technologies deployed as public networks, it compares the technical capabilities of the various technologies and the network deployment implications. It reviews market traction of each technology and profiles 13 organizations that are providing (or developing) LPWA solutions for customers.

VIEW COMPANIES COVERED
VIEW TABLE OF CONTENTS
VIEW EXECUTIVE SUMMARY AS PDF


The key challenge for companies considering deploying LPWA technologies is to effectively compare them and understand which technologies are best suited to which applications and use cases. They do vary widely. Choosing between them is not an easy task, as the different players tend to present the capabilities of their technologies in non-comparable ways. One of the key differences between the different types of LPWA technology is the spectrum band in which it is designed to work and how much spectrum is needed. This has big implications for both accessibility and performance. The excerpt below shows the key LPWA technologies, the frequency bands used and the bandwidth requirements.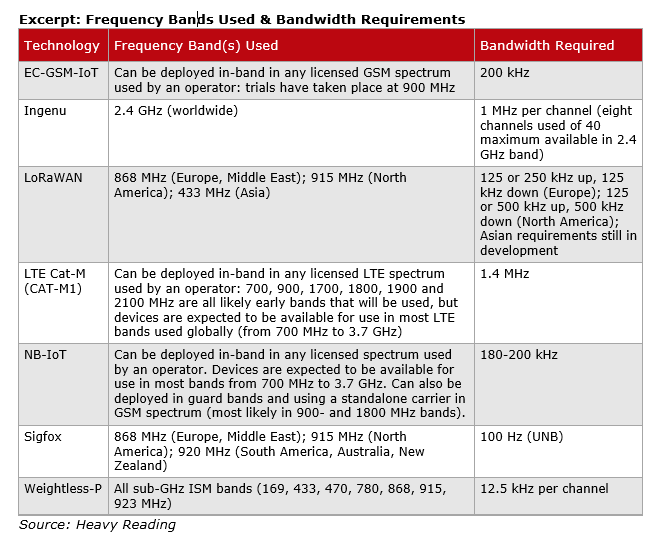 Low-Power, Wide-Area Networking: Opportunities & Options is published in PDF format.