Danny Dicks
Contributing Analyst, Heavy Reading
Danny is an analyst and consultant with more than 20 years' experience in technology markets who contributes regularly to Heavy Reading Insider and to other Heavy Reading projects...
MORE
Simon Sherrington
Contributing Analyst, Heavy Reading
Simon is an independent consultant who contributes regularly to Heavy Reading and to other Heavy Reading projects...
MORE
To view reports you will need Adobe's Acrobat Reader. If you do not have it, it can be obtained for free at the Adobe web site.


REPORTS
EXECUTIVE SUMMARY
Network functions virtualization (NFV) is bringing significant change to the way that networks and services are tested and measurement and monitoring are performed. There is some uncertainty about the future of test, measurement and monitoring, and how it will be provided, not least because existing testing standards and practices are becoming less relevant as large carriers create new ecosystems that vendors need to fit into. The new environments in which VNFs are deployed can add complexity – and a potential increase in the need to test the security of networks and services. And while there are new, agile and scalable ways of carrying out testing and monitoring, as well as new tools that can be deployed more widely to deliver more data in a more continuous and automated way, there are some tradeoffs to be made and strategies to define.

The test and measurement (T&M) vendor landscape is poised for change as the sector gets to grips with the changes that NFV is bringing. Not only are there new things to test, there are existing things to test in new ways, and using tools that are themselves becoming virtualized – something that brings specific procedural challenges.

The T&M vendor community is rising to the challenges it has been given and seeing opportunities ahead, though the big impacts will not be felt until NFV becomes more widely deployed for real, outside PoCs, over the next two years. One vendor told us that overall NFV is currently only having a relatively small impact on its business, and that it was not seeing serious dents in legacy testing revenues or significant new revenue from NFV testing – in other words: commercial sales activity (at least for this vendor) hasn't really taken off yet.

Test & Measurement for NFV examines the approaches being taken in testing, measuring and monitoring a virtualized network, and the way the vendors' offerings are changing. Virtualization is blurring the lines between test/measurement and service assurance, and the layers of the technology stack are collapsing – and this report looks at the impact of this on vendors and their service provider customers. In addition to providers of T&M probes and other tools, this report profiles a testing services consultancy that has documented an NFV testing framework, as well as a high-level service assurance solution provider that is competing with assurance platforms built by probe vendors.

VIEW COMPANIES COVERED
VIEW TABLE OF CONTENTS
VIEW EXECUTIVE SUMMARY AS PDF


Virtualized active and passive probes and agents are considered by many vendors to be an intrinsic part of the new way in which T&M will be done in an NFV world. The reasons are that software probes – in particular those that are deployable as VNFs rather than simply as software on COTS hardware – can be deployed relatively cheaply compared with traditional hardware probes and in larger numbers (even within vCPE or at the customer premises), alongside other VNFs. Deployed in this way they can give a much more granular and end-to-end view into the network infrastructure and services than has been possible before.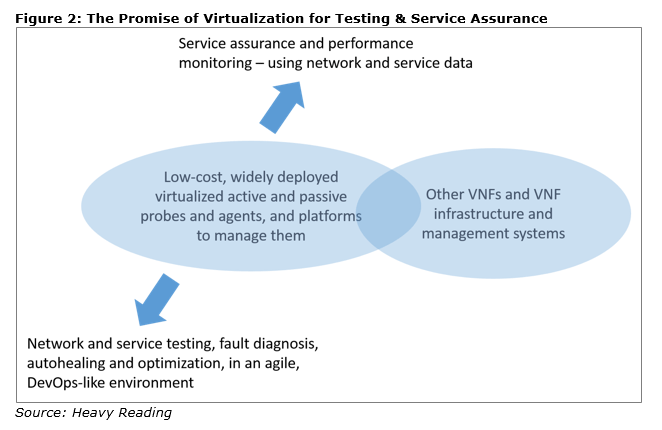 Test & Measurement for NFV is published in PDF format.