Simon Stanley
Analyst at Large, Heavy Reading
Simon is an independent consultant who contributes regularly to Heavy Reading and to other Heavy Reading projects...
MORE
To view reports you will need Adobe's Acrobat Reader. If you do not have it, it can be obtained for free at the Adobe web site.


REPORTS
EXECUTIVE SUMMARY
In the rush to virtualized network applications using software-defined networking (SDN) and network functions virtualization (NFV) the importance of multicore processors and packet processing is often missed. Multicore processors are used in many networking systems including routers, switches, network appliances and server-based platforms used to support virtual network functions (VNFs). Multicore processors, including integrated multicore processors, network processors, general-purpose processors and communications processors, provide significant flexibility and support packet processing from less than 10 Gbit/s to 400 Gbit/s or more.

This is a dynamic marketplace with several recent and significant acquisitions. Until recently, the networking multicore processor market has been dominated by MIPS- and Power-based integrated multicore processors, x86-based general-purpose processors, network processors with proprietary packet engines and communications processors with a combination of technologies. Going forward the picture is more complicated by Intel introducing Xeon D processors with integrated network interfaces and multiple vendors shipping ARMv8-based solutions for a range of applications.

Multicore processors are at the core of most networking solutions, including those using VNFs. Packet processing performance is moving from 10/40 Gbit/s to 100 Gbit/s for many applications and this requires the latest multicore processors, including those that will be available during 2017 with native 100 Gbit/s interfaces. A growing number of systems will require 400 Gbit/s packet processing that at the moment can only be provided by the highest performance network processors.

Multiple vendors have introduced new multicore processor solutions that are gaining some traction in the marketplace. Others are sampling devices but have not yet formally launched. Most of these solutions are squarely aimed at virtualized network applications either targeting highly integrated appliance platforms or more general purpose server platforms. For these applications multicore processor vendors must deliver the full range of support required, including production ready code and complete evaluation platforms.

Multicore Processor Survey: 2017 Market Outlook analyzes the current and projected use of multicore processors by telecom and networking equipment manufacturers, based on the results of an exclusive worldwide survey of engineers, designers, product managers and sales/marketing personnel that work for telecom and networking system equipment manufacturers and suppliers. The responses to our survey make it clear that these devices are critical components in most types of networking equipment, from the access edge to the core of the network.

VIEW COMPANIES COVERED
VIEW TABLE OF CONTENTS
VIEW EXECUTIVE SUMMARY AS PDF


Packet processors cover a wide performance range from less than 500 Mbit/s to more than 400 Gbit/s. There are four types of multicore processor that can be used for packet processing: integrated multicore processors, network processors, general purpose multicore processors and communication processors. Most of these processors can be used for a mix of control and data plane applications. Figure 4 shows the use of packet processors over five surveys: 2006, 2010, 2013, 2014 and 2016. Respondents could select more than one option.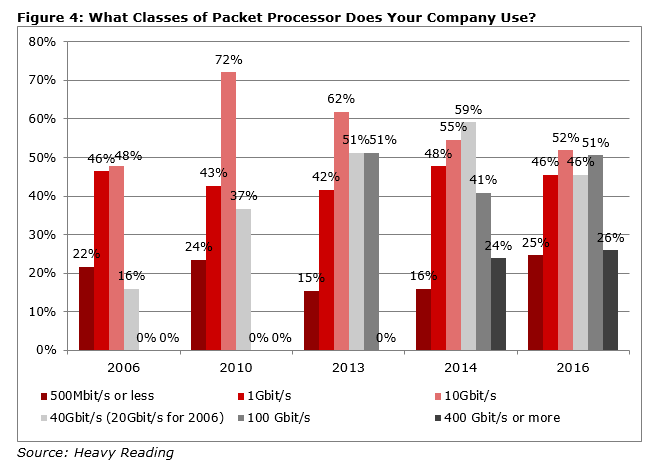 Multicore Processor Survey: 2017 Market Outlook is published in PDF format.