Danny Dicks
Contributing Analyst, Heavy Reading
Danny is an analyst and consultant with more than 20 years' experience in technology markets who contributes regularly to Heavy Reading Insider and to other Heavy Reading projects...
MORE
Simon Sherrington
Contributing Analyst, Heavy Reading
Simon is an independent consultant who contributes regularly to Heavy Reading and to other Heavy Reading projects...
MORE
To view reports you will need Adobe's Acrobat Reader. If you do not have it, it can be obtained for free at the Adobe web site.


REPORTS
EXECUTIVE SUMMARY
After a period of frenzied acquisition of data center facilities, as well as development of data center and hosting service and asset portfolios by telecom operators, several big carriers suddenly seem to have gone a bit cold on the idea of delivering data center services. It has been widely reported in the press that AT&T, CenturyLink and Verizon are considering outsourcing their data center businesses. It is also apparent that indifference to data center investments has not been limited to the U.S., with some operators in Europe and Asia also divesting or planning to divest assets.

But what is going on is complex. Operators all have different motivations for considering divestments. They have been caught in the grip of several competitive and technological forces that have made it much harder to compete effectively in the provision of data center services. These include massive investment by heavyweight players determined to win market leadership of the data center and cloud computing businesses at all costs, evolution of the technologies being put into data centers, changes in the types of services enterprise customers want to buy (and who they are keen to buy them from) and changing opportunities elsewhere within telecom operators' own businesses.

Telecom operators may have thought that large-scale investment in data centers would offer a route to market that would enable them to capture both the cloud and telecom business of large enterprise customers. In fact, data centers have proven to be a route to reaching those customers, but that route has not opened up in the way operators would have wanted. Enterprise customers have often been choosing to use data centers offering a wide choice of telecom companies rather than those with a single provider; this serves to increase competition and drive down the prices of telecom. Data centers have become marketplaces rather than monopoly outlets. This reflects a wider trend in the data center market.

As with outsourcing of the management of other network systems, though, there is a wide divergence of views worldwide about what an operator should consider core business, about what is strategically important and, hence, what needs to be owned and operated in-house and what can be entrusted to, or leased from, a third-party supplier. There are many large telecom operators continuing to invest in full ownership of their data center service stack. These vertically integrated providers offer everything from the property through managed hosting to the cloud services and enterprise application management.

Use of third-party partners is already quite common amongst smaller carriers. AT&T, Tata and Verizon are really the first heavyweight carriers to have either chosen to follow this path or to have publicly admitted they are considering it. This means that while we will see the rise of the reseller, this will not be the sole business model used by carriers to compete in the data center market.

Data Center Outsourcing: Rise of the Reseller examines the data center investment and service strategies of the world's biggest telecom operators. It reviews the trends shaping the data center industry and analyzes how the value chain is evolving. It also profiles a selection of leading carrier-independent data center operators and data center solution providers – many of which have benefited from carriers' data center outsourcing decisions. The report pinpoints what they have to offer to telecom operators considering reducing their activity in the data center and hosting businesses.

VIEW COMPANIES COVERED
VIEW TABLE OF CONTENTS
VIEW EXECUTIVE SUMMARY AS PDF


The term data center outsourcing is used in a very generic sense by the technology media. In fact, "data center services" actually encompass several offerings, as shown in Figure 1. At its most basic level, the provision of data center services includes the supply of suitably provisioned real estate – buildings in the right locations, with adequate power, cooling systems and racks – so that customers can colocate their equipment. Physical security is also a vital piece of the service proposition.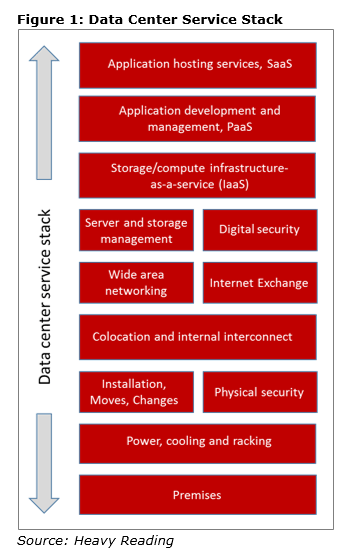 Data Center Outsourcing: Rise of the Reseller is published in PDF format.