Denise Culver
Online Research Director, Heavy Reading
Denise manages Heavy Reading's Thought Leadership Council, which uses a focus group approach to glean insights from CSPs on topics ranging from automation, IoT, 5G, B/OSS transformation, SD-WAN and emerging technologies...
MORE
To view reports you will need Adobe's Acrobat Reader. If you do not have it, it can be obtained for free at the Adobe web site.


REPORTS
EXECUTIVE SUMMARY
Projecting the growth of virtualization is a formidable task. Companies that traditionally invest a great deal of time releasing projections on how much and how fast a technology will grow are having a difficult time pinning down virtualization. Its applicability is constantly evolving, as organizations seek cost-effective technology solutions that coexist with existing infrastructure investments and provide a path to innovation.

Specifically, network virtualization is taking multiple forms, including software-defined networking (SDN) and virtualization of network functions (NFV). And as virtualization grows and continues to surpass borders of functionality that once seemed impenetrable, the importance of hypervisors takes center stage.

Markets that have not traditionally used virtualization are now seeing the potential benefits of using hypervisors for consolidation, safety and security. The automotive industry is looking to securely consolidate its electronic systems for the next generation of connected and autonomous driving cars. High profile security breaches add pressure to the to protect connected cars from attack, and secure virtualization is seen as a technology that can do so.

Virtualization also is becoming key in separating and virtualizing different networks. Internet of Things (IoT) gateways can use virtualization to separate the IT network from the operational technology (OT) – or "things" network – to protect the things from Internet-borne threats. Virtualization allows the two different operating systems (OSs) to securely coexist on the same hardware platform.

It's also used to separate and virtualize different environments on endpoint devices. Many verticals that deal with sensitive information – medical, government, financial and others – struggle with endpoint devices that connect to the sensitive corporate network and also to the Internet. A secure hypervisor can allow the two virtual domains to coexist on a single device, and any communication between them is controlled.

In the data center and server worlds, hypervisor vendors will continue to share strong interest in hypervisors. But outside of those worlds, vendors have both a great deal of promise and a great deal of work to do. Currently, hypervisor growth in other markets has been slow, even though hardware architectures support virtualization and there are benefits to using a hypervisor, but customer concerns are preventing the widespread adoption of hypervisors that have been seen on servers and data centers.

For this to change, vendors must focus on educating the market about hypervisors and virtualization. Vendors that want to experience growth in non-traditional hypervisor markets need to educate users about the fundamental differences that exist across different solutions so customers can make decisions based on the suitability of a hypervisor to meet their needs. This can happen when vendors exit the mindset of using hypervisors for data center and server deployments and, instead, focus on ways to bring such virtualization to new applications and markets.

Future of Virtualization: Focus on Hypervisors examines hypervisors, using data collected from 10 companies that provide such solutions. It analyzes vendor investment strategies, challenges the market faces and trends expected over the next 18-24 months, and offers a detailed comparative analysis of solutions.

VIEW COMPANIES COVERED
VIEW TABLE OF CONTENTS
VIEW EXECUTIVE SUMMARY AS PDF


Vendors were asked to identify the applications for which their customers most want hypervisors. Responses from the companies that answered are shown in Figure 1.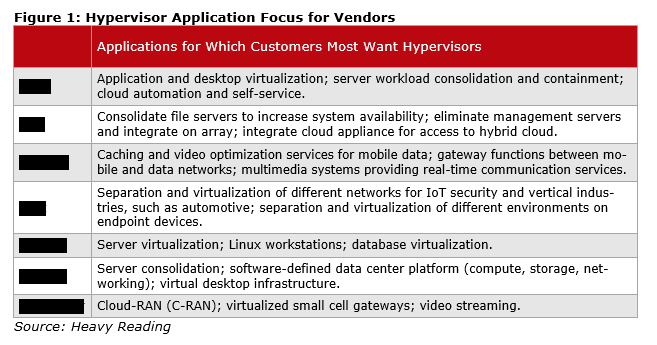 Future of Virtualization: Focus on Hypervisors is published in PDF format.