Craig Leddy
Contributing Analyst, Heavy Reading
Craig is a veteran cable industry writer, speaker and market analyst, and a regular contributor to Heavy Reading...
MORE
To view reports you will need Adobe's Acrobat Reader. If you do not have it, it can be obtained for free at the Adobe web site.


REPORTS
EXECUTIVE SUMMARY
As cable providers continue to deploy WiFi hotspots, their attention is turning to ways to create mobile services capable of capitalizing on the increasing amount of data, voice and video that is traveling wirelessly. Cable's legacy in mobile is marked by partnerships and plans that all crashed and burned, but new technologies, market conditions and business dynamics are fueling interest in mobile plays.

Cable providers have deployed more than 500,000 public WiFi hotspots, and that amount expands into the millions when WiFi homespots are taken into account. WiFi, now the primary distribution vehicle for data in the U.S., provides the foundation for wireless video, voice and data service offerings for consumers and businesses. When coupled with cellular capability, cable could take its wired services into the wireless stratosphere.

Wireless is now a priority for most cable companies, both from an offensive and defensive standpoint. Wireless can do a lot for cable and it can do a lot to cable. While cable providers are seeking to move onto mobile's turf, mobile players are starting to stream video programming packages. Over-the-top (OTT) wireless players, including Google's Project Fi, Microsoft's Skype and Facebook's WhatsApp, and a host of MVNO players add to the competitive dynamics.

As cable providers build out their WiFi platforms, they are creating intriguing possibilities for new wireless services. They can use WiFi as an extension of existing broadband services, create new voice, data or video offerings, join with mobile carriers in an MVNO play or potentially acquire spectrum for their own mobile offering.

Which is the best route? That is what cable companies are asking themselves and studying now. The answer may be different for each company, depending on a variety of factors, including each company's brand, core competencies, delivery capabilities and customer relationships.

Cable has many exciting possibilities as it moves into wireless, but it must be fully prepared for the faster-paced, more-dynamic ups and downs of the mobile market. If cable does not offer and market quality wireless services, customers may not only cut the cord, but hang up on cable as well.

Taking Flight: Cable's New Routes to Wireless Mobility explores cable's WiFi mobility options, the market drivers, opportunities and challenges. Included are updates on WiFi activities by the four largest cable providers and profiles of 12 suppliers that promoted WiFi products and solutions during the INTX 2016 cable and broadband convention in May.

VIEW COMPANIES COVERED
VIEW TABLE OF CONTENTS
VIEW EXECUTIVE SUMMARY AS PDF


WiFi is already the dominant technology for carrying Internet data and it will continue to outpace cellular data. The following excerpt, from a recent report by J.P. Morgan, shows estimates of the average monthly amount of U.S. data usage for cellular versus WiFi.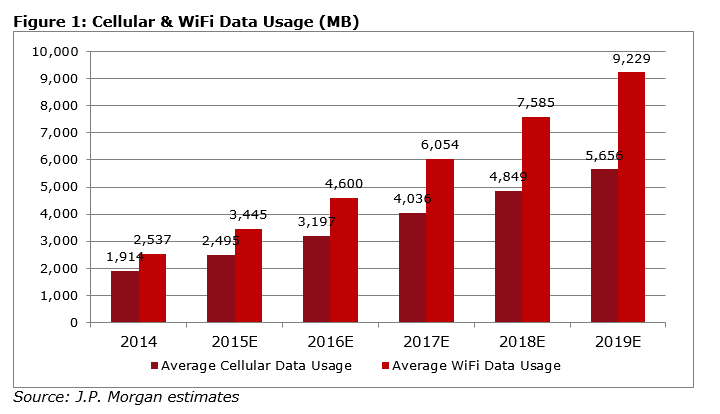 Taking Flight: Cable's New Routes to Wireless Mobility is published in PDF format.