Simon Stanley
Contributing Analyst, Heavy Reading
Simon is Founder and Principal Consultant at Earlswood Marketing Ltd., an independent market analyst and consulting company based in the U.K. His recent work has included investment due diligence, market analysis for investors and business/product strategy for semiconductor companies...
MORE
To view reports you will need Adobe's Acrobat Reader. If you do not have it, it can be obtained for free at the Adobe web site.


REPORTS
EXECUTIVE SUMMARY
Global data traffic continues to grow at more than 20 percent compound annual growth rate (CAGR), and this is fueling demand for 400G connections. The growth in global data traffic is largely driven by businesses and individuals accessing cloud services through mobile devices and fixed-line connections. Hyperscale data centers operated by a wide range of service providers, including Amazon, Facebook and Microsoft, require high bandwidth connections between servers, partly due to increased East-West traffic between servers caused by a shift toward virtualization using software-defined networking (SDN) and network functions virtualization (NFV) between racks and between data centers.

Multiple industry groups, including the Institute of Electrical and Electronics Engineers (IEEE), Optical Internetworking Forum (OIF) and International Telecommunication Union (ITU), have made significant steps forward with standards for 400G interfaces. There are also three specifications for 400G optical modules in various stages of development. The solutions vary significantly in approach across different applications with both electrical and optical interfaces covering 16x25 G, 8x50 G and 4x100 G. There are also solutions covering both NRZ and PAM4 modulation, and parallel fibers or wave division multiplexing (WDM). Flexi-rate coherent interfaces are being widely used for connections between data center with links running at 100, 200 or 400 Gbit/s. These solutions will be in further enhanced with the introduction of Flex Ethernet.

The first 400G components were announced in 2013 with a small number of additional products announced during 2014 and early 2015. Toward the end of 2015 and early 2016 there has been a dramatic increase in the number of 400G components being announced. The 400G products now announced include optical components, optical modules, coherent and PAM4/NRZ transceiver devices, optical transport network (OTN) processors and field-programmable gate arrays (FPGAs) from approximately 20 vendors. By the end of 2016, system manufacturers and service providers will be able to start trialing new 400G solutions for most applications within data centers and between data centers.

Demand for cloud-based services continues to grow, largely driving the increase in global IP traffic. The costs for 100G connections have come down dramatically during 2015/16, and this is set to continue with QSFP28 optical modules and active cables replacing more expensive solutions. The development of cost-effective 25G optics is enabling a new market for 25 GE driving a 2.5 times performance increase over 10 GE for little additional cost. The introduction of dual 25GE network interface adapters/modules and the increase in the number of servers per rack will drive the total server I/O bandwidth per rack toward 5 Tbit/s. Taken together, these developments mean that service providers will need to start deploying 400G connections within the data center and between data centers during 2017/18.

We are still early in the development of this market, but we now have a critical mass of components becoming available for 400G so companies can start developing and deploying initial systems. We are also starting to understand the tradeoffs between different approaches now they are implemented in real devices. The 100G market took a long time to develop and has included many optical module formats and other specifications. The insatiable demand for bandwidth from is already suggesting that 400G will come quicker than some expect. The task of optimizing 400G solutions has hardly begun, but the components covered in this report show that the industry is moving forward quickly to meet the demand.

400G Components Come Out of the Shadows examines 400G components, including what's driving demands and the solutions available. Further, it explores the market and the applications of 400G components. Finally, the report profiles 19 vendors in the market.

VIEW COMPANIES COVERED
VIEW TABLE OF CONTENTS
VIEW EXECUTIVE SUMMARY AS PDF


Global IP traffic has been growing quickly driven by cloud applications used by businesses and individuals. These cloud-based services include traditional services, such as online storage, data management and messaging and by new services including content delivery networks (CDN), big data processing and services for Internet of Things (IoT) applications. The following excerpt shows the global IP traffic forecast from Cisco VNI, June 2016. The forecast shows IP traffic growing by 22% CAGR to 194 exabytes per month by 2020.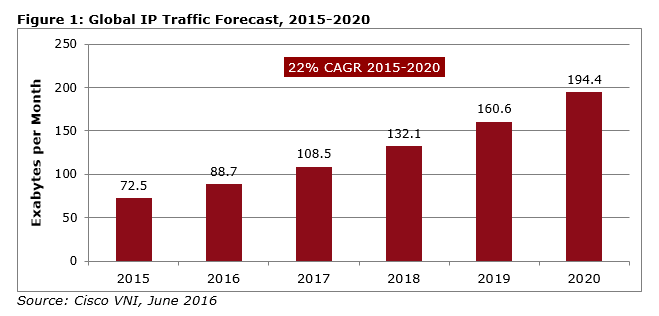 400G Components Come Out of the Shadows is published in PDF format.