Danny Dicks
Contributing Analyst, Heavy Reading
Danny is an analyst and consultant with more than 20 years' experience in technology markets who contributes regularly to Heavy Reading Insider and to other Heavy Reading projects...
MORE
Simon Sherrington
Contributing Analyst, Heavy Reading
Simon is an independent consultant who contributes regularly to Heavy Reading and to other Heavy Reading projects...
MORE
To view reports you will need Adobe's Acrobat Reader. If you do not have it, it can be obtained for free at the Adobe web site.


REPORTS
EXECUTIVE SUMMARY
The technology development of 5G networks is gathering pace, as operators and vendors in some countries aim to get pre-standards 5G networks ready within the next two to three years. Antenna research and development (R&D) is an important part of work on the new radio access technology, particularly for achieving increased spectral efficiency in existing frequency bands and addressing challenges of using new bands at much higher frequencies.

Among the most fruitful areas of development are multiple input, multiple output (MIMO), massive MIMO and the beamforming and steering that active antenna arrays enable. There are significant challenges to be overcome to develop the technology in these areas – and competing approaches are likely to persist for some time. One critical issue is that the ecosystem for large active antenna arrays and integrated antenna/radio frequency (RF) systems cannot really develop at scale until it is clear what frequencies are likely to be used for 5G.

In the rest of 2016 and into 2017/18, we expect more trials and demonstrations of the core antenna technologies for the frequency bands currently used for cellular networks (and which are also relevant for 5G), as well as in mmWave bands that are likely to be made available for 5G.

Beamforming approaches and beam-steering algorithms will be refined and improved; the solutions demonstrated so far, while impressive, are by no means ready for live network deployment.

On the device chipset side, we expect that the requirement to understand which frequency bands will be used will inhibit the development of advanced antenna/RF systems for 5G. Moreover, for the full value of the beamforming/steering concept to be realized will require development of steerable beams on the uplink, but there is limited space for radios and filters on a smartphone. A lot of hard work lies ahead.

Antenna Technology for 5G Networks analyzes the market for antennas, looking at the applications in development and considers how they fit into the 5G movement. Further, the report examines beamforming, and profiles 10 leading players in the market.

VIEW COMPANIES COVERED
VIEW TABLE OF CONTENTS
VIEW EXECUTIVE SUMMARY AS PDF


In some respects, networks for 5G will look different from 4G networks, but in other respects 5G represents a clear evolution of today's technology. Successive releases of the 3GPP standards have added functionality to LTE/LTE-Advanced (LTE-A)/LTE-A Pro. As well as providing a parallel development track alongside work on 5G, the LTE work has used some of the same concepts that are likely to be included in 5G. Among these are the use of dual connectivity (connection of the terminal to more than one base station), interworking with WiFi, License Assisted Access at 5 GHz and full-dimension (FD) MIMO. The following excerpt shows how antenna development can help address the functional and technical requirements of 5G networks.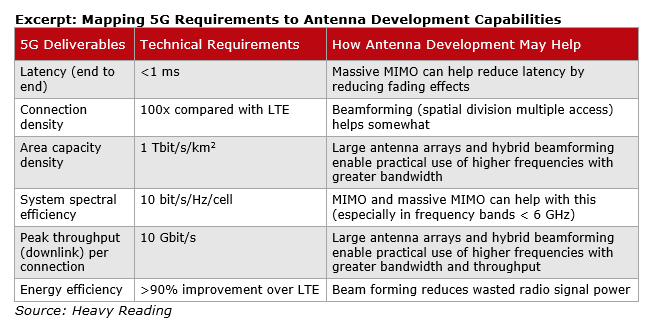 Antenna Technology for 5G Networks is published in PDF format.