Danny Dicks
Contributing Analyst, Heavy Reading
Danny is an analyst and consultant with more than 20 years' experience in technology markets who contributes regularly to Heavy Reading Insider and to other Heavy Reading projects...
MORE
Simon Sherrington
Contributing Analyst, Heavy Reading
Simon is an independent consultant who contributes regularly to Heavy Reading and to other Heavy Reading projects...
MORE
To view reports you will need Adobe's Acrobat Reader. If you do not have it, it can be obtained for free at the Adobe web site.


REPORTS
EXECUTIVE SUMMARY
A blockchain is a digital ledger designed to keep an accessible, verifiable, distributed record of data sets. The original blockchain was created to enable Bitcoin, a digital currency, to be traded between Bitcoin users without any requirement for a single centralized intermediary to process payment flows or even for the people transferring the currency between one another to trust each other. It was established with decentralized, distributed processes designed to minimize the possibility of fraud.

In financial sectors, blockchain technology is the subject of intense focus and a significant amount of financial investment. Proponents of blockchain see it revolutionizing financial processes and industry structures, cutting costs for financial transactions and opening up new markets for micro-transactions and transactions between people without bank accounts. At the same time, entrepreneurs are looking at the concept of the blockchain and thinking about how it might be applied in other industries.

The telecom industry's big questions are: what will the impact be of blockchain on existing processes and costs? Are any existing supply chains under threat? What service or revenue opportunities will blockchain open up for vendors or service providers? Could blockchain offer a new path to growth for network operators?

Using a blockchain is not a magic pill for security – there are still weak points in the system, such as the capability to compromise the end points, such as handsets themselves, and in doing so to get hold of private encryption keys – but these can be and are being addressed by entrepreneurs finding new ways to leverage the blockchain concept.

If they are not already doing so, telecom vendors also should look very hard at the potential of blockchain, both as a means of increasing the auditability and, hence, security of their technologies and as a means of adding value to the solutions they are selling to telecom operators (both fixed and mobile).

Blockchain & Its Impact on the Telecom Industry analyzes the state of the blockchain solutions and services market, looking at the types of applications in development. The report specifically considers what this means for companies in the telecom business. Further, it assesses the impact that different blockchain applications will likely have on telecom network operators and vendors by considering implications for cost-cutting, revenue growth or supply-chain evolution. It also examines the value chain for blockchain-based products and services, considering where operators and vendors are best placed to get involved. Finally, it profiles nine innovative players active in the development and supply of relevant blockchain platforms, products or services, showing how their activities are relevant to telecom operators and vendors.

VIEW TABLE OF CONTENTS
VIEW EXECUTIVE SUMMARY AS PDF


Blockchain will not fundamentally revolutionize telecom service provision itself, but the concept of the blockchain and services built using it offer a range of interesting opportunities to alter business processes and also to underpin some creative service and business model development. It is a potential platform for innovation in the development of complementary services. It could add new mobile payment capabilities for service provider financial service projects (with particular interest in areas with large numbers of unbanked people) to enable autonomous transactions within IoT platforms being built by network operators and vendors, and to help solve issues of identity and fraud management. As the following excerpt illustrates, the positioning opportunities for operators and vendors are slightly different.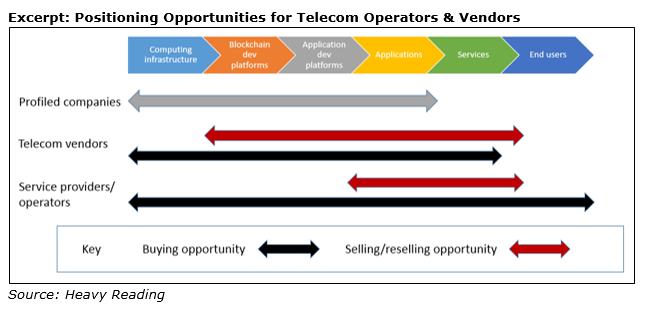 Blockchain & Its Impact on the Telecom Industry is published in PDF format.