Craig Leddy
Contributing Analyst, Heavy Reading
Craig is a veteran cable industry writer, speaker and market analyst, and a regular contributor to Heavy Reading Cable Industry Insider...
MORE
To view reports you will need Adobe's Acrobat Reader. If you do not have it, it can be obtained for free at the Adobe web site.


REPORTS
EXECUTIVE SUMMARY
For years, cable providers have been saddled with legacy billing systems that hampered their ability to add services or enhance customer relationships in a meaningful way. While other industries talked of new operations/business support system (OSS/BSS) capabilities, customer relationship management (CRM) solutions and data mining, cable has remained in the dark ages of data analysis in many respects. And yet, cable providers have been collecting a treasure trove of data from their billing systems, call centers, delivery infrastructure, daily operations and the millions of set-top box (STB) and cable modem activities that Americans engage in every day.

This report identifies five key performance indicator (KPI) areas where cable providers are seeking to apply big data: network performance, service performance, customer care, predictive modeling and virtualization. These five categories cover the gamut of cable activities, from network management and service delivery to operations and customer experience. Real-world use cases are taking root in the field in which providers are discovering new ways to combine and utilize their big data. The magic of big data analytics (BDA) occurs when data is aggregated from various sources to offer new insights into a situation and identify proactive steps for service improvements.

Big data comes with big promises, but it also comes with big challenges. There are many hurdles to transforming yesterday's cable operations into tomorrow's super-networks. First, cable providers must have the capability to get their arms around all of their data and figure out what it means. Data comes from multiple sources and in different forms, including billing systems, call centers, STBs, modems, edge routers, network monitoring systems and on and on. The data needs to be aggregated and analyzed in actionable and proactive ways.

Cable Mining Its Big Data to Improve Service Performance describes the ways that cable providers are exploring BDA to improve performance on a variety of fronts. The report also includes a comparison of key suppliers that are working with U.S. cable providers on data analytics technology.

VIEW TABLE OF CONTENTS
VIEW EXECUTIVE SUMMARY AS PDF


Cable operations exist in a sea of data. From headends and data centers to billing systems and CPE, data points flow to and fro throughout a cable ecosystem. Once collected in data lakes or warehouses, that data can be curated and analyzed to provide meaningful intelligence to keep operations running smoothly and improve performance overall. The following excerpt illustrates how cable lives in a sea of data. Virtually every part of a cable enterprise creates, collects or uses data to inform, operate or manage daily operations. The data sources identified here provide a comprehensive list but probably still do not encompass all of the available sources.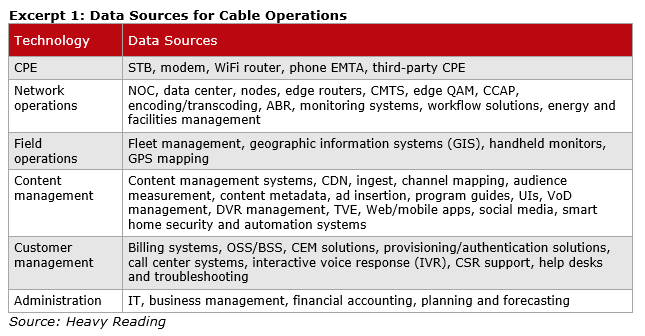 Cable Mining Its Big Data to Improve Service Performance is published in PDF format.