Simon Stanley
Analyst, Heavy Reading
Simon is Founder and Principal Consultant at Earlswood Marketing Ltd., an independent market analyst and consulting company based in the U.K. His recent work has included investment due diligence, market analysis for investors and business/product strategy for semiconductor companies...
MORE
To view reports you will need Adobe's Acrobat Reader. If you do not have it, it can be obtained for free at the Adobe web site.


REPORTS
EXECUTIVE SUMMARY
Social media, mobile data and cloud computing are all driving demand for greater network bandwidth, new services and more cost-effective data centers for both enterprise and telecom applications. To meet these demands, service providers are shifting from conventional networking and data center solutions to a new generation of solutions based on virtualized services and applications that form the New IP.

The New IP is being built using software-defined networking (SDN) and network functions virtualization (NFV) – two technologies that together support a virtualized network and server infrastructure. The shift to SDN and NFV requires many complimentary developments, including common system management, embedded switch operating systems (OSs) and advanced orchestration solutions. All these developments are being shared across the industry through open organizations to ensure interoperability and drive a highly competitive ecosystem.

The New IP infrastructure requires a new class of cost-effective server platforms that can support the virtualized infrastructure and scale from local network edge functions up to hyper-scale data centers. The use of virtualized applications and functions enables service providers to power up new equipment and take old equipment out of service without affecting customers. This is enabling the development of a new lifecycle model where hardware in telecom systems is no longer in place for five to 10 years, but is replaced regularly – ideally every three years, to take advantage of new technology developments. The New IP infrastructure must also support carrier-grade availability through a mix of software and hardware solutions.

Commercial-off-the-shelf (COTS) platforms are designed to be easily configured to meet customer requirements and cost-effective, taking advantage of high-volume manufacturing for standard components. COTS platforms are widely used in both data center and telecom applications. The latest COTS platforms developed for the New IP take the best from existing platforms such as carrier-grade servers and Advanced Telecommunications Computing Architecture (ATCA) and use high-volume, standard server components wherever possible.

The Open Compute Project (OCP) and Intel Rack Scale Architecture (RSA) have been developed to support hyper-scale data centers. Intel RSA separates out compute storage and networking resources and defines network management solutions for rack-scale implementations. We are now starting to see COTS platforms that combine features from OCP and RSA. Facebook has used OCP to define COTS platforms that meet their particular requirements and have these manufactured by several competing vendors. This has encouraged other service providers to work directly with multiple platform suppliers. There is significant overlap between OCP and the appliance platforms modular servers being developed for less demanding applications. All these platforms make significant use of PCIe-based network modules and standard PCIe cards for security acceleration and other functions.

The result is significant convergence not only between IT and telecom hardware and software platforms, but also between IT and telecom suppliers. OCP has opened the doors for IT equipment ODMs and other suppliers to develop platforms for cloud and telecom service providers. At the same time, telecom COTS platform suppliers, finding the market for ATCA has stalled, are switching to appliance platforms and rack-scale platforms based on OCP. Specialist telecom COTS platform suppliers continue to deliver ATCA and MicroTCA platforms for those applications that require particular interfaces or processing capabilities.

COTS Platforms for the New IP Era: A Competitive Analysis identifies and analyzes the full spectrum of vendors developing COTS platforms for telecom and cloud applications. It includes not only granular information on the platforms and components themselves – of interest to service providers and system OEMs – but also insights into how the overall New IP COTS market and ecosystem is developing – of interest to a wide audience, including investors. The report is based on a series of interviews conducted with a wide range of vendors during the first three months of 2016, along with product information supplied by vendors.

VIEW COMPANIES COVERED
VIEW TABLE OF CONTENTS
VIEW EXECUTIVE SUMMARY AS PDF


The tables presented throughout the report are based on product documentation and supplemental data from our interviews and email exchanges. All of the data in these product tables has been provided to vendors for confirmation, feedback and updating ahead of publication. In total, the report contains detailed information and analysis on 45 vendors and 275 products, covering OCP and rack-scale platforms, Intel RSA, appliance platforms, carrier-grade servers, modular servers, blade servers, ATCA, AMCs and MicroTCA. The excerpt below shows 21" OCP Open Rack-based platforms from five companies.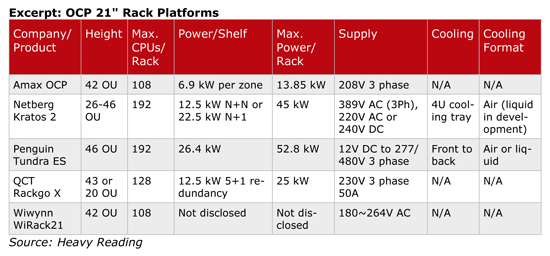 COTS Platforms for the New IP Era: A Competitive Analysis is published in PDF format.