Simon Stanley
Analyst, Heavy Reading
Simon is Founder and Principal Consultant at Earlswood Marketing Ltd., an independent market analyst and consulting company based in the U.K. His recent work has included investment due diligence, market analysis for investors and business/product strategy for semiconductor companies...
MORE
To view reports you will need Adobe's Acrobat Reader. If you do not have it, it can be obtained for free at the Adobe web site.


REPORTS
EXECUTIVE SUMMARY
Commercial off-the-shelf (COTS) platforms and white box switches are at the core of the New IP that service providers will be using to deliver next-generation cloud and mobile services. The COTS ecosystem is responding to service provider demands with a comprehensive range of open solutions that implement software-defined networking (SDN), network functions virtualization (NFV) and related technologies. COTS platforms are being developed that support open architectures and are scalable to take advantage of the latest multicore processors and 100G Ethernet switches. These new developments include Open Compute, Intel Rack Scale and ATCA 3 R4.0. Some of these solutions are backward compatible with previous generations of COTS hardware.

Our survey goes beyond gauging the depth and breadth of technological developments by providing insights into how quickly these systems are being deployed and how many participants in the market will choose to employ third-party system integrators. The report covers the current use of COTS hardware and add-in cards, NEBS/ETSI compatibility and the importance of current COTS architectures and architectures still in development. Respondents were also asked to rate system integrators and which suppliers they used for COTS system integration and embedded software.

The telecom industry is changing rapidly, and COTS platforms are at the core of this revolution. COTS platforms enable lower development costs, quicker time to market and offer a cost-effective and ubiquitous infrastructure for virtualized network services based on SDN and NFV. This virtualized network allows carriers to quickly deploy new services using VNFs developed by a range of suppliers. Many carriers are also looking at using white box switches from multiple vendors that can be configured with a common operating system and other software to meet specific network requirements. This approach depends on open solutions and a strong ecosystem.

The next generation of COTS platforms is in development. Some will be backward compatible with existing solutions; others use similar building blocks in more open designs. The results of the survey show that a significant majority of telecom and network system suppliers use NEBS/ETSI compatible platforms. The challenge for the industry in shifting to non-NEBS/ETSI compatible platforms, such as Open Rack, will be delivering carrier-grade user experience. This will require advanced orchestration and network management solutions. It is likely therefore that there will also be a significant role for carrier grade COTS platforms for some time to come.

COTS, ATCA & White Box User Survey: 2016 Market Outlook analyzes how telecom equipment manufacturers use COTS platforms and white box switches, based on the results of an exclusive worldwide survey of engineers, designers, product managers and sales/marketing personnel that work for telecom and networking system equipment manufacturers and suppliers. The responses to our survey make it clear that these platforms are widely used in many types of networking equipment, from the access edge to the core of the network.

VIEW COMPANIES COVERED
VIEW TABLE OF CONTENTS
VIEW EXECUTIVE SUMMARY AS PDF


Most telecom and network equipment suppliers use a mix of proprietary and COTS hardware platforms. Proprietary platforms are developed by or for an equipment supplier to meet the requirements of a particular application or set of applications. Blades and other components in a proprietary platform do not usually fit in a platform from another vendor. COTS platforms are developed to a standard specification that may include physical dimensions, electrical specs and system management. Blades and other components from a COTS platform will fit in similar platforms from other vendors; however, some software integration may be required. COTS platforms have enabled the development of an ecosystem of vendors supplying software, blades, chassis and other components, reducing both development costs and time to market for new systems. The following excerpt shows the proportion of systems that use COTS hardware instead of proprietary hardware.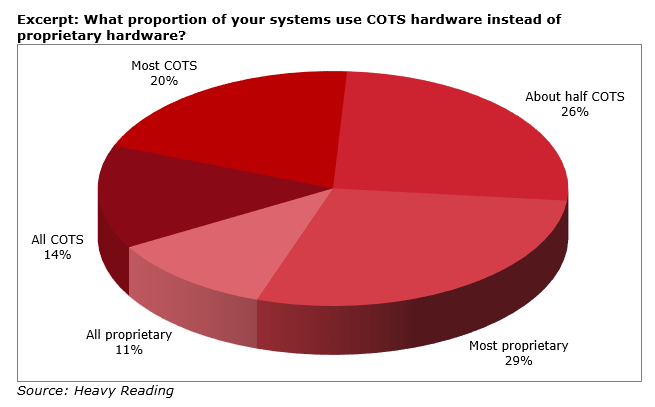 COTS, ATCA & White Box User Survey: 2016 Market Outlook is published in PDF format.