Craig Leddy
Consulting Analyst, Heavy Reading
Craig is a veteran cable industry writer, speaker and market analyst, and a regular contributor to Heavy Reading...
MORE
To view reports you will need Adobe's Acrobat Reader. If you do not have it, it can be obtained for free at the Adobe web site.


REPORTS
EXECUTIVE SUMMARY
The cable industry continues to make enormous strides with WiFi technology. By rolling out WiFi hotspots that now number in the millions, cable service providers are establishing themselves as key providers of American consumers' wireless experience inside the home. By blanketing communities with these hotspots and fostering seamless roaming, cable WiFi services increasingly are expanding outside the home and serving schools, businesses and other institutions, as well.

With an estimated 14 million cable WiFi hotspots in the U.S. by year end, cable providers are exploring next-generation service opportunities. New uses of WiFi that already are making their way into the field include in-home wireless gateways, WiFi First phone service and voice over WiFi (VoWiFi). WiFi developers foresee additional opportunities in wireless video, upselling Internet tiers, business services and other emerging applications.

Now that the cable industry has established its initial WiFi footprint, it is entering a second, vitally important phase of expansive deployment and service application – Cable WiFi 2.0, if you will. But its forays require that cable overcome WiFi's limitations, optimize their wireless networks and provide a high quality of experience (QoE) for users.

The cable industry has made great strides by embracing WiFi. MSOs continue to deploy hotspots and explore new opportunities for cable WiFi. In turn, they are seeing the benefits of extending cable services via WiFi in the form of customer retention, competitive positioning and potential revenue opportunities with both residential and business customers.

Many initiatives are coming together to support cable WiFi, though some need to be expedited. The industry talks about providing carrier-grade WiFi, but specifications, certifications and consensus is still required. HotSpot 2.0 and related initiatives have generated more talk than action. In a positive sign, new attention is being paid to using monitoring, metrics and data analytics to improve WiFi performance and customer satisfaction.

Those who are looking for a quick revenue boost from WiFi will need to be patient. At this stage, cable companies need to build out their wireless capabilities so they can take advantage of revenue opportunities that may take some time to develop. Like the rollout of cable's digital platforms and broadband capabilities, cable WiFi is sure to provide new business rewards, some of which may not have even be imagined yet.

Can Cable Deliver a High-Quality WiFi Experience? explores the opportunities for next-generation WiFi services and the delivery challenges for cable providers. Many emerging technologies and solutions are emerging to squeeze the most capability out of WiFi and make it a carrier-grade service. Best practices through data analysis and customer care are providing new ways to improve the user experience. It also explores cable's WiFi deployment, the market drivers and its implications for cable providers and suppliers. Included are profiles of 10 suppliers that are supporting cable's WiFi efforts, including some newer players that are focusing on WiFi QoE.

VIEW COMPANIES COVERED
VIEW TABLE OF CONTENTS
VIEW EXECUTIVE SUMMARY AS PDF


The exploding growth of wireless devices and online video consumption has made WiFi an imperative for cable companies. Using WiFi, cable companies can retain their position as the dominant service provider inside the home and can extend their customer relationships outside of the home. To ignore the uplift in mobile broadband usage puts cable at risk from established mobile service providers, which are benefiting from smartphones that are becoming consumers' most-used device. Several forces are combining to drive MSO interest in WiFi. The following excerpt lists the key market drivers.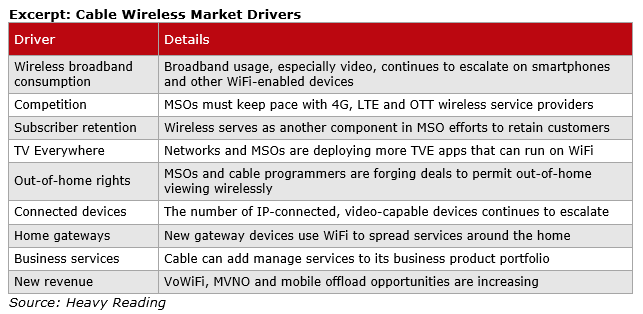 Can Cable Deliver a High-Quality WiFi Experience? is published in PDF format.