Sterling Perrin
Senior Analyst,
Heavy Reading
Sterling has more than 15 years' of experience in telecom as an industry analyst and journalist. He covers optical networking, including packet-optical transport...

MORE
To view reports you will need Adobe's Acrobat Reader. If you do not have it, it can be obtained for free at the Adobe web site.


REPORTS
EXECUTIVE SUMMARY
The Heavy Reading 2015 Carrier Ethernet Survey was developed to get detailed insight into service providerís perceptions on Carrier Ethernet services and underlying technologies and their plans and strategies for Carrier Ethernet services and technologies for the coming one-, three- and five-year timeframes. Buyers can use this data to evaluate their own solutions and get a current understanding of the competitive landscape and a realistic assessment of operatorsí future plans.

The product is a 38-slide PowerPoint presentation containing the Key Findings and Heavy Reading analysis based on the global operator survey that was conducted in August 2015. The survey yielded 68 qualified network operator responses from North America (65%), EMEA (18%), Asia/Pacific (10%) and CALA (7%). One hundred percent of operators surveyed offer Ethernet services today. The survey consisted of six demographic questions and 21 content questions about features and technologies, pricing and plans, and issues regarding cloud, SDN and NFV. Heavy Reading Senior Analyst Sterling Perrin is the lead analyst and author.


Questions answered in the study include:

What are operator expectations for revenue growth in wholesale and retail Ethernet services in 2015? In 2016?
What are operator expectations for 100 Gigabit Ethernet services rollout and growth in 2015? In 2016?
What were the most important service and technology innovations in the Carrier Ethernet market during the past 18 months?
What will be the most important differentiators influencing customer buying decisions in the next 12-18 months
At what stage are Carrier Ethernet providers in terms of evaluating or deploying various next-generation technologies, including 100G, 100GigE, SDN controllers, and G.8032 v2 ?
What percent of revenues do operators expect to come from Ethernet, IP, cloud or wavelength services delivered over an SDN/NFV architecture in 2015? In 2018?
What are the most important areas of SDN/NFV development for operators active in Ethernet services?
Which specifications of MEF 2.0 are the most critical for Carrier Ethernet providers?

Which specifications are least important?
What are the biggest security concerns in offering cloud services?

What are operator timelines for virtualizing CPE functions and what are the preferred architectural approaches for operators?
Which technologies do operators prefer in the access network supporting mobile backhaul services?
Our survey showed that metro Ethernet connectivity, wholesale Ethernet services and long-haul Ethernet have experienced the greatest increases in pricing competition over the past 12 months. Metro and long-haul wavelength services have experienced the most stable pricing over the past 12 months.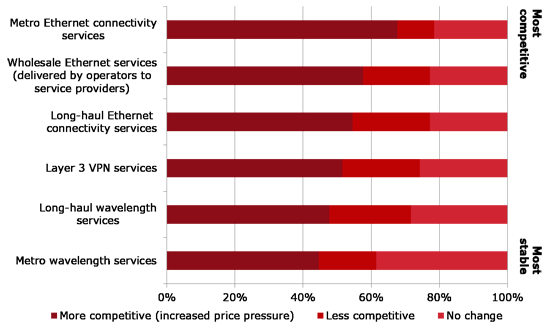 The Heavy Reading 2015 Carrier Ethernet Survey is published in PDF format.