Denise Culver
Online Research Director, Heavy Reading
Denise manages Heavy Reading's Thought Leadership Council, which uses a focus group approach to glean insights from CSPs on topics ranging from automation, IoT, 5G, B/OSS transformation, SD-WAN and emerging technologies...
MORE
To view reports you will need Adobe's Acrobat Reader. If you do not have it, it can be obtained for free at the Adobe web site.


REPORTS
EXECUTIVE SUMMARY
According to some estimates, global mobile data traffic grew 69 percent in 2014, with about 500 million mobile devices and connections added during the year. Smartphones accounted for about 88 percent of that growth, with about 440 million net additions in 2014. Furthermore, smart devices – those with advanced multimedia capabilities and a minimum of 3G connectivity – generated 22 times more traffic than other devices.

A key driver in the service assurance market will be the ability to measure performance of a service and link it to churn and stickiness. The evolving over-the-top (OTT) application ecosystem will put more pressure on communications service providers to deliver a quality experience. Service providers must understand what's happening inside a home or business network, as opposed to just understanding what's happening to the connection up to the interface point.

One of the things happening inside the home network is the use of a broad range of different apps, some of which are coming from the primary network operator and others of which are coming from non-traditional communications service providers that are specializing in apps. Network operators need to deliver a quality experience for end customers using a third-party app like Netflix, just as they do for customers accessing their own cloud DVR product, or they risk losing the end customer to a competitor that can deliver a higher-quality experience.

Being able to appropriately test service experience without compromising end-user privacy is another key factor that will drive service assurance. Those vendors that are most successful will reduce the complexity of service delivery so that network engineers and field technicians are able to use service assurance solutions intuitively without hours of training and study. Furthermore, the most successful solutions will be those that correlate millions of data points to make the resulting information actionable.

Over the next two years, increasing competition and slowing growth will shift the focus in the industry to retaining current customers and creating more efficient operations. Understanding and acting on the customer experience in real time to deliver an outstanding experience will be a key success factor.

Service Assurance Proves Vital to Understanding Networks examines the service assurance market, providing insights as to how eight vendors define service assurance, as well as what features each vendor identify as being in their solution. It discusses drivers and challenges in the industry and includes a comparative analysis of solutions available. Finally, it examines the geographic landscape of the market and details trends that are likely to occur in the industry over the next 18-24 months.

VIEW COMPANIES COVERED
VIEW TABLE OF CONTENTS
VIEW EXECUTIVE SUMMARY AS PDF


Currently, the biggest driver in the service assurance market is the explosion that continues in the smart devices and downloadable applications market, as shown in the following excerpt. With every new device that comes on the market – think Apple Watch and every other new device of its kind that hits the market on a monthly basis – communication service providers must grapple with incremental numbers of new subscribers on their networks. Those new numbers mean more traffic that must be monitored for service assurance.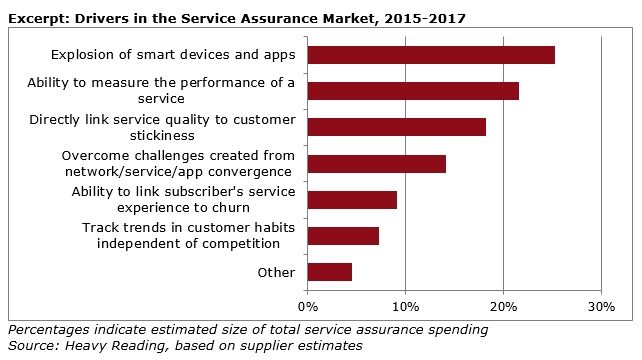 Service Assurance Proves Vital to Understanding Networks is published in PDF format.