Denise Culver
Online Research Director, Heavy Reading
Denise manages Heavy Reading's Thought Leadership Council, which uses a focus group approach to glean insights from CSPs on topics ranging from automation, IoT, 5G, B/OSS transformation, SD-WAN and emerging technologies...
MORE
To view reports you will need Adobe's Acrobat Reader. If you do not have it, it can be obtained for free at the Adobe web site.


REPORTS
EXECUTIVE SUMMARY
In many ways, trying to ascertain the differences in billing for Internet of Things (IoT) services versus communications-related services is quite difficult because billing is widely different even among providers of communications-related services. Communications service providers cater to widely different markets, offer widely different services and have vastly different metrics relating to the customer experience. It is likely that billing and revenue management systems will have a tremendous impact on communications service provider's ability to deliver differentiated and superior customer experience in the IoT.

Companies will have greater interest in the ability to monetize IoT solutions as more verticals begin to explore how they can benefit from the IoT model. One of the major incentives for adopting IoT is the ability to add the predictable, recurring revenue streams of a subscription-based service with a firm client commitment to products that previously were one-off transactions. Beyond the immediate financial benefits, recurring revenue also has proven to be an increasingly significant factor in how companies are valued. This is an added incentive for businesses to investigate their IoT options.

What this all means for communications service providers is that focusing on IoT billing is a worthwhile extension of the billing platform. This report shows that vendors are strongly divided in terms of just how much of an impact IoT should have on billing systems for service providers. Regardless of where they stand on the issue, they're all offering solutions that, in some way, address IoT. Only time and some use cases will tell just how impactful IoT is on the communications service provider bottom line.

The IoT is, without question, creating new dynamics in billing. While many billing vendors have added IoT functionality to their existing billing systems, others have created entirely new billing platforms for the IoT ecosystem. There is little question that, as IoT continues to expand, billing systems also will have to evolve to address the needs of communications service providers and enterprises that are developing IoT functionality.

As IoT continues to expand, communications service providers and enterprises will search for a billing solution that provides a combination of customer loyalty, predictable income and user information. They will require an agile recurring billing platform that can adapt to changing business environments and address evolving end-user preferences.

Billing Vendors Vary in Reactions, Solutions to IoT examines the IoT billing market, utilizing data collected from 12 IoT billing providers. It analyzes how IoT is impacting billing and billing solution trends. It discusses drivers and challenges in the industry and includes a comparative analysis of IoT billing solutions available. Finally, it examines the geographic landscape of the market and details trends that are likely to occur in the industry over the next 18-24 months.

VIEW COMPANIES COVERED
VIEW TABLE OF CONTENTS
VIEW EXECUTIVE SUMMARY AS PDF


The ability to monetize solutions in the IoT will become increasingly important over the next 24 months, as shown in the following excerpt. The current market of dedicated design/build/operate applications will begin to expand into service platforms that require more powerful billing. Communications service providers will begin to show interest in more sources of IoT revenue than data and traffic increases and begin to partner and resell applications. The two key areas of rapidly evolving needs are the commerce requirements and the associated billing and finance. The commerce elements required to move a physical product to a service require a different product catalog with pricing that often is driven from the connected capabilities.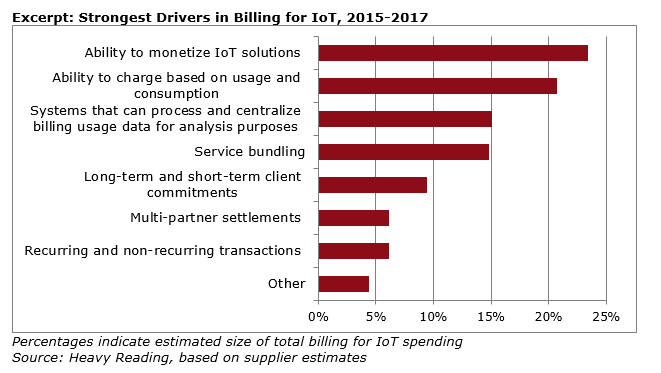 Billing Vendors Vary in Reactions, Solutions to IoT is published in PDF format.