Danny Dicks
Consulting Analyst, Heavy Reading
Danny is an analyst and consultant with more than 20 years' experience in technology markets who contributes regularly to Heavy Reading...
MORE
Simon Sherrington
Consulting Analyst, Heavy Reading
Simon is an independent consultant who contributes regularly to Heavy Reading and to other Heavy Reading projects...
MORE
To view reports you will need Adobe's Acrobat Reader. If you do not have it, it can be obtained for free at the Adobe web site.


REPORTS
EXECUTIVE SUMMARY
Before most consumers in most markets have 4G services, the combined might of the wireless industry's research and development (R&D) resources have been mobilized to develop the technologies that will soon constitute 5G. A consensus is emerging around some of the broad aims of 5G – the likely services and use cases, the network architecture, the focus for performance improvement in existing systems and even some of the fundamental technologies – but there is a great deal still to happen before 5G is defined and standardized.

Many in the industry are calling the move to 5G a paradigm shift in the way wireless networks are built and run, encompassing network functions virtualization (NFV) and software-defined networking (SDN), more distribution of functionality to the edge, the creation of user-centered "virtual cells" with simultaneous multiple connections across multiple spectrum bands and duplex modes, support for billions of devices in the Internet of Things (IoT), multi-antenna arrays and beamforming, use of very high frequency spectrum and other big innovations. But they also say that there will be evolution of current 4G networks, and that this is an intrinsic part of 5G.

For a decade, there has been steady, evolutionary development of Long Term Evolution (LTE), with operators picking and choosing technologies and functions from those standardized through 3GPP. But 5G will mark the beginning of a new set of standards – even if some core technologies continue to be based on those underpinning previous generations – and there will be a measure of backward compatibility preserved.

Vendors say there is a paradigm shift required in the way networks are built if 5G is to deliver what operators need: the capability to earn new revenue – not just to provide better versions of services they provide now, and for which they won't be able to charge very much more even if they improve.

There is a huge amount of work going on across very many organizations, funded in many different ways, directed at developing the technologies and approaches that will constitute 5G. Much of it is being led by the biggest network equipment providers, working with universities and in conjunction with operators, and involving smaller specialists are involved in collaborative projects, too.

R&D is still at a relatively early stage and if we look at the history of development of previous generations of mobile technology, what tends to happen is that there is a high level of industry collaboration globally (within which there is competition certainly), that ultimately results in an acceptable distribution of core IP when the dust settles on the fundamental standards.

5G Lab Report: Status of 5G Development examines why 5G is necessary and the applications that are driving the development of its technology components, focusing on radio access rather than the core network. It details the timetable for standardization work of various kinds, and reviews the key technology issues in 5G development, identifying areas of common ground and competition. Further, the report identifies and reviews the many R&D projects and programs around the world, when they will do their work and what they aim to achieve (or in the case of completed trials, what they have already delivered). It summarizes views on the likely timetable for network and service deployment, and profiles eight of the major vendors that are working to advance 5G technology.

VIEW COMPANIES COVERED
VIEW TABLE OF CONTENTS
VIEW EXECUTIVE SUMMARY AS PDF


As with 3G and 4G before it, 5G's most significant standards will be ultimately agreed by 3GPP – the global partnership of seven standards bodies (ARIB, ATIS, CCSA, ETSI, TSDSI, TTA, TTC) – and formalized by the ITU Radiocommunications Sector (ITU-R). 3GPP has its own specifications groups looking at radio access and system architecture, but its partners – and many other bodies around the world – are also looking at specific aspects of 5G technology with a view to influencing the final standards. The following table excerpt identifies industry bodies and their work in developing or influencing standards.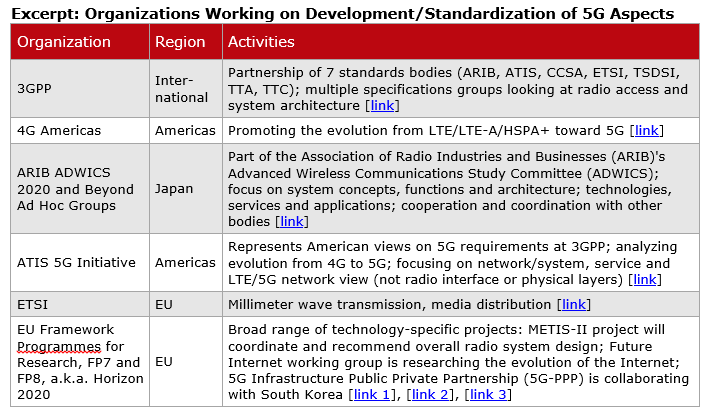 5G Lab Report: Status of 5G Development is published in PDF format.