Craig Leddy
Contributing Analyst,
Heavy Reading
Craig is a veteran cable industry writer, speaker and market analyst, and a regular contributor to Heavy Reading...
MORE
To view reports you will need Adobe's Acrobat Reader. If you do not have it, it can be obtained for free at the Adobe web site.


REPORTS
EXECUTIVE SUMMARY
Just when you think that cable Internet speed can't get any faster, along comes something to boost it higher. In cable's case, it's not only the capacity for 1 Gbit/s now, but soon 10 Gbit/s and then perhaps a whopping 100 Gbit/s. These mind-boggling levels are being fueled by new efforts to increase capacity and efficiency in cable access networks.

Cable architecture is continuing to evolve and push more capability to the network edge. Recent efforts include the ascension of coaxial connections to 1 Gbit/s courtesy of DOCSIS 3.1 (D3.1), taking fiber deeper into the network and migrating to distributed access architecture (DAA), including remote PHY. Now, the latest move is to utilize coherent optics technology in the fiber access network to increase capacity by 10 times.

Cable's coherent optics effort isn't intended to provide extremely high-speed Internet connections for residential users, so don't expect 100 Gbit/s of broadband to crash through your front door anytime soon. The initiative is primarily designed to produce higher performance and greater efficiency in fiber transport networks, enabling new routing scenarios at the network edge. While implementing coherent is expensive in the near term, the long-term goal is to drive down costs of transceivers and other technology so that moving data, including massive amounts of television programming and IP video, becomes more flexible and cheaper.

The effort to apply coherent optics to cable access networks marks another way in which the cable industry pulls together to explore and implement innovative technologies. Few other industries have a consortium organization like CableLabs that can serve as an aggregation point to explore ideas, develop specifications, test and certify products and establish innovations that will benefit companies in the cable industry and beyond.

As coherent optics moves further into the access arena, large cable providers, especially Comcast and Charter, will have enormous nationwide networks of long-haul and local access fiber capability. This will support opportunities to widely distribute television through video streaming, serve the needs of enterprises for high capacity and low latency, backhaul mobile traffic and be better prepared for the demands of 5G, IoT, virtualization and automation.

Cable's Fiber Outlook Gets Clearer With Coherent Optics provides an update of cable's fiber deployments and assesses the prospects for coherent optics in the cable access network. It explores potential use cases and includes a chart of 19 technology suppliers that are participating in CableLabs' P2P coherent optics working group.

VIEW COMPANIES COVERED
VIEW TABLE OF CONTENTS
VIEW EXECUTIVE SUMMARY AS PDF


Cable continues to build out its fiber networks for long-haul, metro and short-haul transport. Fiber serves as the backbone for residential services over cable's hybrid fiber coaxial (HFC) plant. Cable providers continue to build out fiber for business customers, now stretching more than 400,000 combined route miles, according to Cable & Telecommunications Association for Marketing (CTAM). The coherent optics initiative comes amid various fiber upgrades by the major cable providers. The following excerpt provides a status report.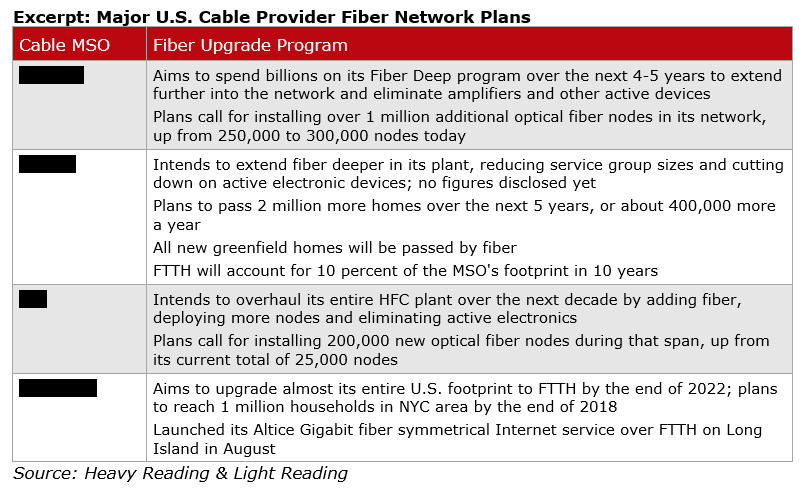 Cable's Fiber Outlook Gets Clearer With Coherent Optics is published in PDF format.