Dan Grossman
Contributing Analyst,
Heavy Reading
Dan is an analyst, consultant, and technologist, specializing in fixed broadband access technology and markets...
MORE
To view reports you will need Adobe's Acrobat Reader. If you do not have it, it can be obtained for free at the Adobe web site.


REPORTS
EXECUTIVE SUMMARY
Fiber-based access networks are exceptionally capital-intensive because of the large footprint they must cover, high fan-out, numbers of physical obstacles and low-intensity utilization. High capex and low return on invested capital (ROIC) has long been an impediment to upgrading copper plant to fiber, as well as to competitive overbuilding. Difficulty in building a compelling business case for new access fiber has meant that many areas have no broadband service and many more have only one provider. Customers are frustrated, policy makers are concerned and operators forego available revenue and goodwill.

Operators have come to recognize the inefficiency of siloed infrastructure. The notion of a converged fixed access platform has become strategic and resulted in new organizational, finance, engineering and operations frameworks. While Tier 1 operators have come to this conclusion fairly recently, municipal and electric co-op operators have built out fiber infrastructure intended for multiple uses for some time.

The telecom industry trend toward access network convergence became apparent in 2016. Through a convergence of drivers, enablers and financial analysis, Tier 1 operators have come to treat fiber access as a common platform for multiple services and lines of business. Municipal and co-op utility providers have not articulated this vision, but practice it in their business models.

Access network convergence is one of a few key trends that will define the network of the 2020s and beyond. While it might not be as visible as some of the others, its impact will last for many decades, and its ultimate demise will be from aging rather than obsolescence. This infrastructure will be the foundation for 5G, Gigabit broadband, SD-WAN and other services yet to come.

Converged Access Infrastructure examines the trend toward converged infrastructure in the access network, exploring the synergies between business segments and trade-offs between architectural alternatives. Access convergence is synergistic with software-defined networking (SDN), network functions virtualization (NFV), central office (CO) as a data center, network slicing and fog/edge computing.

VIEW COMPANIES COVERED
VIEW TABLE OF CONTENTS
VIEW EXECUTIVE SUMMARY AS PDF


An access network must serve thousands or tens of thousands of customer locations from a CO. This high fan-out leads to a hierarchical topology, like the arterial tree of the circulatory system. This means that the cumulative length of the access network infrastructure is large, either because it must cover a broad region (in rural areas), because of its density (in urban areas) or both (in suburban areas). Since most infrastructure capital cost is a function of distance, the access network is highly capex-intensive. From a functional perspective, a fiber access network is composed of four concentric networks, as shown in the excerpt below.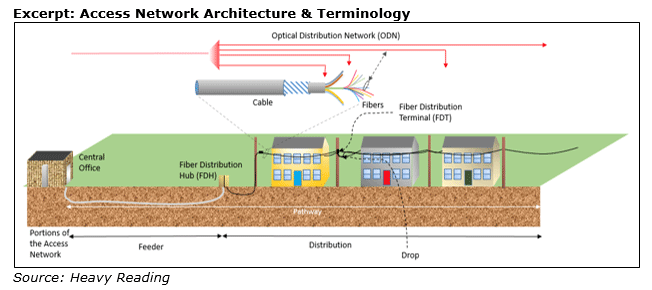 Converged Access Infrastructure is published in PDF format.