Steve Koppman
Contributing Analyst, Heavy Reading
Steve has covered the North American carrier industry for 25 years – nearly half that time for Gartner, where he was a principal analyst. For Heavy Reading, he has covered public Ethernet and IP voice, coverage areas he launched for Gartner Dataquest...
MORE
To view reports you will need Adobe's Acrobat Reader. If you do not have it, it can be obtained for free at the Adobe web site.


REPORTS
EXECUTIVE SUMMARY
All major U.S. cable multiple system operators (MSOs) have become more focused and aggressive in their push into the business market, specifically Ethernet services, in large part in reaction to reduced growth and profitability of their long-dominant residential cable TV/ video businesses. Ethernet is the cable sector's primary and fastest-growing business data service, and bandwidth demands keep rising inexorably, driven by video, mobility, social networking and cloud services – particularly private clouds – to whose bandwidth demands Ethernet responds with greater flexibility and lower cost than alternatives.

MSOs' once-rapid growth among smaller and midsized businesses (SMBs) is slowing, a victim partly of MSOs' own success as their market share in those sectors has grown dramatically. Efforts to maintain high growth are pushing them toward increasingly setting sights on larger businesses that form a huge and profitable segment of the market in which MSOs currently have little share.

MSOs are enhancing their technical abilities and offerings to address larger enterprises, among other things, increasingly expanding product portfolios with managed services and cloud-based capabilities while also trying to find new ways to cooperate more effectively among themselves in delivering national service seamlessly to larger customers. At the same time, the MSO big-customer strategy typically involves starting with serving individual in-region corporate branch offices, which resemble the SMBs that are their stock in trade, and working their way up.

This segment is on the cusp of major structural change, with final Federal Communications Commission (FCC) – and California Public Utilities Commission (PUC) – approval of the merger of major players Time Warner Cable and Charter Cable along with Florida-based Bright House Networks in early May 2016. At the same time, Europe's Altice is about to acquire New York-focused Lightpath, after having already acquired second-tier MSO Suddenlink Communications in 2015.

Cable Operators Think Bigger With Ethernet Services examines the current state of MSO efforts in the U.S. Ethernet services business as this segment is poised to change structurally with the merger of three significant players. It examines MSO strategies, as well as major market trends and issues, and estimates Ethernet transport market shares. Finally, this report profiles significant U.S.-based cable companies (including one specialized data subsidiary) in the Ethernet services market.

VIEW COMPANIES COVERED
VIEW TABLE OF CONTENTS
VIEW EXECUTIVE SUMMARY AS PDF


Overall retail business Ethernet revenue growth among MSOs in the U.S. is in the 10 percent annual range, similar to the estimated annual rate of price decline. Comcast, which is still catching up from a slow start, grew at a considerably higher rate. About half of retail revenue is at the 100 Mbit/s level and above, with half correspondingly below. The connection between customer size and bandwidth levels has weakened, as even small customers with the right applications may increasingly use relatively huge bandwidth increments. Prominent bandwidth levels among SMB customers include 10, 20, 50, 100 and 500 Mbit/s. The market estimates below, unlike in reports from earlier years, specifically exclude access revenues, as Ethernet has become the dominant access modality, but rather estimate retail and wholesale Ethernet transport revenues to U.S. cable MSOs.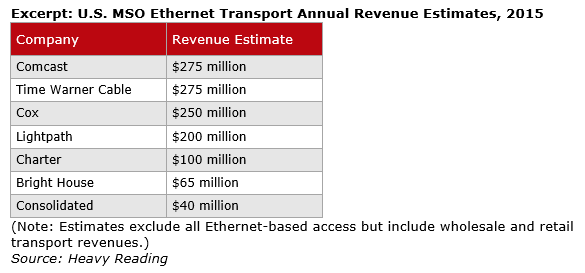 Cable Operators Think Bigger With Ethernet Services is published in PDF format.