Danny Dicks
Contributing Analyst, Heavy Reading
Danny is an analyst and consultant with more than 20 years' experience in technology markets who contributes regularly to Heavy Reading Insider and to other Heavy Reading projects...
MORE
Simon Sherrington
Contributing Analyst, Heavy Reading
Simon is an independent consultant who contributes regularly to Heavy Reading and to other Heavy Reading projects...
MORE
To view reports you will need Adobe's Acrobat Reader. If you do not have it, it can be obtained for free at the Adobe web site.


REPORTS
EXECUTIVE SUMMARY
Virtual reality (VR) is one of the most newsworthy tech topics right now, but many different ideas are described as VR, and it's important to have clarity on its definition in order to talk sensibly about how it will affect TV, media distribution, movies, communications networks, and other types of consumer and business services. Understanding the volume and diversity of development work that is going on in VR, it becomes clear how the alignment of enabling technologies will result in significant changes to how individuals interact, experience the world remotely and pass their leisure time – and the changes are starting in 2016.

An industry is emerging around consumer devices – the headsets (or "head-mounted displays," HMDs) that are being launched in increasing numbers and with much marketing effort behind them – to capture and create, or repurpose, video-based content for headset platforms; to render that content well on the headset and facilitate interaction with it; and to develop and sell peripheral devices that extend the degree of immersion in the virtual environment beyond just a visual and aural experience.

Of course, commercial and industrial VR has existed for many years in niche applications – particularly in engineering design and training. These types of application have used expensive, low-volume devices to create a virtual environment tailored to quite niche applications, and they were customized to individual customers' requirements. Could the "new VR" disrupt this market? Or will it give it new impetus as VR experiences are brought within reach of more businesses?

For the telecom industry, the big questions are: How will VR traffic impact the network? How can I make sure my network can deliver what customers need? Are there new opportunities as VR develops? Can I avoid being cut out of the value chain for VR applications?

There are multiple issues in the development of VR – particularly if one looks beyond 360-degree video content with limited interactivity and considers advanced VR (and augmented reality, or AR) applications that provide for multiple interactions with the content. To a certain extent, the gaming industry and the 360-degree video industry are separate and have their own sets of requirements even though many component, headset and other device and system vendors are supplying both of these industries; wireless or wireline carriers need to take both into account when planning networks and considering revenue generation opportunities.

When it comes to making money from VR, carriers will have to work hard: Most VR content will go "over the top," though if carriers have acquired rights to content (such as sporting or music events) and are succeeding commercially by distributing video, then they should be able to do the same with 360-degree, immersive VR content created around those same events. Those that offer CDN services will also be well placed to deliver VR content close to the user.

So while VR (and AR) may be revolutionary in terms of how users interact with others, with places and with events – in the real world or other worlds – it looks more like evolution in terms of networks and business – and one that needs to be prepared for.

Preparing for Virtual Reality analyzes the state of the market for VR technology and services, looking at current applications and those in development, outlining their key characteristics. It assesses the impact that different VR applications will likely have on telecom network operators by considering application throughput and latency requirements; it also assesses which applications are likely to be mass market and which will remain small scale. It describes the elements that make up the technology and service value stack for VR and shows where different companies are active. Finally, it profiles 14 innovative players across the broad VR market.

VIEW COMPANIES COVERED
VIEW TABLE OF CONTENTS
VIEW EXECUTIVE SUMMARY AS PDF


While it is a little too early to talk in terms of a settled value chain for VR, it is possible to understand the layers of technology that make up VR, so that one can start to assess the impact it will have. The excerpt below identifies these technology layers, which are examined more closely in the full report.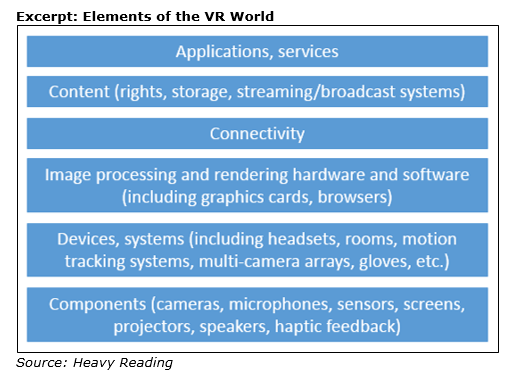 Preparing for Virtual Reality is published in PDF format.