Graham Finnie
Consulting Analyst, Heavy Reading
Graham served as Chief Analyst of Heavy Reading from February 2007 until December 2014, and has since moved into a consulting role...
MORE
To view reports you will need Adobe's Acrobat Reader. If you do not have it, it can be obtained for free at the Adobe web site.


REPORTS
EXECUTIVE SUMMARY
To date, the U.S. has made most of the running in the Gigabit Cities "movement." Are European cities also ready to supply gigabit services to businesses and households? In this report, we discuss the key factors – supply-side, demand-side and regulatory – that are encouraging or retarding the supply of gigabit services in Europe.

We conclude that the European market is highly fragmented, but that the shift to gigabit services has already begun in some places. In some countries, such as France, Norway and Switzerland, the shift is well underway; in others, such as Germany and the U.K., it has barely begun. Key catalysts include strong competition in many countries, a ready appetite for high-speed services (with steady growth in line speeds in most countries) and a favorable local environment in many cities, including clear regulation and high numbers of households in apartment buildings.

On the minus side, low fiber-to-the-home (FTTH) penetration, lack of public funds, inconsistent regulation and skepticism (especially among major telcos) about the rationale for gigabit services are all potentially holding things back. There is plenty of opportunity here, but vendors will need to pick their markets carefully.

This report summarizes gigabit services available (or planned) from 12 European service providers, including in-depth profiles of leading broadband operators Altibox and Swisscom.

VIEW COMPANIES COVERED
VIEW TABLE OF CONTENTS
VIEW EXECUTIVE SUMMARY AS PDF


As in many other areas of the European access market, there will be enormous variation between different countries and regions, as shown in the excerpt below. In countries such as Norway, Romania and Sweden, gigabit services are already generally available in major urban areas; but in many others, it will be years before this happens. Differing levels of competition, regulation, ease of deployment of FTTH, attitudes of the key incumbents and cable operators all can explain these differences.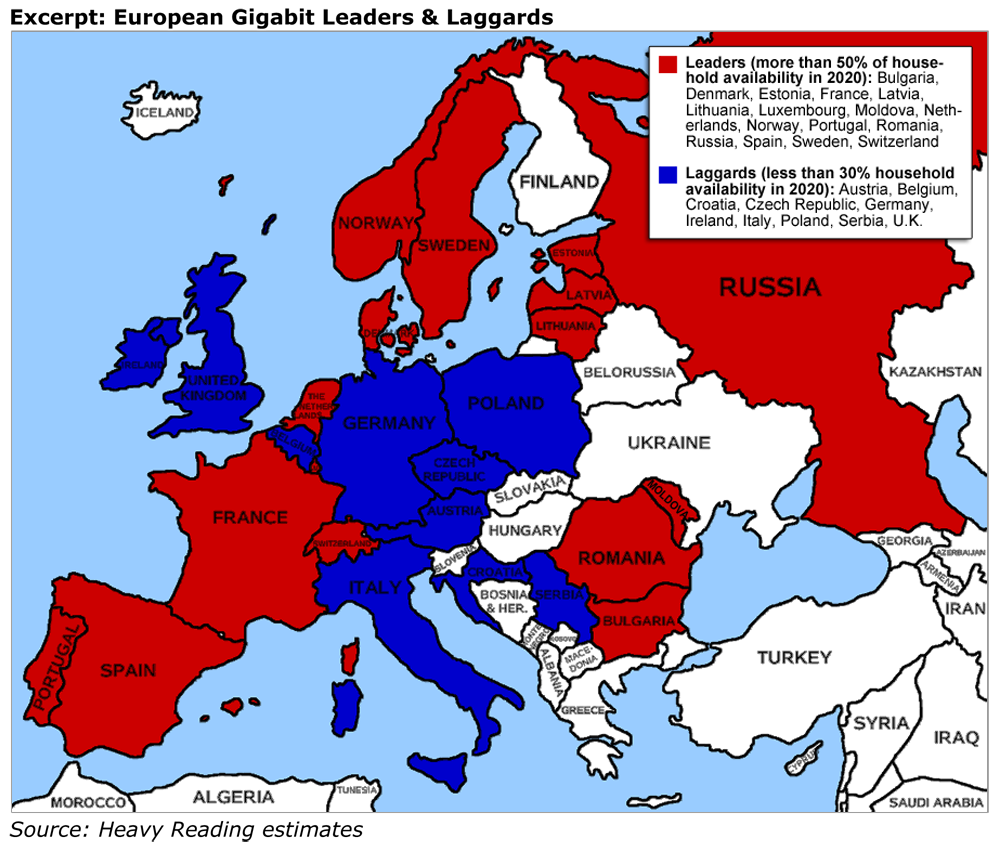 Could a Europe-wide gigabit movement like that in the U.S., perhaps initiated by the European Commission, ignite? The Commission's existing Digital Agenda has certainly been effective in concentrating the minds of national regulators on the need to set speed targets. The current key target is 100 Mbit/s, but a revised agenda with 1 Gbit/s as the aim would surely help. But whether the kind of grassroots, bottom-up, community-focused campaign that we have seen in the U.S. could happen is more moot. At the national level, we may well see such activity. But Europe as a whole will likely see widespread variation in gigabit availability for many years to come.

Is Europe Ready for Gigabit Cities? is published in PDF format.