31 Optical Module Vendors Profiled
Click here
for the full list of optical module vendors covered.
19 Silicon Vendors Profiled
Click here
for the full list of silicon vendors covered.
Simon Stanley
Analyst at Large,
Heavy Reading
Simon is the founder of Earlswood Marketing Ltd., an independent market analyst and consulting company. Over the last 10 years, Simon has written extensively for Heavy Reading...
MORE
To view reports you will need Adobe's Acrobat Reader. If you do not have it, it can be obtained for free at the Adobe web site.


REPORTS
EXECUTIVE SUMMARY
Demand for higher bandwidth across the network from the edge to the data center is driving the market for 100 Gbit/s (henceforth simply "G") solutions. Third-generation modules enable cost-effective 100G connectivity in data center, enterprise, metro and long-haul networks. For most optical networking applications, 100G ports are now lower-cost per gigabit than multiple 10G or 40G ports. The shift to 4x25G serial interfaces for optical module and backplane connections has opened up new opportunities for 25G ports in data centers and storage networks. 100G long-haul is now well-established and vendors are starting to deploy 400G solutions. The market for 100G networking in the all-important 80-500 km metro and data center interconnect (DCI) is rapidly taking off as vendors deliver direct-detect and coherent technology developed for the long-haul market using pluggable optical modules and digital signal processor (DSP)-based transceivers.

There is a rapidly growing demand and supplier base for third-generation QSFP28 and CFP4 optical modules for use in data center and enterprise networks. These third-generation optical modules enable significantly higher port density, lower power and lower cost, taking advantage of the latest developments in silicon and photonic integration. Cisco, which was bucking the market by using its proprietary CPAK modules instead of CFP2 modules, is now planning to use QSFP28 for client-side interfaces as suitable modules become available. We are also seeing several vendors enter the 100G market that are focused on supplying optical modules direct to service providers, shortening the supply chain and reducing the cost of 100G ports.

For long-haul applications equipment manufacturers are currently using in-house modules, OIF 168-pin modules or CFP pluggable modules. The development by several vendors of CFP2 analog coherent modules (CFP2-ACO) will give equipment manufacturers the attractive option of using a standard optical module with an in-house or third party DSP device on the line card. The development of silicon devices implementing 16QAM modulation has enabled 200G and 400G solutions including optical modules using one or two DSP devices.

Silicon devices are critical for 100G systems and optical modules. 100G transceiver and gearbox devices integrate support for the different modulation schemes, and packet-optical transport platform (P-OTP) devices integrate most of the functionality for 100G and 400G P-OTP systems. Quad clock/data recovery (CDR) devices and driver and receiver arrays are critical to the development of third-generation optical modules.

From 25/100G to 400G: A Competitive Analysis of Optical Modules & Components details 25/100G technologies and their application to 25G, 40G, 100G and 400G ports, identifying and analyzing the full spectrum of vendors developing optical modules and components. The report includes not only granular information on the components and systems themselves – of interest to telecom equipment manufacturers, service providers, optical module vendors and semiconductor vendors – but also insights into how the overall market and ecosystem is developing – of interest to a wide audience, including investors.

VIEW TABLE OF CONTENTS
VIEW LIST OF FIGURES
VIEW EXECUTIVE SUMMARY AS PDF

The report evaluates and analyzes the products and strategies of 48 leading vendors in this rapidly growing market, including 31 optical module vendors and 19 silicon vendors. In total, the report details more than 250 optical modules and more than 80 semiconductor components.

This report is based on more than 40 interviews conducted with a wide range of optical module vendors and silicon vendors, along with product information supplied by vendors. The tables presented in the report are based on product documentation and supplemental data from our interviews and email conversations. All the data in the product tables has been provided to vendors for confirmation, feedback and updating ahead of publication.

The excerpt below illustrates the kind of in-depth, granular information provided in this report. The excerpt shows a selection of the 100/400G P-OTP devices available from companies such as Altera, AppliedMicro, Inphi and PMC-Sierra.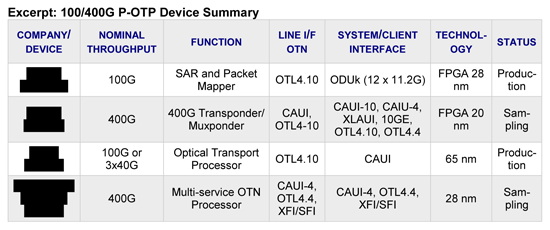 Report Scope & Structure

From 25/100G to 400G: A Competitive Analysis of Optical Modules & Components is structured as follows:

Section I is an introduction to the report, including the key findings of our research.

Section II examines the dynamics of the market and reviews the key networking technologies: 25/40/100/400G Ethernet, InfiniBand, OTN, Sonet/SDH and DWDM.

Section III focuses on optical modules for data center and enterprise applications. This section covers more than 240 optical modules and active optical cables, including QSFP+, QSFP28, SFP28, CXP, CFP, CFP2 and CFP4.

Section IV analyzes solutions for long-haul and metro networks, including a review of modulation technologies, such as ODB, OOK, QSFP, DQPSK, DP-QPSK with coherent receiver and QAM, and over 30 optical modules, including CFP, CFP2-ACO, 168-pin and 400G modules.

Section V focuses on 40/100/400G silicon devices for optical modules and line cards. This section covers more than 80 devices, including 40/100G transceiver and gearbox devices, 100/400G P-OTP devices, CDR devices and driver and receiver arrays.

Section VI offers detailed product and strategy analysis for 31 optical module vendors.

Section VII offers detailed product and strategy analysis for 19 silicon device vendors.

From 25/100G to 400G: A Competitive Analysis of Optical Modules & Components is published in PDF format.