16 pages of analysis of the challenges facing mobile operators, and their need to manage churn and generate new revenue streams

A detailed view of the key concepts and enablers that mobile operators can employ to bridge the gap between network service quality and the customer experience

A checklist for success for mobile operators looking to transform into more customer-centric businesses, including relevant examples of successful programs
Graham Finnie
Consulting Analyst, Heavy Reading
Graham served as Chief Analyst of Heavy Reading from February 2007 until December 2014, and has since moved into a consulting role...
MORE
To view reports you will need Adobe's Acrobat Reader. If you do not have it, it can be obtained for free at the Adobe web site.


REPORTS
EXECUTIVE SUMMARY
All over the world, mobile operators are at a critical juncture. In both developed economies and, increasingly, in developing economies such as those in Latin America, mobile operators face the same business challenges. These include: market saturation; intensifying competition; flat or declining ARPU; rapidly rising data traffic; and high churn.

To meet these challenges, many operators have understandably focused on network service quality as a key metric, and sought to improve it. Since the network is the operator's core asset, it makes sense to focus hard on its performance. Better coverage, greater capacity and improved real-time feedback mechanisms are all helping operators to improve network quality.

Yet something is missing: Although the network is the foundation of the customer experience, there is often a gap between measured network quality and service quality as it is experienced by the end customer. Mobile operators can of course mimic customers in their tests, but this is not the same as measuring actual real customer experience of the network.

Looking Beyond the Network: The Case for Service Quality Metrics argues that, in order to meet their strategic goals of revenue growth, product differentiation and customer loyalty, mobile operators must focus relentlessly on the individual customer experience, bridging the gap between network service quality and the customer experience. This will require a major transformation in the way operators measure their performance. This report examines the background to this effort and describes the emerging toolset that can help to make it happen.

DOWNLOAD TABLE OF CONTENTS
PRINT EXECUTIVE SUMMARY

Fortunately for mobile operators, a good deal of work has been done, both inside and outside the telecommunications industry, to help them realize this challenging objective. Enablers include:

Service quality management (SQM), which proactively monitors, manages and troubleshoots services, typically from a service operations center (SOC), and then correlates results with information from the network operations center (NOC).

Customer experience assurance (CEA), which helps operators to understand the network experience from the point of view of individual subscribers, and use this information to manage the network more effectively.

Next-generation customer experience management (CEM), which improves on initial CEM solutions, in particular by building solutions on a single horizontal big data architecture that is open and modular, and is linked to real-time analytics capability that is both prescriptive and predictive.

Customer experience index (CEI), a comparative measure of the high-level individual customer experience that goes beyond Net Promoter Score (NPS), drawing from CEM programs to create sophisticated and telecom-specific indices that form a basis for customer-centric remedial action.
The excerpt below shows how these various concepts are linked to each other.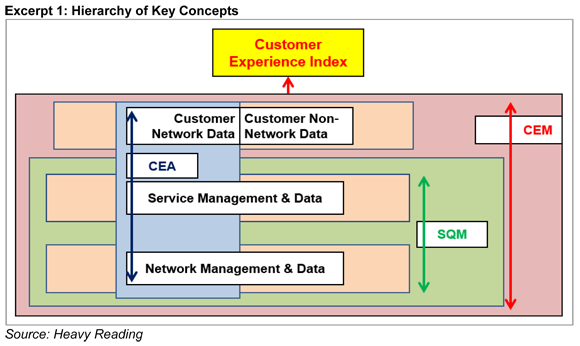 Report Scope & Structure

Looking Beyond the Network: The Case for Service Quality Metrics is structured as follows:

Section I is an introduction to the report, including the key findings of our research.

Section II examines the key challenges facing mobile operators in general, and those in developing regions in particular. As the era of subscriber growth comes to an end, and as customer services and apps multiply, operators must focus more and more attention on churn management and the creation of new revenue streams. As a result, understanding the subscriber-level experience of networks and services has never been more important than it is today.

Section III looks at network quality and service quality. In light of the discussion in Section II, we show that the network-level view of quality that most mobile operators already possess, though vital and valuable, is no longer sufficient to meet the challenges we have described. Mobile operators must bridge the gap between the network view and the subscriber experience, service by service, creating a seamless end-to-end view of service quality. By doing so, they can build greater customer loyalty and advocacy, and create a strong basis for exploiting new service and revenue opportunities.

Section IV offers a more detailed view of the key concepts and enablers that mobile operators can use to bridge the gap identified in Section III. This section looks at the role of enablers such as SQM, CEA and second-generation CEM systems, as well as related ideas such as the customer experience index (CEI). This section also looks at some of the softer organizational requirements.

Section V summarizes our findings, presenting a checklist for success, including relevant examples of successful programs.

Looking Beyond the Network: The Case for Service Quality Metrics is published in PDF format.