14 Leading Social CRM Vendors Profiled

21 pages of analysis of social CRM for service providers, drawing on recent Heavy Reading surveys of managed services vendors and service providers.

In-depth examination of the drivers social CRM solutions and the leading pain points that are preventing optimal social CRM today

Profiles of 14 leading vendors that provide social CRM solutions for service providers, ranging from BSS/OSS suppliers to traditional CRM vendors and smaller SaaS players
Sarah Wallace
Analyst,
Heavy Reading
Sarah focuses on service provider IT, including all aspects of OSS/BSS, managed services, analytics, mobile commerce and mobile banking...
MORE
To view reports you will need Adobe's Acrobat Reader. If you do not have it, it can be obtained for free at the Adobe web site.


REPORTS
/
EXECUTIVE SUMMARY
Today the use of social media channels has become ubiquitous. Consumers use social media to communicate with one another, catch up on news and keep informed of their favorite brands' happenings. Service providers that are not seizing the opportunity to engage with their subscribers on these platforms are very behind, and those that have a long history of engagement and forward-thinking strategies on these platforms can be considered advanced and progressive.

Heavy Reading defines "social customer relationship management (CRM)" as the use of social media platforms to engage with customers. Communications service providers that ignore their subscribers' activity in social media environments will miss out on the opportunity to not only engage, but also offer support and establish more personalized relationships.

Service providers are looking to social CRM as a means to reduce costs in the contact center by providing care over social channels. The report excerpt below, based on a Heavy Reading survey, shows the importance that service providers are placing on using social media for CRM-related activities. The use of a social CRM solution will allow service providers to monitor and act in real time to enable such opportunities and divert costly calls from the contact center.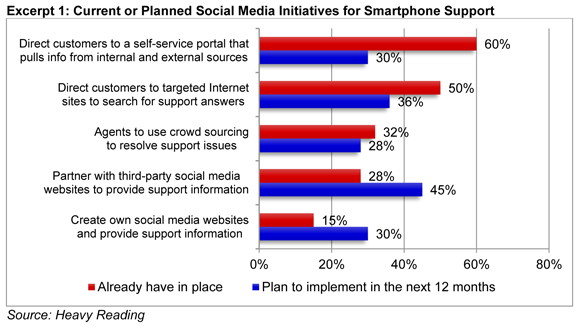 Service providers need a social CRM solution to make sense of social media's structured and unstructured data, to understand the mood and transaction patterns of customers in real time, and perform social network and sentiment analysis. This will help service providers to take preventive actions to avoid churn or customer dissatisfaction. Properly harnessing the data over these social channels will also allow for proactive and preemptive actions in the future.

In order to closely monitor and engage customers over these social platforms, service providers must have best practices in place to take full advantage of the plethora of social CRM solutions in the market today. They must also choose a social CRM solution that uses advanced analytics to make sense of the unique, unstructured data that comes across such channels.

This report examines the leading drivers for social CRM, service providers' pain points that prevent them from having optimal social CRM procedures today, and the social CRM best practices of advanced service providers.

DOWNLOAD TABLE OF CONTENTS
DOWNLOAD LIST OF FIGURES
PRINT EXECUTIVE SUMMARY

The report also profiles 14 vendors that offer social CRM solutions to service providers. These vendors range from business/operations support system (BSS/OSS) providers to traditional CRM players, to smaller software-as-a-service (SaaS) social-specific players that have come onto the scene and are acquiring a handful of service provider customers. The excerpt below shows the vendors interviewed for this report and some of the capabilities their social CRM offerings feature.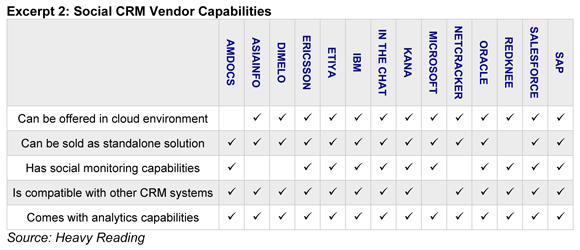 Report Scope & Structure

Social CRM Best Practices for Service Providers is structured as follows:

Section I is an introduction to the report, with complete report key findings.

Section II reviews the drivers for social CRM, relying on recent Heavy Reading surveys of managed services vendors and service providers.

Section III discusses service providers' pain points that prevent optimal social CRM.

Section IV discusses the social CRM practices of advanced service providers.

Section V analyzes 14 vendors that can help service providers with their social CRM needs.

Section IV summarizes our conclusions in this paper.

Social CRM Best Practices for Service Providers is published in PDF format.