8 Leading Service Chaining Vendors Profiled

46 pages of analysis of network service chaining technologies and processes in telecom carrier networks

A detailed overview of the drivers for service chaining, and its potential to revolutionize the design and operation of telecom networks

How service chaining ties into software-centric network technologies such as NFV and SDN, enabling operators to create more dynamic, programmable network services

In-depth profiles of the service chaining solutions and product development strategies of eight leading network vendors
Gabriel Brown
Senior Analyst,
Heavy Reading
Gabriel tracks wireless technologies and services for Heavy Reading, focusing on wireless data networking technologies such as 3G/HSPA, WiMax, and LTE...
MORE
To view reports you will need Adobe's Acrobat Reader. If you do not have it, it can be obtained for free at the Adobe web site.


REPORTS
/
EXECUTIVE SUMMARY
Network service chaining is an emerging set of technologies and processes that have the potential to radically change how service provider networks are designed and operated. The concept is inherent to the use of software-centric technologies, such as network virtualization, network functions virtualization (NFV) and software-defined networking (SDN) in carrier networks. In essence, it enables operators to create more dynamic, programmable network services. It could even be considered the apogee of a software-centric network.

Using service chaining, operators will be able to define and configure customized "service chains" in software without having to make changes to the network at the hardware level. In principle, service chains can be coarse-grained (e.g., all consumer smartphone users) or highly granular (e.g., a particular set of smartphone users), depending on the service the operator wishes to provide. The service chaining concept, and its implementation, addresses the requirement for both optimization of the network, through better utilization of resources; and monetization, through the provision of services that are tailored to the customer context.

Service chaining is not a new idea. Insofar as network equipment is hardwired back-to-back to create a processing path, it has always existed. In fact, chaining of network functions in hardware is the de facto operating model. The challenge is that service functions are embedded in discrete and specialized appliances and, as a result, an end-to-end service can be complicated to design, deploy, configure, modify and support. Hardwired service chains are characterized by hand-crafted complexity, with lifecycles that are long and static. This makes changes complex and costly and in turn leads to "network ossification."

In competitive markets, with rapid innovation at the application layer, network ossification prevents operators from being able to efficiently support growing traffic load and limits their ability to address emerging use cases and business models. Ossification, in effect, limits the addressable market for telecom services. For a sector with modest top-line revenue growth (at best), this is obviously a problem that needs to be addressed urgently.

In response, network operators want to accelerate the transition to software-centric, programmable networks. Web-scale service providers have shown some of what can be achieved through the use of SDN and virtualization to offer cloud services, and now operators want to adopt and extend these ideas for the wide-area telecom network. Dynamic network service chaining is a consequence – and in many ways a culmination – of the transition to software-configurable networks in telecom and data center networks.

While the concept of service chaining is important and there is promising market activity, there is not a common definition of network service chaining. However, there are already several proofs-of-concept underway in operator networks, and some limited commercial deployments of dynamic service chaining. Typically, these trials are linked to the use of SDN and virtualization and applied to Layer 4-7 services in mobile (e.g., SGi-LAN) and wireline (e.g., enterprise services) networks. This is to be welcomed; given that agility and flexibility are the objectives of dynamic service chaining, the technology should be deployed commercially in advance of formal standardization and specification.

Service Chaining in Software-Centric Telecom Networks examines the drivers for service chaining in telecom operator networks and identifies the key technology innovations and architectural requirements needed to make the concept commercially attractive. It explores emerging use cases that take advantage of service chaining technology, discusses how different operators and vendors plan to implement the technology in their products and networks, and analyzes what can be learned from putative service chaining deployments in the software-defined data center.

DOWNLOAD TABLE OF CONTENTS
DOWNLOAD LIST OF FIGURES
PRINT EXECUTIVE SUMMARY

This report profiles eight leading vendors of service chaining solutions, to provide a selection of different approaches to this evolving concept. The intent in the report is not to provide a comprehensive review of all vendors, which would be excessively long, but merely to offer an overview of the types of market propositions in play.

The service chain concept is shown in the excerpt below. Each circle represents a different service function (or network function) that is connected to other services via a network. The arrows represents three different service chains that comprise of a particular set of service functions connected in order.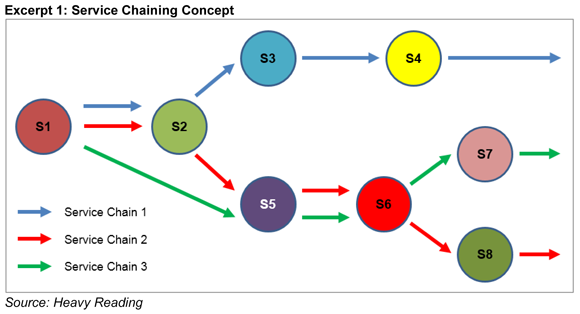 Service chaining occurs along processing paths that reach across the network. Therefore, many organizations are involved in developing use cases and specifications, and many others are impacted by it. At some level, it is arguable that too many competing interests, backing too many specification initiatives, will result in overlap and confusion. In practice, however, we expect to see greater collaboration between groups as service chaining requirements and potential solutions become clearer. The excerpt below summarizes the most influential industry organizations working on service chaining.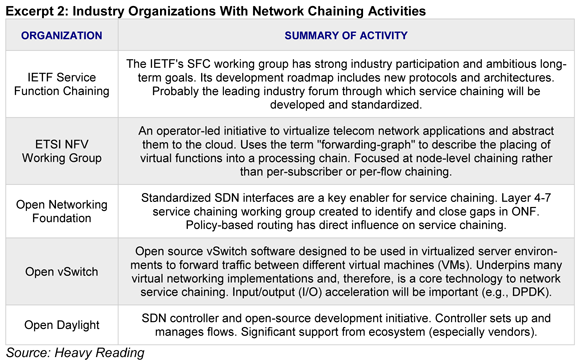 Report Scope & Structure

Service Chaining in Software-Centric Telecom Networks is structured as follows:

Section I is an introduction to the report, with complete report key findings.

Section II introduces network service chaining, explains what it is, and discusses why it's important.

Section III examines the industry organizations that are defining and standardizing service chaining technology.

Section IV investigates use cases and asks where service chaining will be used first.

Section V covers the technologies and subsystems that are needed to realize service chaining in telco networks.

Section VI profiles vendor solutions and product development strategies.

Service Chaining in Software-Centric Telecom Networks is published in PDF format.