46 pages of analysis of rising operator interest in having a CEM-driven company, the response of the TM Forum, the technologies that support the CEM-driven telco, and how they are being packaged into CEM systems

In-depth examination of the CEM system vendor landscape, comparing different vendor starting points for and approaches to CEM, and the strengths and weaknesses of different solutions

Profiles of nine leading CEM systems vendors, which aim to provide a holistic set of dashboards for managing CE across multiple domains within the service provider organization
CAROLINE CHAPPELL
Senior Analyst,
Heavy Reading
Caroline leads Heavy Reading's research into customer experience management and service provider cloud infrastructure adoption...

MORE
To view reports you will need Adobe's Acrobat Reader. If you do not have it, it can be obtained for free at the Adobe web site.


REPORTS
/
EXECUTIVE SUMMARY
The majority of telecom customers worldwide are antagonistic toward their communications service provider, according to an IBM survey – one of many that show that the telecom industry lags other sectors when it comes to customer experience management (CEM).

However, the tide is turning for telco CEM: Early adopters – those telcos that have been practicing CEM for four years or more – are demonstrating that they are outperforming their competitors, and that CEM does yield results. Challengers with me-too networks have been particularly interested and active here as a means of strongly differentiating themselves from established competition. However, incumbents in particularly competitive markets have also seen CEM as a means of responding to price pressure from new market entrants, enabling them to preserve a reputation for premium value.

Fast followers have been hard on the early adopters' heels, but Heavy Reading research finds that even mainstream adopters are now developing strategies for CEM. Their efforts may not yet be as pervasive across the organization or supported with as mature CEM technology solutions as those of early adopters, but they are addressing CEM at a good time.

Market understanding of this management discipline and how to measure customer experience (CE) is well established, so they can learn from the best practices identified by early adopters and benefit from the useful tools emerging from the TM Forum (TMF) CEM program – such as its CEM Lifecycle Model, CEM Maturity Model and Metrics Framework – in scoping CEM improvements.

Vendor CEM solutions are also maturing. A raft of CEM tools and technologies make it possible for service providers to not only measure and analyze a broad range of factors that affect CE at any customer touchpoint within their organization, but also understand how to influence and respond to those factors.

The end goal of the CEM-driven telco – toward which a select group of CEM system vendors are working – is coming closer. In the CEM-driven telco, CEM systems be-come intermediaries between events that occur in the telco's operational environment/customer journey that affect CE and systems that execute business processes. CE analytics produced by CEM systems will increasingly determine what actions executive systems should take next.

Operators will benefit from vendor investment in big data infrastructures that enable them to capture, correlate and establish causation among a wider range of metrics. Both operators and their CEM suppliers are engaged in identifying the critical insights that turn the dial on CE and in assessing the effectiveness of the actions they recommend/take in response.

Fast followers and mainstream adopters will be able to take advantage of more productized insights and recommendations over the next year. More experimentation is needed with candidates for the single customer experience index (CEI), which represents the sum total of each customer's entire experience of their service provider. Early adopters are already putting such indices in place in order to benchmark CE across organizational domains, including across operating companies, raising the visibility of CEM in their companies.

The CEM-Driven Telco: Next Steps for Adoption looks at the state of the CEM market from both operator and vendor perspectives and explores the next steps in telco adoption of CEM. The benefits of CEM in terms of churn prevention, new upselling opportunities and new customer acquisition through customer advocacy are now well documented. Telcos are at a critical point in their relationship with customers, and 2014 is set to be a key year for grasping the opportunity to improve their market standing.

DOWNLOAD TABLE OF CONTENTS
DOWNLOAD LIST OF FIGURES
PRINT EXECUTIVE SUMMARY

As telcos increase their interest in and spending on CEM, growing numbers of vendors are polishing their CEM stories and/or entering the CEM market. This report profiles nine leading CEM systems vendors that either have built or are working on CEM systems that give a holistic view of the customer across telco domains.

Most operators Heavy Reading has surveyed say they want to increase the frequency with which they measure customer satisfaction, and there is strong telco interest in understanding and implementing Net Promoter Score (NPS). Operators see the number, type and frequency of metrics captured as key to providing a better and more differentiated CE. They believe customer-specific metrics are particularly important, as shown in the excerpt below.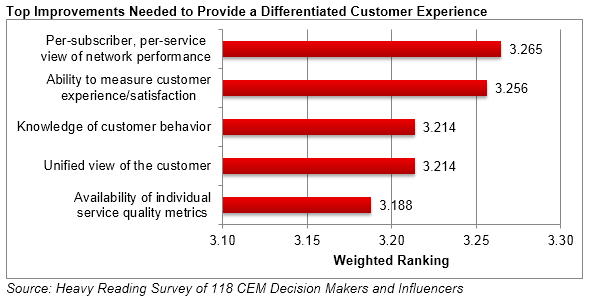 The excerpt below maps the three types of telco adopting CEM that Heavy Reading has identified onto the dimensions of the TMF's CEM Maturity Model.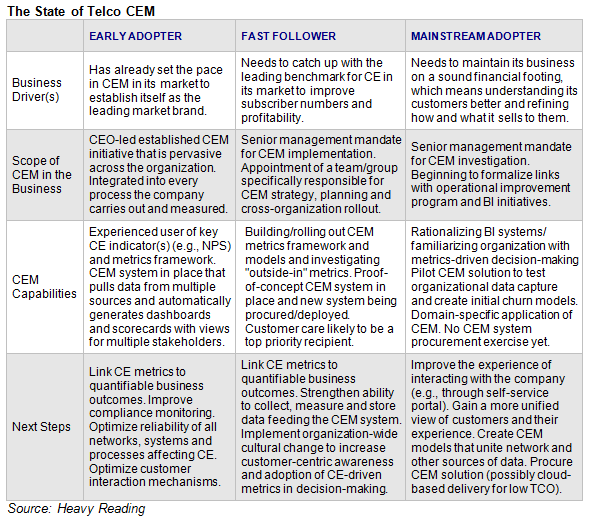 Report Scope & Structure

The CEM-Driven Telco: Next Steps for Adoption is structured as follows:

Section I is an introduction to the report, with complete report key findings.

Section II assesses rising operator interest in having a CEM-driven company, the response of the TMF, the technologies that support the CEM-driven telco, and how they are being packaged into CEM systems.

Section III analyzes the CEM system vendor landscape, comparing different vendor starting points for and approaches to CEM, and the strengths and weaknesses of profiled solutions.

Section IV profiles nine leading vendors of CEM systems, which aim to provide a holistic set of dashboards for managing CE across multiple domains within the service provider organization.

Section V summarizes the conclusions of this report.

The CEM-Driven Telco: Next Steps for Adoption is published in PDF format.