38 pages of analysis of the primary causes of mobile network outages and degradations, the primary causes of those incidents, and how operators are addressing them

Full results of a Web-based survey of network operators worldwide, providing insight into how mobile operators are dealing with network outages and degradations

Detailed breakdown of the costs to mobile operators of managing outages and degradations, as well as the short- and long-term impacts of these incidents on an operator's wider business performance

PATRICK DONEGAN
Senior Analyst,
Heavy Reading
Patrick Donegan has more than 20 years of experience as a telecom market journalist, analyst, and strategist. His in-depth knowledge of wireless technology...

More
To view reports you will need Adobe's Acrobat Reader. If you do not have it, it can be obtained for free at the Adobe web site.


Mobile Network Outages & Service Degradations: A Heavy Reading Survey Analysis
The summer of 2013 saw several headline-making outages severely impacting the IT infrastructure of Internet giants such as Amazon, Apple, Google and Microsoft, as well as Nasdaq, giving rise to widespread soul-searching within and beyond the IT and telecom industries regarding whether the pace unleashed by the digital and Internet networking revolutions may be proving too fast for the underlying network infrastructure to cope with.

As part of that transformation, the mobile services ecosystem is undergoing profound changes. IP is replacing legacy protocols at every layer from Layer 2 to Layer 7. As the intermediary between the end user and the Internet and applications environment, the mobile network is now in the path of this storm of transformation.

Judging by the way mobile network outages are covered in the media and social media nowadays, the mobile network already seems to be more vulnerable to sudden, large-scale outages than it used to be. Then again, smartphone users today are much more dependent on (or addicted to) their devices than they (or their parents) were to their simpler phones five or ten years ago. As a result, mobile network outages and degradations create a great deal more pain today than they did in the past, when a human's mobile phone wasn't considered as essential for maintaining life as their heart, liver and kidneys.

Very high-profile outages at AT&T, Sprint Nextel, NTT Docomo, O2 UK, T-Mobile USA and Telefónica over the last couple of years have raised real concerns about the ability of even leading operators to manage a consistently high standard of service as they evolve to becoming full-fledged Internet service providers (ISPs) in the mobile broadband era. And early, high-profile outages in the new Long Term Evolution (LTE) networks of Verizon Wireless and Telenor prompted concern that 4G might create as many new problems for operators as it solves.

This Heavy Reading survey looks under the hood of the mobile network and into the planning, engineering and operations departments of many of the world's mobile operators to gain an understanding of what's going on with respect to network outages and degradations.

Leveraging a survey of 76 online respondents, as well as detailed operator interviews, this report provides a timely and unique visibility into how mobile operators are faring with the transition to mobile broadband. It reveals the frequency with which operators are experiencing outages and degradations in the network and the primary causes of those incidents. It considers the mechanisms, solutions and processes that operators are putting in place to notify them of issues and incidents in the network and then address them. It presents and analyzes the cost to the operator of managing these incidents and looks at the short- and long-term impacts of these incidents on an operator's wider business performance.

DOWNLOAD TABLE OF CONTENTS
DOWNLOAD LIST OF FIGURES
PRINT EXECUTIVE SUMMARY

This report is based on a Web-based survey of network operators around the world, which was conducted in August 2013. A total of 76 qualified mobile operator provider respondents participated in the survey. The excerpt below shows the breakout of qualified respondents by the company's annual revenue. One third of have annual revenues in excess of $5 billion. More than half have annual revenues in excess of $1 billion. Nearly one third have annual revenues of less than $500 million.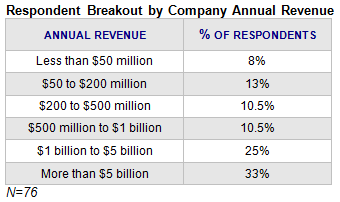 In our survey, operators identified physical link failures, network congestion/overloads and network failures as the most common causes of network outages by far. Among the specific causes raised in operator interviews are chip failures ("melting") in network equipment due to broken air conditioning, board faults in network equipment, power outages and transmission equipment not working – in one specific case "because it's low-cost Chinese equipment that doesn't work properly," and in another "because the equipment was impacted by thunderstorms."



Report Scope & Structure

Mobile Network Outages & Service Degradations: A Heavy Reading Survey Analysis is structured as follows:

Section I is an introduction to the report, with complete report key findings.

Section II provides a detailed analysis of the results of the Heavy Reading mobile network outages and service degradations survey results. We organize the survey analysis into the following sections: trends in network outages and service degradations; the causes of outages and degradations; variations by types of operators; and the costs of outages and degradations.

Appendix A provides the text of Heavy Reading's 2013 Mobile Network Outages & Service Degradations Survey in its entirety.

Mobile Network Outages & Service Degradations: A Heavy Reading Survey Analysis is published in PDF format.