11 ETHERNET SERVICE PROVIDERS PROFILED

46 pages of analysis on the wholesale Ethernet services market, including adoption drivers, interoperability, buyer trends, topologies, service varieties and pricing

In-depth profiles of 11 major service providers that offer wholesale Ethernet

Forecasts of the wholesale Ethernet market through 2016, analyzed by purchasing service provider types, service topologies, geographic domains and bandwidth levels

STEVE KOPPMAN
Analyst at Large,
Heavy Reading
Koppman has covered the North American carrier industry for 20 years as an analyst, focusing on market forecasting and analysis, issues of industry structure...

More
To view reports you will need Adobe's Acrobat Reader. If you do not have it, it can be obtained for free at the Adobe web site.


U.S. Wholesale Ethernet Market Forecast
Until a few years ago, wholesale Ethernet was perceived as something of a niche and marketing backwater, with carriers' focus heavily on promoting higher-margin retail Ethernet adoption. The combination of accelerating bandwidth demand, lengthening experience and comfort with public Ethernet, the service's continually declining costs, expanding interoperability and improving standards brought increasing attention and growth to wholesale Ethernet, recently also driven heavily by the major shift of very rapidly growing wireless backhaul to the service.

Wholesale Ethernet refers specifically to sales of Ethernet service to other providers of communications, whether on a "sell-through" resale basis (of retail Ethernet services), or on a "sell-to" basis in which sales are made to support providers' communications infrastructures, which forms the majority of this market, including cell backhaul and infrastructural requirements of Web-based and carrier service providers.

Many drivers of wholesale Ethernet are similar to those of the service's retail market. Ethernet generally has expanded out of the local-area network (LAN) in which it originated, becoming a category of public, carrier wide-area (though still predominantly metro-oriented) service, capitalizing on its less expensive equipment and interfaces, coupled with advantages in flexibility, scalability and functionality. Earlier "best effort" services targeted to price-sensitive, geographically concentrated buyers have been widely superseded by higher-end "carrier Ethernet" with improved service characteristics, helping the service fill roles both as relatively inexpensive bandwidth and reliable standards-based service. In an environment of proliferating data and video causing rapidly escalating bandwidth demand, Ethernet shines compared with more costly, longer-established technologies as a way to get more bandwidth for less, or much more bandwidth for not much more money.

U.S. Wholesale Ethernet Market Forecast analyzes and projects the growth of the wholesale Ethernet segment over the next four years. It forecasts the wholesale Ethernet market through 2016, analyzed by purchasing service provider types, service topologies, geographic domains and bandwidth levels. The report also profiles 11 major service providers that offer wholesale Ethernet.

DOWNLOAD TABLE OF CONTENTS
DOWNLOAD LIST OF FIGURES
PRINT EXECUTIVE SUMMARY

Heavy Reading conducted in-depth interviews with senior executives and marketing and network professionals from a variety of companies that sell wholesale Ethernet service in the U.S. Companies interviewed included traditional carriers, CLECs, international carriers and MSO cable telephony providers. Click here for the full list of included service providers.

This report's analysis projects the U.S. wholesale Ethernet market using several significant segmentations. One divides the market between the two major topologies used in the wholesale Ethernet market, as shown in the excerpt below: EPL, point-to-point connectivity over dedicated bandwidth, typically using Sonet or DWDM; and EVPL, point-to-point or point-to-multipoint connectivity over switched non-dedicated infrastructure, often using MPLS technology.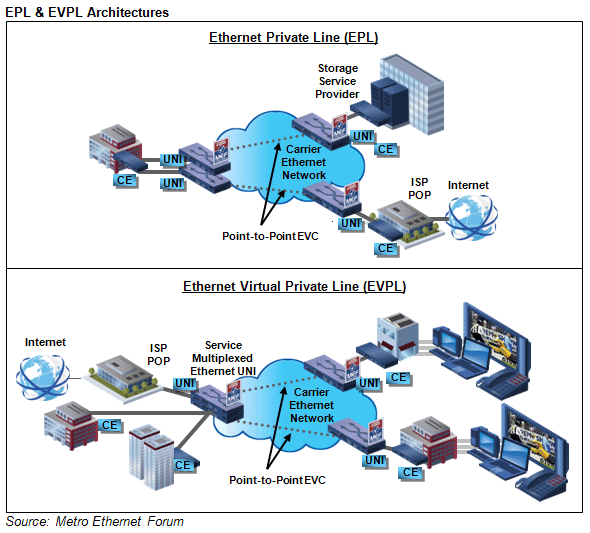 As shown in the excerpt below, wholesale Ethernet revenues from U.S. wireless carriers are projected to grow from $399 million in 2011 to $1.37 billion by 2016. While percentage growth will moderate over the forecast period, absolute revenue growth will accelerate in the near term as wireless bandwidth growth for video and data continues and its migration from TDM to Ethernet deepens. Wireline carrier revenues are projected to grow from $504 million in 2011 to nearly $1.5 billion in 2016. Web-based player revenues are projected to grow from an estimated $317 million in 2011 to $1.35 billion in 2016, at a 34 percent CAGR. This segment's growth will accelerate in percentage terms at least until 2014, peaking at an estimated 35 percent that year.





Report Scope & Structure

U.S. Wholesale Ethernet Market Forecast is structured as follows:

Section I is an introduction to the report, with complete report key findings.

Section II provides background on Ethernet services and the wholesale market, defines the segments forecast, and discusses wholesale market applications and buyer groups.

Section III discusses issues and trends occurring and emerging within the U.S. wholesale Ethernet market including adoption drivers, interoperability, buyer trends, topologies, service varieties and pricing.

Section IV provides detailed company profiles of 11 industry participants interviewed for the report.

Section V provides market forecasts and segment breakdowns.

U.S. Wholesale Ethernet Market Forecast is published in PDF format.