14 ORDER MANAGEMENT & ENTERPRISE CATALOG VENDORS PROFILED
Click here
for the full list of profiled order management vendors.

23 pages of analysis covering the promise and challenges of end-to-end OM systems, and how they can help telcos to foster intelligent product creation

Selected results of original service providers surveys, exploring their leading problems with today's OM systems and primary objectives for revamping their ordering processes

Recommendations for how service providers can leverage OM solutions to increase operational efficiency and maximize revenue potential

In-depth analysis of the products and strategies of 14 leading providers of OM/enterprise catalog solutions for the communications market
ARI BANERJEE
Senior Analyst,
Heavy Reading
Banerjee's research focuses on the service provider IT sector, examining the breadth of software used by communications service providers...

More
To view reports you will need Adobe's Acrobat Reader. If you do not have it, it can be obtained for free at the Adobe web site.


Revolutionizing Customer Experience With Catalog-Driven Fulfillment
As competition increases in the telco landscape, communication service providers (CSPs) realize they must change their business model in order to retain customers and increase revenue. A priority shift now focuses on the customer, which means meeting customer demand by rolling out new products or services in a timely manner while still providing superior service with existing offerings. In this context, the role of order management (OM) becomes pivotal. Also critical is the close alignment between OM and the centralized catalog, which means catalog-driven fulfillment is a must have for CSPs.

Efficient end-to-end OM solutions help manage the customer ordering experience so customers can order new and upgraded services when, where and how they want them. These services also help automate order-handling processes so that errors and time to order are reduced, and they also help boost carrier profitability by automating redundant processes and increasing operational efficiency. CSPs should take a closer look at efficient end-to-end OM offering solutions. Benefits may mean gaining real-time visibility into orders across divisions and supply networks, streamlining and lowering the cost of customer order fulfillment processes and accessing up-to-date product and inventory availability.

CSPs can streamline product management through a holistic, product lifecycle management (PLM) approach where the benefits will be marked improvement of the overall product lifecycle along with an enhanced end-user experience. The ROI on such an approach will be cost savings through reduced duplication of efforts, reduced errors and a quicker time to market. This PLM approach will also be able to combat any challenges that come with next-gen business models as long as there is a connection to the enterprise product catalog that will allow for streamlined product management.

Revolutionizing Customer Experience With Catalog-Driven Fulfillment looks at needs for next-generation OM solutions, the evolution of centralized product catalog, the size of the market, how a PLM-based centralized catalog can potentially bring huge benefits for CSPs, what catalog-driven fulfillment means and how customer experience management (CEM) strategies can be enhanced via strategic OM and centralized product management strategies.

DOWNLOAD TABLE OF CONTENTS
DOWNLOAD LIST OF FIGURES
PRINT EXECUTIVE SUMMARY

The report also analyzes the products and strategies of 14 key OM/enterprise catalog vendors in the communications market. For a full list of companies analyzed in this report, click here.

Heavy Reading recently conducted a survey of 50 unique global service providers and found that CSPs are well behind when it comes to automation of sales and ordering processes. However, it also is very clear that this area is identified by CSPs and they are looking to make major investments in the next 12 to 18 months, as shown in the excerpt below.

Current Status of Automation for Sales & Ordering Process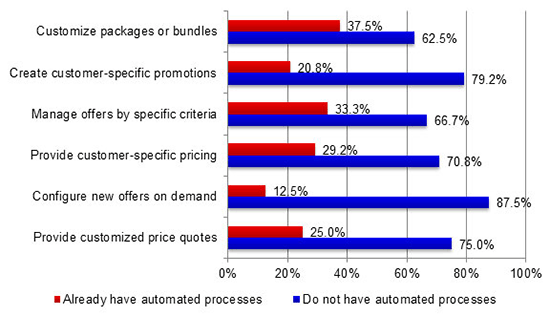 Source: Heavy Reading, 2011

Having a streamlined product management strategy and aligning it closely with sales and OM will be a critical strategy for CSPs. Close alignment of centralized catalog with OM will be beneficial for operators as it will reduce time to market for new services, avoid product duplication and provide an agile mechanism to improve offer design and delivery strategy. The centralized product catalog market has been growing by about 7.1 percent CAGR. We expect the market to grow from $319 million in 2012 to $366.37 million in 2014. The excerpt below illustrates the size of the centralized catalog market.

Centralized Product Catalog Market Size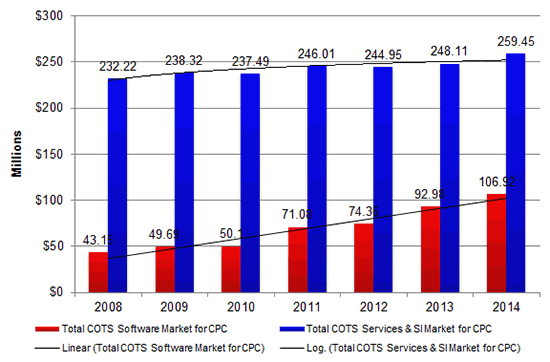 Source: Heavy Reading, 2012

Report Scope & Structure

Revolutionizing Customer Experience With Catalog-Driven Fulfillment is structured as follows:

Section I includes a full executive summary and report key findings.

Section II examines how CSPs are looking to streamline their product management strategy to allow for intelligent product creation, offer management and future evolution, including CSP wish lists and changing priorities for centralized product catalog.

Section III explores the benefits of a PLM-based centralized product catalog solution for CSPs, improving the overall product lifecycle along with an enhanced end-user experience.

Section IV breaks down the definition and process flow of catalog-driven fulfillment for mobile operators.

Section V analyzes the elements required for an end-to-end CEM initiative to be successful, spanning all aspects of customer lifecycle management including OM, service fulfillment, service assurance and billing.

Section VI profiles 14 leading providers of catalog-driven OM solutions.

Revolutionizing Customer Experience With Catalog-Driven Fulfillment is published in PDF format.