14 SDM & ANALYTICS VENDORS COVERED
Click here
for the full list of profiled network security vendors

55 pages of in-depth market analysis, including the factors and use cases that are motivating network operators to deploy SDM and analytics

Comprehensive analysis of the functional capabilities that define SDM, including the inherent differences between centralized and federated data approaches

Examination of established and emerging standards and industry initiatives that are shaping the evolution of SDM and analytics on multiple levels

Detailed profiles of 14 leading SDM and analytics vendors, including competitive analysis of their products, overall vision, market strategies and long-term prospects
JIM HODGES
Senior Analyst,
Heavy Reading
Jim has worked in telecom for more than 20 years, with experience in both marketing and technology roles. His primary areas of research include softswitch, IMS, and application server architectures...

More
To view reports you will need Adobe's Acrobat Reader. If you do not have it, it can be obtained for free at the Adobe web site.


SDM & Analytics: Reshaping the Services Landscape of Man & Machine
Given the unbridled growth of data applications, telco business models are being reshaped in response to fundamental change in user adoption patterns. While the monetization stage is only now commencing, underlying technology drivers such as IP-based smartphone penetration that are now moving delivery of personalized services from "pipe dream" to an everyday business reality are raising the profiles of both subscriber data management (SDM) and analytics.

Although SDM got its start more than five years ago as a centralized distributed architecture to optimize internal databases and hence reduce opex, SDM in conjunction with analytics is driving a sea change in how network operators manage subscriber information and provide personalized services.

In addition, with other technologies such as machine-to-machine (M2M) and cloud services poised for mass-scale adoption, it is evident that network operators must adopt more powerful approaches for meeting future customer needs consistent with the broad definition of customer experience management (CEM). In response, both network operators and vendors are now aggressively focused on SDM and analytics deployment strategies and bridging product and solution portfolio gaps to ensure future success.

SDM and analytics have established themselves as mandatory technologies for the delivery of personalized services, which operators now regard as a critical strategic requirement. SDM techniques and tools support the collection and analysis of individual subscriber usage data and preferences to enable the delivery of real-time and potentially location-based personalized services and content.

SDM & Analytics: Reshaping the Services Landscape of Man & Machine examines the factors and use cases that are motivating network operators to deploy SDM and analytics. The report identifies the various functional capabilities that define SDM, including capturing the inherent differences between centralized and federated data approaches. Looking ahead, it estimates the timeframe that the mass commercialization of SDM and analytics will commence.

DOWNLOAD TABLE OF CONTENTS
DOWNLOAD LIST OF FIGURES
PRINT EXECUTIVE SUMMARY

The report also delivers a detailed competitive analysis of the products, overall vision, market strategies and long-term prospects of 14 SDM, database and analytics vendors.

Click here for the full list of profiled network security vendors.

SDM has multiple appearances, depending on the applications supported and network implementation. However, conceptually there are several characteristics that distinguish an SDM-enabled solution from a legacy siloed approach. As shown in the excerpt below, the most visible is the functional separation of data from software logic effectively using "back-end" databases and "front-end" application service logic. Examples of front ends include HLR, HSS, policy control and analytics.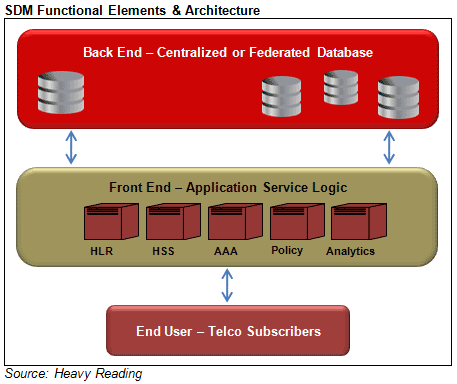 Our research confirmed that network operators are also moving from simply using SDM to consolidate data and reduce opex to utilizing SDM to deliver more complex and personalized services. Similarly, since analytics when integrated with SDM can greatly enhance complex services uses cases, a large number of operators are either currently using analytics or plan to implement them within 12 to 18 months.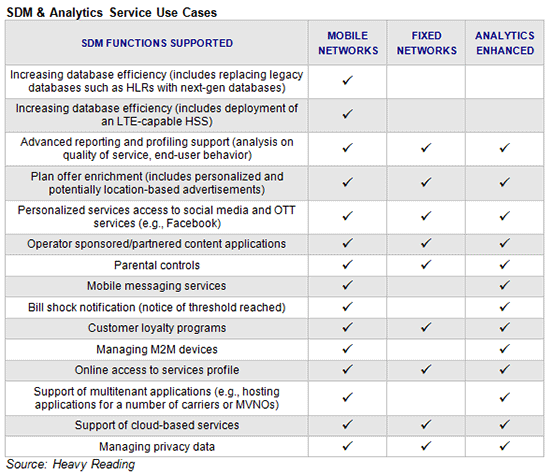 Report Scope & Structure

SDM & Analytics: Reshaping the Services Landscape of Man & Machine is structured as follows:

Section I is an introduction to the report, with complete report key findings.

Section II examines SDM and analytics from an architectural perspective, identifies deployment drivers and provides an update on implementation timelines.

Section III considers the impact of established and emerging standards that are shaping the evolution of SDM and analytics on a number of levels.

Section IV analyzes the solutions and strategies of a 14 vendors that facilitate SDM, analytics and policy control, based on a series of specific vendor briefings conducted by Heavy Reading.

Section V provides a summary and conclusions for this report.
SDM & Analytics: Reshaping the Services Landscape of Man & Machine is published in PDF format.