16 MOBILE CACHING SOLUTION VENDORS COVERED
Click here
for the full list of profiled mobile caching vendors

33 pages of in-depth analysis of the mobile caching market, evaluating the primary drivers and challenges for mobile operators using caching as a solution

Detailed examination of the challenges facing mobile network operators, including the traffic management measures these operators see as most urgent

Discussion of the key hurdles to making mobile caching work, including "breaking the tunnel" of GTP to enable caching past the Gi interface

Detailed profiles of 16 leading mobile caching solution vendors, analyzing their strengths and weaknesses, and describing their solutions and strategic positioning in this market
ADITYA KISHORE
Senior Analyst,
Heavy Reading
Leveraging his 15 years' experience in consumer media, Kishore covers digital media applications and services and their distribution over broadband networks...

More
To view reports you will need Adobe's Acrobat Reader. If you do not have it, it can be obtained for free at the Adobe web site.


Crossing the Gi: Will Edge Caching Be the Key to Managing Mobile Traffic?
Mobile data traffic is growing exponentially, driven by penetration of smartphones and adoption of mobile broadband. This trend is being facilitated by growing volumes of content, particularly rich media content such as video, becoming available via video sharing sites and social networks. In addition, operators are themselves launching multimedia services, in many cases extending pay TV services to mobile and other devices.

Usage of dynamic, multimedia applications is particularly significant. These applications take up a disproportionate amount of capacity on the network and can create congestion. Video is perhaps the most significant of these applications, and will account for the majority of mobile traffic this year. What's more, it is expected to keep growing.

This growth in traffic is starting to strain mobile networks, and affect operating expenses. Operators are finding that congested networks result in latency and lower quality of experience (QoE) for end users. This can aggravate consumers and drive churn – something operators cannot allow in competitive markets.

In a survey of 50 mobile operators around the world conducted by Heavy Reading, 86 percent agreed this would be a serious challenge in the coming years and more than half strongly agreed, as shown in the excerpt below. This suggests a clear recognition within these organizations that the problem was severe and needed urgent resolution.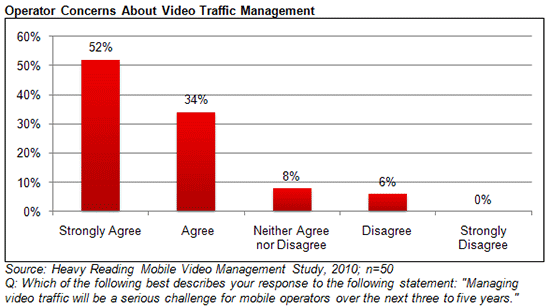 Mobile operators are looking for solutions to manage network traffic in a cost-effective way while still preserving a high end-user QoE. Fixed-line operators, already feeling the pressure of video traffic growth on their networks, have been deploying transparent caches at the edge of their networks in recent years. Mobile operators with even scarcer network capacity are also now hoping to leverage this technology. But mobile networks are a different environment from fixed, and create a new set of challenges for video caching and delivery. Can caching work in the mobile network?

Crossing the Gi: Will Edge Caching Be the Key to Managing Mobile Traffic? explores the growth in mobile traffic, its primary drivers and the current status of caching on mobile networks. The report reviews the unique challenges of caching on mobile networks and evaluates the primary drivers and challenges for operators using caching as a solution.

DOWNLOAD TABLE OF CONTENTS
DOWNLOAD LIST OF FIGURES
PRINT EXECUTIVE SUMMARY

The report also includes specific analysis of 16 key vendors in this space, describing their solutions and strategic positioning in this market, as well as their relative strengths and weaknesses.

Click here for the full list of mobile caching solution vendors.

In a sense, the mobile caching space is not a separate market as much as it is an extension of other, adjacent markets. Caching is unlikely to be deployed on a mobile network in isolation; we anticipate most solutions will be integrated, partnered or part of larger traffic management solutions. Mobile optimization, network infrastructure, policy and RAN intelligence-type capabilities will all be leveraged alongside caching to better manage network traffic. This is evidenced by the types of vendors that are targeting this market.

Broadly speaking, mobile caching vendors can be categorized into four groups, based on their history and the types of solutions they offer. Individual vendors within the same grouping have similar objectives, strategies and opinions. Unsurprisingly, they also demonstrate many similar strengths and weaknesses, though they do have individual attributes.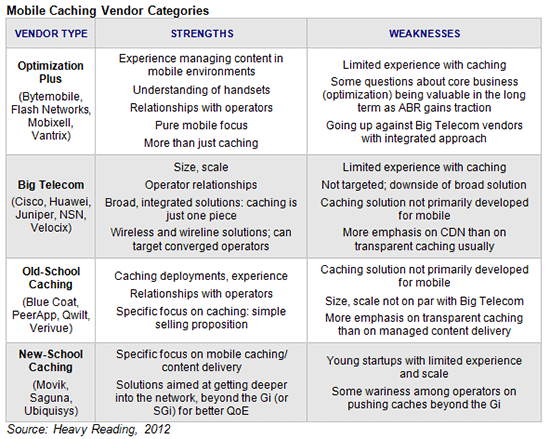 Report Scope & Structure

Crossing the Gi: Will Edge Caching Be the Key to Managing Mobile Traffic? is structured as follows:

Section I is an introduction to the report, with complete report key findings.

Section II outlines key trends in the growth of mobile traffic, analyzing growth trends and leading drivers of traffic growth. It also reviews the impact of video and the strategies operators are considering to manage growing volumes of mobile traffic.

Section III examines the emergence of caching as a solution and its market status. It analyzes the drivers for caching on mobile networks today and lists the key challenges that operators face in using caching as a solution.

Section IV reviews 16 major vendors in the mobile caching space, grouping them into four major categories based on the type of product and strategy they offer. This section identifies each category's strengths and weaknesses, and reviews each vendor's flagship products and key strategies in this space.
Crossing the Gi: Will Edge Caching Be the Key to Managing Mobile Traffic? is published in PDF format.