60 pages of in-depth market analysis, breaking down the key components of Heavy Reading's Carrier IP Migration Index (CIMIX)

Detailed analysis of the 35 network KPIs and 4 business KPIs defined for assessment in CIMIX, including the rationale for including each metric and how success is defined

Key results of an exclusive survey of network operators conducted in January 2012, rating the importance of our KPIs and evaluating their own progress in each area
JIM HODGES
Senior Analyst,
Heavy Reading
Jim has worked in telecom for more than 20 years, with experience in both marketing and technology roles. His primary areas of research include softswitch, IMS, and application server architectures...

More
GRAHAM FINNIE
Chief Analyst,
Heavy Reading
Graham Finnie has been researching telecom for more than 20 years, formerly as a journalist and latterly as an analyst and consultant...

More
To view reports you will need Adobe's Acrobat Reader. If you do not have it, it can be obtained for free at the Adobe web site.


IP Network & Service Migration: Benchmarking Telco Progress
The gradual migration of fixed and mobile network and service platforms to an all-IP basis is now inevitable, but it is a complex task with many different facets. However, despite the availability of mature IP-based products and standards, there is no formal industry-level measurement available to gauge a network operator's progress on the IP migration journey.

So how do operators measure and benchmark progress, and what should they include in that measurement exercise? To answer these questions, Heavy Reading analysts created a single IP benchmarking index: the Carrier IP Migration Index (CIMIX). Simply stated, CIMIX is a leading-edge technology- and vendor-agnostic market model that can be applied to all carriers to calculate a numeric value of IP readiness and sophistication.

We believe that carriers must migrate to IP right through the value chain, so any such index must be holistic in scope. We have therefore created an index that covers the four key aspects of the telco value chain as we see it: Connectivity, Control, Services, and OSS/BSS. Within each of these layers, we have created a series of sub-categories, and then weighted their significance – for a total of 35 key performance indicators (KPIs) for measuring IP progress.

The model also defines 4 business KPIs that allow network operators to analyze the correlation between IP migration and the key cost and revenue business metrics that are related to that migration, including network operating cost (NOC) per GB and IP services revenue.

Taken together, this set of indicators will enable all carriers to objectively and comprehensively compare their position to those of their peers, and see where they are leading and where they are lagging on the road to an all IP network and services infrastructure.

To test our index, we then asked operators in a major survey to evaluate and rank the importance of each indicator, to set out what the main aims of IP transformation were, and to tell us how much progress they believed they had made in each area.

IP Network & Service Migration: Benchmarking Telco Progress presents the results of this benchmarking exercise and survey work. We set out in detail the 35 network KPIs and 4 business KPIs defined, and explain why they were included and what the key criteria are for meeting each KPI. Through our survey, we also show that operators in general regarded almost all of our indicators as important or critically important, but ranked some significantly higher than others. We also found that they believe they have made far better progress with some aspects of this transformation (Connectivity and Control) than others (Services and OSS).

DOWNLOAD TABLE OF CONTENTS
DOWNLOAD LIST OF FIGURES
PRINT EXECUTIVE SUMMARY

We believe CIMIX is the first really comprehensive attempt to capture and quantify network operator progress toward an all-IP network and service environment, not just in the core network, or in access, but right through the IP value chain. We believe that only by capturing the whole picture is it possible for telcos to realize the enormous benefits that an all-IP approach can bring.

In order to get objective validation of the KPIs defined in CIMIX, we asked operators to assess their importance in a survey that we launched in January 2012. The excerpt below shows that, while basic connectivity KPIs scored highest, the respondents also gave high scores to several complex service management KPIs. Cloud computing was the one service-oriented KPI in the top 12, reflecting an increasing sense that this could be a vital justification for network operators for the transition to an IP services environment.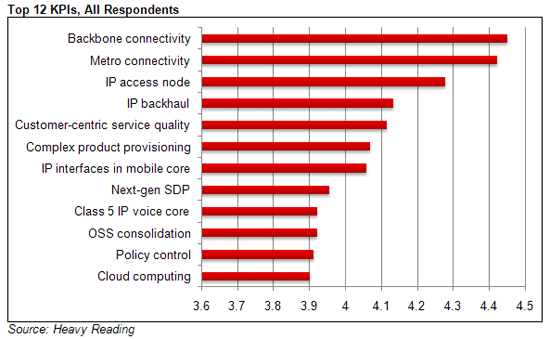 In addition to rating the KPIs we developed, we also asked our survey respondents about the likely impact of IP migration. As the excerpt below shows, telcos believe the biggest impact of IP migration will be felt in NOC per gigabyte, followed closely by ARPU/IP services revenue. Operators also anticipate that migration will have a significant impact on time to provision services – an increasingly important requirement in the fast-moving Web environment.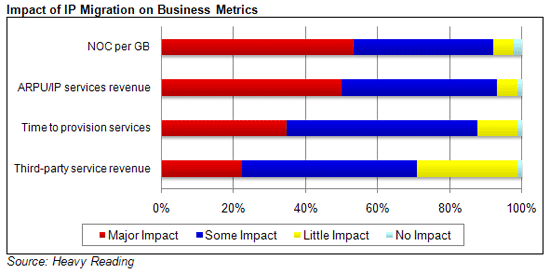 Report Scope & Structure

IP Network & Service Migration: Benchmarking Telco Progress is structured as follows:

Section I is an introduction to the report, with complete report key findings.

Section II through V outline the 35 network KPIs included in CIMIX, divided into the four key layers of the telco value chain: Connectivity, Control, Services, and OSS/BSS.

Section VI defines the four business KPIs CIMIX uses to capture an operators' overall level of success in generating revenue from IP-based services.

Section VII reviews the results of our survey of network operators, assessing the relative importance of the KPIs we developed in CIMIX, as well as the likely impact of IP migration and their progress in this area to date.

Section VIII provides examples of the CIMIX benchmarking process in practice and defines the aggregate rankings that network operators may achieve: Leader, Follower or Straggler.
IP Network & Service Migration: Benchmarking Telco Progress is published in PDF format.