7 ROADM SYSTEMS SUPPLIERS COVERED
Click here
for the full list of included systems suppliers
5 ROADM COMPONENTS SUPPLIERS COVERED
Click here
for the full list of included components suppliers

42 pages of analysis covering the challenges and opportunities of the next-gen ROADM market, including function definitions, market drivers and applications

Detailed, five-year forecasts for ROADM systems, next-gen ROADM systems and WSS components through 2016, with breakouts for long-haul vs. metro/regional ROADMs and for individual next-gen ROADM functions

In-depth interviews with leading equipment suppliers and ROADM subsystems suppliers selling and/or building next-gen ROADM products

Selected results of an online survey of network operators worldwide, gauging their expectations for timescale and pricing for next-gen ROADM functionality



STERLING PERRIN
Senior Analyst,
Heavy Reading
Sterling's coverage areas at Heavy Reading include optical networking, cable MSO infrastructure and services, and digital content...

More
To view reports you will need Adobe's Acrobat Reader. If you do not have it, it can be obtained for free at the Adobe web site.


The Next-Gen ROADM Opportunity: Forecast & Analysis
Operators and their suppliers are under enormous pressure to lower the costs per bit for transport. While these cost pressures are not new, over the past few years we have seen a much greater emphasis on lowering operational expenditures (opex) together with capital expenditures (capex). Today, operators view both capex and opex together when looking at how they reduce their cost per bit in transport. In addition, operators are focusing on driving more functionality from the electrical layer to the optical layer, when possible, as a means of saving both capex and opex. Operators report that transport is less costly (in capex and opex) the lower one goes down the Open Systems Interconnect (OSI) stack.

Reconfigurable optical add-drop multiplexers (ROADMs) have benefitted from and contributed to both of these major trends and today are widely deployed in long-haul and metro networks throughout nearly every region of the world. But despite the benefits that ROADM networks have delivered to operators, the current-generation technologies and architectures have imposed constraints in reconfigurability and automation, particularly at add/drop nodes. There is still a lot of manual intervention required at these points in the network, and it is here that operators seek greater flexibility from ROADM systems.

The newest generation of ROADMs – which for this report we term "next-generation ROADMs" – brings together new technologies and node architectures to bring full reconfigurability for the first time to the photonic layer. Next-gen ROADMs include the following four innovations that separate them from previous generations:
Color independent, or "colorless," functionality
Direction independent, or "directionless," functionality
Wavelength contention-free, or "contentionless," functionality
Flexible ITU spectrum, or "flex spectrum," functionality (also referred to as "gridless")
Heavy Reading has been writing about this coming next-gen ROADM renaissance for two years, including through two well-received Next-Generation Industry Initiative white papers and related multi-sponsor webinars. These projects offered up-to-date qualitative views of the next-gen ROADM opportunity, including drivers and applications, technology building blocks, and operator plans.

The Next-Gen ROADM Opportunity: Forecast & Analysis builds on prior Heavy Reading qualitative research and adds a quantitative view via detailed forecasts of the ROADM systems, next-gen ROADM systems and wavelength selective switching (WSS) ROADM components revenue opportunity over the next five years. With colorless and directionless functions being deployed today, with contentionless and flex spectrum deployments on the horizon, and with next-gen ROADM hype at a peak among components suppliers, Heavy Reading believes the time is ideal for an independent assessment that combines both the qualitative and quantitative elements to provide a realistic roadmap for the deployment of colorless, directionless, contentionless and flex spectrum technologies.

DOWNLOAD TABLE OF CONTENTS
DOWNLOAD LIST OF FIGURES
PRINT EXECUTIVE SUMMARY

The report is based on in-depth interviews with leading equipment suppliers and ROADM subsystems suppliers selling and/or building next-gen ROADM products, as well as selected leading network operators.

Click here for the full list of included systems suppliers.

Click here for the full list of included components suppliers.

Next-gen ROADM functions can be broken into four major functions (or applications): colorless, directionless, contentionless, and flex spectrum. The architectural and components discussion around the four next-gen ROADM functions quickly becomes very complex. The excerpt below attempts to simplify the complexity of which components are required for each function.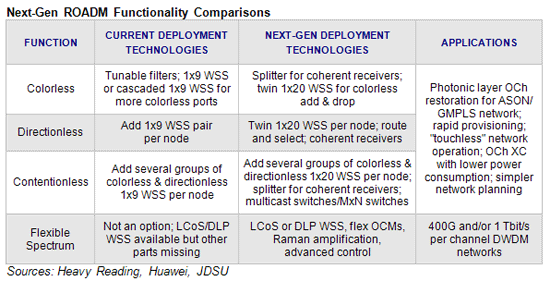 The excerpt below shows worldwide DWDM systems revenue broken out by fixed OADM (FOADM) and ROADM systems revenue. DWDM revenue includes all types of DWDM systems – long-haul, metro/regional, and access. The ROADM systems revenue reported in all of these forecast includes the entire DWDM system including amplifiers, common equipment, transponders, and the ROADM cards.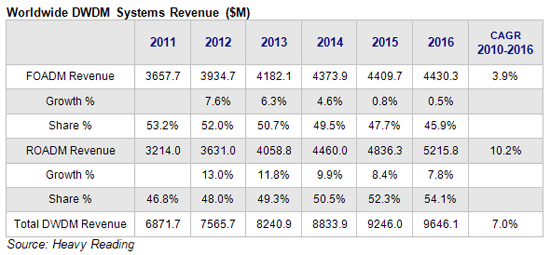 Report Scope and Structure

The Next-Gen ROADM Opportunity: Forecast & Analysis is structured as follows:

Section I is an introduction to the report, with complete report key findings.

Section II provides a ROADM and next-gen ROADM market overview, including function definitions, next-gen ROADM market drivers and applications.

Section III gives an overview of current ROADM and next-gen ROADM architectures, including the migration from broadcast and select to route and select, as well as options for colorless and directionless, contentionless and flex spectrum nodes.

Section IV provides detailed forecasts for ROADM systems, next-gen ROADM systems and WSS components through 2016. Breakouts are provided for long-haul versus metro/regional ROADMs and for individual next-gen ROADM functions, including colorless, directionless, contentionless and flex spectrum.

Section V profiles leading ROADM systems suppliers, with an emphasis on their next-gen ROADM systems and strategies.

Section VI profiles leading ROADM components suppliers, with an emphasis on their next-gen ROADM components and strategies.


The Next-Gen ROADM Opportunity: Forecast & Analysis is published in PDF format.