14 WI-FI ORIENTED MOBILE OPERATORS COVERED
Click here
for the full list of included mobile operators
23 SERVICE PROVIDER WI-FI VENDORS COVERED

27 pages of in-depth market analysis, including strategies for making Wi-Fi part of mobile operators' commercial offers and integrating Wi-Fi with their core networks

Strategic highlights for 14 major mobile operators that are making substantial investments in Wi-Fi access networks

A detailed examination of Wi-Fi's ongoing evolution from a "Wild West" of unregulated access into a more predictable, profitable service

A comprehensive review of the key technologies and industry initiatives that will help operators influence and enhance the Wi-Fi user experience



GABRIEL BROWN
Senior Analyst,
Heavy Reading
Gabriel Brown tracks wireless technologies and services for Heavy Reading, focusing on wireless data networking technologies such as 3G/HSPA, WiMax, and LTE. He has covered the wireless data industry since 1998...

More
To view reports you will need Adobe's Acrobat Reader. If you do not have it, it can be obtained for free at the Adobe web site.


Wi-Fi Strategies for Mobile Operators
The growth of Wi-Fi is driven by unlicensed spectrum, standardization and the cost curves that derive from advanced silicon design and manufacturing. Paired with growth in smartphones, this has created conditions that have literally revolutionized the way in which mobile data services are consumed and how the industry is structured.

The great success of mobile Wi-Fi is not a surprise, as such – although mobile operators did once actively lobby handset makers against integrating Wi-Fi capability. In fact, Wi-Fi's ascendency had been long predicted by technology watchers. It was the launch of the Wi-Fi-enabled iPhone in 2007 that signaled that the game had changed, and confirmed that local-area wireless technology had made an indelible mark on the cellular industry.

Consider, for example, how advanced, high-end smartphone use cases (and by extension, subscriber value) have shifted to Wi-Fi. With rich-media applications such as Skype, Facetime, BBC iPlayer, Spotify and others being designed to run over Wi-Fi rather than 3G – and in some cases restricted to Wi-Fi because cellular is too congested or expensive – it is clear that users derive value in this form of connectivity that is additive to the 3G wide-area experience. Reclaiming some of that usage and influence is strategically important for operators and is underpinning a renewed push to integrate Wi-Fi more effectively into their subscriber offers.

In addition to these high-end applications, common use cases for Wi-Fi include in-home usage, office connectivity, "deep indoor" venues with poor cellular coverage (e.g., conferences) and as an affordable alternative to mobile data roaming. In all these cases, operators see strategic value in being able to participate in this usage and clear potential to use their capabilities to deliver a better Wi-Fi service to end users. This situation led one senior operator executive interviewed for this report to state that "Wi-Fi is the comeback story of the year." Like many other operators – and nearly all Tier 1s – it has a range of initiatives underway to evaluate and deploy Wi-Fi solutions.

The challenge of Wi-Fi in the cellular context, then, is not so much conceptual, but for mobile operators to identify specifically where and how Wi-Fi can help deliver better service to end users and to understand, in detail, how to integrate Wi-Fi technically at mass-market scale.

Wi-Fi Strategies for Mobile Operators analyzes the technology advances and ongoing standards work that will allow mobile operators and their customers to take better advantage of Wi-Fi. From a commercial perspective, the report addresses integration of Wi-Fi with the cellular environment, examines to what extent "managed Wi-Fi" should be made part of the end-user service, and explains why Wi-Fi integration should fundamentally be viewed as a platform for service innovation and revenue growth, not simply an offload solution to reduce network costs.

DOWNLOAD TABLE OF CONTENTS
DOWNLOAD LIST OF FIGURES
PRINT EXECUTIVE SUMMARY

The report provides strategic highlights for 14 major mobile operators that are making substantial investments in Wi-Fi access networks, and examines the positioning of more than 23 leading vendors that are working to help operators influence and enhance the Wi-Fi user experience.

Click here for the full list of included mobile operators.

Click here for the full list of included vendors.

Making Wi-Fi into an operator-friendly technology will require significant technology development. It may be a clichι, but the characterization that "Cellular is from Venus, Wi-Fi is from Mars" has more than a grain of truth. The 3GPP World that defines 3G and LTE and the IEEE World that defines Ethernet and Wi-Fi do occasionally speak different languages, and both are therefore working to adapt their technologies for mobile operator Wi-Fi. The excerpt below highlights some of the initiatives being pursued by the cellular industry through the 3GPP.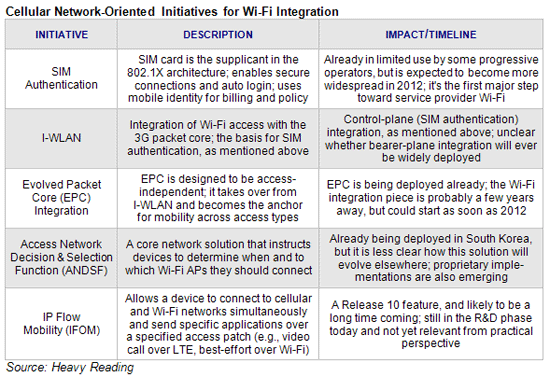 Making Wi-Fi part of the carrier network is a long-term objective and one that, arguably, the majority of operators have still not embraced. Even where there is clarity that Wi-Fi is a useful technology, the extent to which it should be formally part of the operator's service set, and then should be integrated into the network, is unclear at most operators. A phased approach is therefore logical. The excerpt below identifies four steps to making Wi-Fi an extension of the mobile network.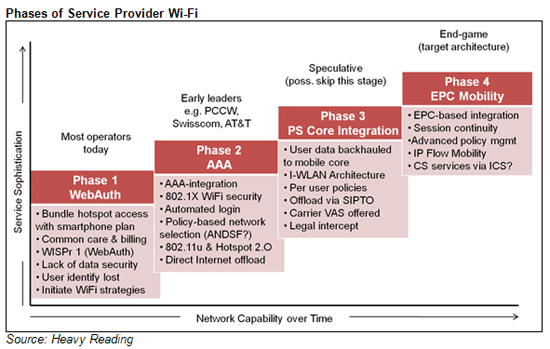 Report Scope and Structure

Wi-Fi Technology Strategies for Mobile Operators is structured as follows:

Section I is an introduction to the report, with complete report key findings.

Section II examines the rise of Wi-Fi in smartphones and provides market context on service provider initiatives, consumer usage patterns and the major operator-specific Wi-Fi technology and standardization initiatives. It also identifies and analyzes the key equipment suppliers.

Section III explores the "Wild West of Wi-Fi" and the relative attractiveness of different types of Wi-Fi access – residential, hotpots, etc. – to mobile operators.

Section IV examines how operators can make Wi-Fi part of their commercial offer and integrate the technology into the network.

Section V covers core network integration options such as I-WLAN and IFOM that will help operators influence and enhance the Wi-Fi user experience.


Wi-Fi Strategies for Mobile Operators is published in PDF format.