17 MOBILE NETWORK EQUIPMENT PROVIDERS PROFILED
Click here
for full list of included service providers

40 pages of in-depth market analysis, including drivers for the distribution of key mobile network functionality and the various factors that could accelerate or impede this trend

Detailed profiles of 17 leading suppliers of mobile network equipment, examining their product strategies and roadmaps as they relate to feature distribution

Granular results of recent Heavy Reading survey research, exploring how likely it is for specific network elements or functions to be distributed by mobile operators

Specific recommendations for how telecom infrastructure vendors can best position themselves to be a partner for mobile operators as they consider feature distribution



PATRICK DONEGAN
Senior Analyst,
Heavy Reading
Donegan has more than 20 years of experience as a telecom market journalist, analyst, and strategist. His in-depth knowledge of wireless technology...

More
To view reports you will need Adobe's Acrobat Reader. If you do not have it, it can be obtained for free at the Adobe web site.


Mobile Network Feature Distribution Strategies for 3G & LTE
Mobile broadband represents a "kill or cure" solution to the profitability outlook of mobile operators throughout the world. New revenues promise to lift the trend in revenue and ARPU, while new volumes of data traffic threaten to increase costs as quickly as revenues increase – or even faster. Even where some of the world's leading mobile networks are delivering very encouraging financial performance with their mobile broadband service offerings, the pressure on the CFOs in these companies to maintain tight control of capex and opex while maintaining or enhancing network availability and performance remains intense.

The so-called "flat" IP network is heralded as a critical next stage in the evolution of the mobile broadband business model. Superseding the multi-layered, hierarchical topology that has served mobile operators relatively well until now, the 3rd Generation Partnership Project (3GPP) has designed networks based on HSPA Evolution, and especially LTE, to provide a much lower cost, much more flexible network for mobile broadband, delivering superior performance.

The evolution of the logical architecture is clear: Beginning with LTE, the RNC layer is done away with altogether, and the separate voice and data cores converge into a single Evolved Packet Core (EPC). This report looks beyond this high-level architectural flattening to examine the case for taking both 3GPP-defined and non-3GPP-defined elements and capabilities that have traditionally resided in the center of the mobile network, and distributing those capabilities out closer toward the user at the edge of the network, in the pursuit of lower cost and better performance.

This report sets out to provide a better understanding of what the opportunities and risks of distribution really are. It discusses the gains that can be made; the ability of operators' organizations to execute on the strategy; and additional costs that are liable to be incurred as the plan is implemented. It sheds light on the business case for distributing each potential network feature and the impact of distributing any one feature on its own, as well as in conjunction with others.

The wider architectural decisions, having little or nothing to do with issues of feature distribution – such as the rollout of new packet synchronization standards, new security solutions such as IPsec and new interfaces such as the direct X2 interface between eNodeBs in LTE – are also key. Holistic design principles are relatively straightforward in a TDM-based architecture. They become much more challenging in any all-IP environment; still more challenging when you add in the cell-handover requirements of a mobile network; and potentially even more challenging when you start distributing features from the center of the network to the edge in this environment.

The opportunity and risk associated with feature distribution is also a key issue for equipment vendors that are targeting the mobile packet core and mobile transport spaces. Platforms and future roadmaps need to be designed with specific features and timelines for those features in mind. Depending on the pattern of demand for distribution from each vendor's lead customer prospects, that may vary significantly from one vendor to the next.

Care also needs to be taken not just with respect to determining which present-day features need to be supported, but also which future requirements need to be supported, which interfaces to third-party elements are liable to required and what might be required from a network management perspective in a highly distributed mobile network environment.

Mobile Network Feature Distribution Strategies for 3G & LTE explores the opportunities and risks of feature distribution for mobile network operators, analyzes the prospects for distribution of the primary network elements that are deployed centrally in mobile networks today, and examines the various factors that could accelerate or impede this trend. The report also makes specific recommendations for how equipment vendors can best position themselves to capitalize on the move toward distribution.

DOWNLOAD TABLE OF CONTENTS
DOWNLOAD LIST OF FIGURES
PRINT EXECUTIVE SUMMARY

The report profiles 17 leading suppliers of mobile network equipment and examines their product strategies and roadmaps as they relate to feature distribution.

Click here for the full list of profiled equipment providers.

Recent Heavy Reading research shows a lot of hesitation on the part of mobile operators to distribute specific types of network functionality. As shown in the excerpt below, from Heavy Reading's June 2010 LTE Strategies Survey, 46 percent of mobile operators respondents in this survey were clear that at least some level of distribution of network elements will be required where the EPC is concerned, although around half gave non-committal responses.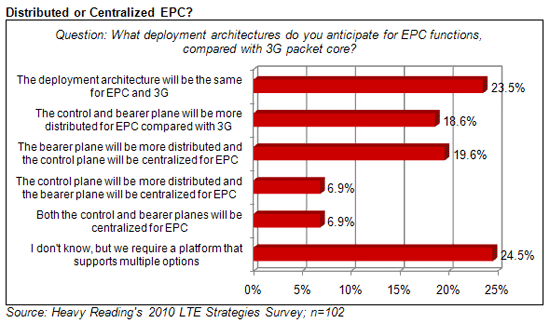 Report Scope and Structure

Mobile Network Feature Distribution Strategies for 3G & LTE is structured as follows:

Section I is an introduction to the report, with complete report key findings.

Section II describes the general trend toward next-generation networks (NGNs), describing and analyzing the characteristics and primary benefits of this target architecture. The opportunities and risks that face any carrier looking to distribute network functionality from the core toward the edge are discussed, together with some of the factors that might drive an operator to accelerate rapidly or more slowly in this direction. Citing some specific leading-edge examples, this section also examines the rate at which the wireline network environment has been moving to a more distributed architecture as a basis for gauging and comparing the opportunity for mobile networks.

Section III examines the distribution opportunity specifically from the perspective of the mobile network operator. Drawing on Heavy Reading survey research, it outlines the various factors that will determine an operator's propensity to distribute its network elements. This section considers factors such as organizational structure and human resources, service strategy, traffic volumes, application types, market geography and some of the unique challenges that arise in seeking to maintain holistic design principles in the context of tomorrow's mobile broadband network.

Section IV explores the primary network elements that are deployed centrally in networks today, and considers the prospects for the distribution of each specific capability – including specific 3GPP-defined mobile network elements, such as the GGSN, SGSN, P-GW, S-GW and MME, along with the generic telecom hardware and software capabilities that mobile operators typically use, such as DPI, content caching and security features such as firewalls. Drawing on recent Heavy Reading survey research among mobile operators on some of these specific functions, each is addressed in turn, and analyzed with respect to how likely it is or not to be distributed.

Section V pulls together implications and recommendations for telecom infrastructure vendors regarding how best to position themselves to be a partner for mobile operators as they consider the opportunity for distribution and potentially execute on it. This section looks at the potential importance of system modularity; optimal integration of multiple features in one device; and the case for supporting new interfaces into other parts of the mobile network that some equipment vendors may not have considered until now.

Section VI profiles the approaches and views of some leading suppliers in the mobile network environment with respect to what kinds of drivers and scenarios are most and least plausible, along with aspects of their product strategies and roadmaps as they relate to feature distribution.


Mobile Network Feature Distribution Strategies for 3G & LTE is published in PDF format.