40 POLICY TECHNOLOGY PROVIDERS PROFILED
Click here
for full list of included service providers

63 pages of in-depth analysis of the policy management market, including cutting-edge use cases and core drivers for recent growth in this area

Profiles of 40 leading providers of policy technology, reviewing their products, capabilities, strengths, partners and customers

A comprehensive review of the complex issues surrounding policy deployment today, breaking down the "must-have" capabilities for vendors to enjoy success in this market

A detailed five-year forecast for the policy market, projecting revenues from policy servers and related policy enforcement devices through 2016



GRAHAM FINNIE
Chief Analyst,
Heavy Reading
Graham Finnie has been researching telecom for more than 20 years, formerly as a journalist and latterly as an analyst and consultant...

More
To view reports you will need Adobe's Acrobat Reader. If you do not have it, it can be obtained for free at the Adobe web site.


Mobile Broadband & the Rise of Policy: Technology Review & Forecast
The last formal Heavy Reading report on policy control (Policy Control & DPI: The New Broadband Imperative) was published almost three years ago – and in that period, policy has come of age. In 2008, we reported very strong interest among operators in policy servers and associated equipment to control and enhance broadband services, but little deployment. Now there are many new deployments, with most vendors reporting a big increase in both customers and revenues.

Taking a few examples at random for 2010: Ericsson reported the number of customers for its policy server rose from 30 to 48; Openet said policy revenues had risen by almost 40 percent; Sandvine's revenues rose 36 percent; and Nokia Siemens Networks (NSN) said that revenue to March 2011 from its policy proposition was up more than 50 percent. Existing deployments are also being enhanced, with simple, small-scale initial deployments ramping up significantly to meet new and more sophisticated policy requirements.

At the heart of this transformation is mobile broadband. As we have reported in detail elsewhere, broadband is having a revolutionary impact on mobile network operators. In less than five years, networks once dominated by voice traffic have in some cases now become dominated by data traffic, much of it originating on the Internet, and with characteristics completely different from legacy traffic. Adding fuel to the fire is a whole new generation of smartphones, built to handle multiple data applications – most of which neither created by nor controlled by network operators.

Many of these challenges have already been faced by fixed network operators, including cable MSOs, and early (albeit often rudimentary) deployments of policy gear were mostly in this sector, rather than in mobile networks. But in the last 18 months, all that has changed. The focus of both vendors and operators, at least for now, is overwhelmingly on the mobile industry.

The current core application in this sector is so-called "fair use management." This is effectively a traffic management technique designed to trigger policies – such as lower speeds and customer notifications – when customers exceed their bandwidth quotas, or in periods of high congestion.

Unlike more specialized traffic management tools, policy servers and architectures – especially at the leading edge – are unusually flexible in terms of their potential use cases. The mobile broadband data challenge can be handled in a wide variety of ways, and a well-designed policy architecture is a very powerful engine for designing and testing new ideas. In many cases, vendors have recently revamped their policy creation environment to make it relatively easier for network operators to create their own policies. This is already resulting in a much more fertile environment for service experimentation, especially in competitive emerging markets.

It would be incorrect to see policy in isolation: In many areas, it is both complementary to and competitive with other means of gaining control over the mobile broadband environment. A good example is traffic offload, which could be an alternative to a policy-driven solution. Another is network or video optimization, which is now also being linked to policy. Equally, on the IT or BSS side, it can be seen as part of a broader intent to build more responsive customer experience management (CEM) systems. Yet in all these cases, links are being created back to the policy server, so that – for instance – offload is driven by policies created there.

Given its increasing strategic significance and broad potential role, it is not surprising that so many vendors have entered this space. Since our last report, some 15 vendors have launched Policy & Charging Rules Function (PCRF) products, and many existing vendors have invested heavily to revamp their product lines. There has particularly been renewed interest among network equipment vendors and BSS vendors enhancing products in the billing, charging and mediation area. This highly competitive environment creates its own challenges for both operators and their suppliers.

Mobile Broadband & the Rise of Policy: Technology Review & Forecast examines the current state of the art in policy management and explores what the future holds for this key emerging market. The report analyzes the core catalysts for recent growth in policy technology, as well as some major use cases and important deployments. Drawing on data from a survey of more than 70 network operators and an interview program with more than 30 vendors, the report also presents a comprehensive five-year forecast for the policy market.

DOWNLOAD TABLE OF CONTENTS
DOWNLOAD LIST OF FIGURES
PRINT EXECUTIVE SUMMARY

Over time, we expect many operators to move up a set of policy stepping stones, as illustrated in the excerpt below. But this is putting new pressures on vendors in several ways. Among other things, it puts a premium on simple policy creation environments, servers that are both highly scalable and highly available, and a new emphasis on interoperability right through the network and IT stack.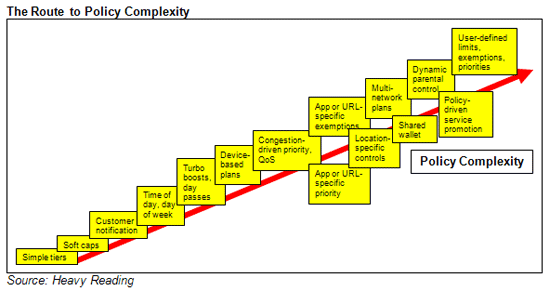 The report profiles 40 leading providers of policy technology, reviewing their products, capabilities, strengths, partners and customers. These profiles focus primarily on vendors that have their own PCRF-compliant policy server, but also include vendors in several other areas that are highly relevant to the policy market, such as optimization and Diameter management.

Click here for the full list of service providers whose perspectives are covered in this report.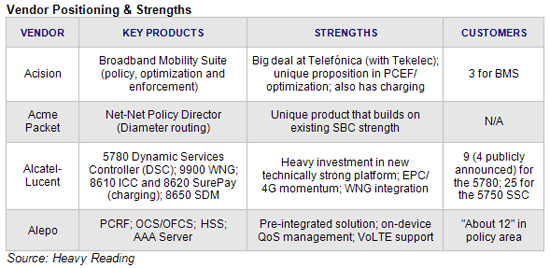 Report Scope and Structure

Mobile Broadband & the Rise of Policy: Technology Review & Forecast is structured as follows:

Section I is an introduction to the report, with complete report key findings.

Section II looks at recent growth in the policy market, examining core catalysts and major use cases as well as some important deployments. This section also looks at the future of policy control from an application point of view and presents a five-year forecast for the market.

Section III offers a brief technology review, setting out the state of the art in policy technology, and setting the technology in the context of the 3GPP standards.

Section IV provides an overall review of the policy vendor scene.

Section V looks at the vendors we consider to be the top 12 players in the market.

Section VI takes a briefer look at 28 other vendors with propositions in the policy space.


Mobile Broadband & the Rise of Policy: Technology Review & Forecast is published in PDF format.