29 pages of analysis covering the promise and challenges of end-to-end OM systems, and how they can help mobile operators to address critical process inefficiencies

Selected results of original service providers surveys, exploring their leading problems with today's IT systems and primary objectives for revamping their ordering processes

Recommendations for how mobile operators can leverage OM solutions to gain real-time visibility into orders, improve customer service, and reduce order processing costs and order cycle times

In-depth analysis of the products and strategies of 13 leading providers of OM products for the mobile industry, including their progress in creating true end-to-end solutions.



ARI BANERJEE
Senior Analyst,
Heavy Reading
Banerjee's research focuses on the service provider IT sector, examining the breadth of software used by communications service providers...

More
To view reports you will need Adobe's Acrobat Reader. If you do not have it, it can be obtained for free at the Adobe web site.


End-to-End Order Management: The Mobile Operator Opportunity
Anyone who thinks that successful IT transformation projects are just about IT systems revamp is badly missing the point. No matter how sophisticated IT systems are, they can't truly help a business unless transformation projects are orchestrated with an efficient process. In other words, successful IT transformation occurs when efficiency replaces inefficient, redundant processes.

Many network operator C-level executives talk about an "IT black hole" – when IT programs do not provide operators with expected benefits and result in merely depleting company reserves. Heavy Reading's ongoing discussions with these executives point out that transforming internal and external processes to improve efficiency is the most important strategic objective. In a recent Heavy Reading survey, more than 70 percent of operators believe improving their internal and external business processes will help them deliver a better customer experience.

Updating IT systems in a timely, efficient manner is a challenge for all communications service providers, especially those in the mobile industry. The dynamic and competitive nature of this segment has sparked innovation and swift evolution of mobile technologies and services. As the service provider's role shifts from network operator to retail outlet for an array of digital services, there is an urgent need for operators to effectively manage and handle relationships that involve myriad parties that will play a pivotal role in reshaping the service provider revenue ecosystem, including content aggregators, content providers and advertisers.

There is no longer a linear relationship between carriers and customers; in today's complex communications ecosystem, service providers must manage many different evolving relationships. In this intricate tapestry of revenue relationships, it is obvious that operators must tightly link their business processes with media and content partners to gain competitive advantage and reduce opex costs. It is the only way for them to gain operational efficiency and exploit the full potential of investments they have made in their network infrastructure and back-office systems.

In this context, an end-to-end order management (OM) system that touches all aspects of a service provider's operation – from order generation, to order capture, to fulfillment across different channels and customer touch points – will play a pivotal role in enabling mobile operators to transition from today's bundled services to more personalized services. Mobile operators are under constant pressure to improve customer service levels and lower order processing costs and cycle times. These are among the key factors driving the need for service providers to invest in a streamlined end-to-end OM system with the expectation that such a solution will manage all aspects of the order-to-cash cycle from order capture to fulfillment and settlement.

End-to-End Order Management: The Mobile Operator Opportunity explores the critical role of OM solutions in the mobile industry. The report explains in depth how business process management (BPM)-based, custom-built OM solutions cannot meet the changing needs of mobile operators, examines the views of operators regarding their existing OM solutions and their wish-lists for future solutions, and explores how the business-to-business (B2B) and supply-chain strategies of mobile operators can be streamlined with end-to-end OM solutions.

DOWNLOAD TABLE OF CONTENTS
DOWNLOAD LIST OF FIGURES
PRINT EXECUTIVE SUMMARY

The report also profiles 13 key vendors of OM solutions for the mobile industry, and analyzes their products and strategies. For a full list of the vendors profiled in this report, click here.

Service providers' OM systems are based on three fundamental building blocks: sales OM, service fulfillment OM and supply chain/B2B collaboration OM. In order to provide end-to-end OM systems, it is critical for vendor solutions to successfully bridge the gap among the three building blocks. The excerpt below illustrates the building blocks of an end-to-end OM solution.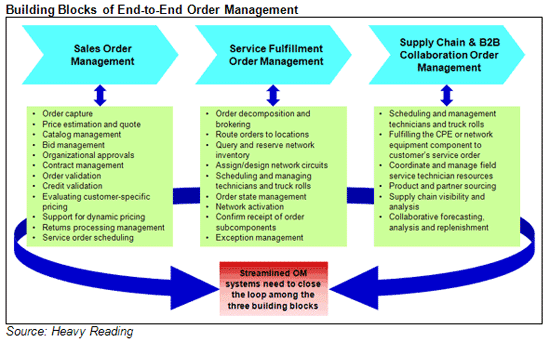 Report Scope and Structure

End-to-End Order Management: The Mobile Operator Opportunity is structured as follows:

Section I includes a full executive summary and report key findings.

Section II examines the growth strategies of mobile operators, including their business initiatives and internal objectives, and explores ways for mobile operators to compete in the hyper-competitive communications market.

Section III analyzes the state of OM solutions in the mobile industry, and how end-to-end OM systems can help mobile operators address critical process inefficiencies.

Section IV looks at the building blocks of the end-to-end OM solution, provides our forecast for the global OM market and explores the roadmap for future OM solutions.

Section V examines custom-built, BPM-based proprietary OM solutions and explains why these solutions fail to deliver on the scalability and flexibility benefits service providers are seeking.

Section VI shows how end-to-end OM can help streamline the B2B and supply-chain strategies of mobile operators and discusses the critical role of next-gen OM in the mobile industry.

Section VII profiles 13 key vendors of OM solutions for the mobile industry, and analyzes their products and strategies.

Section VIII presents the conclusions of this report.


End-to-End Order Management: The Mobile Operator Opportunity is published in PDF format.