13 SYSTEMS INTEGRATORS ANALYZED
Click here
for full list of included systems integrators
43 COMPONENT SUPPLIERS ANALYZED
Click here
for full list of included component suppliers
23 EQUIPMENT VENDORS ANALYZED
Click here
for full list of included equipment vendors

103 pages of product and strategy competitive analysis covering nearly 80 telecom equipment providers, systems integrators, and manufacturers of ATCA, AMC, and MicroTCA systems and components.

Product and pricing data on nearly 600 different products, including more than 200 recently introduced products from more than 40 different vendors.

An exclusive forecast of expected revenues for ATCA, AMC, and MicroTCA products through 2015, including a breakdown of market share for COTS vs. in-house platforms.

Complete, up-to-the-minute information on forthcoming products, including the latest information on likely release dates.



SIMON STANLEY
Analyst at Large,
Heavy Reading
Simon Stanley is Founder and Principal Consultant at Earlswood Marketing Ltd. Over the last six years, Stanley has written extensively for Heavy Reading...

More
To view reports you will need Adobe's Acrobat Reader. If you do not have it, it can be obtained for free at the Adobe web site.


ATCA, AMC & MicroTCA Market Update & Five-Year Forecast
The Advanced Telecom Computing Architecture (ATCA) is the leading high-availability commercial off-the-shelf (COTS) architecture for the telecom market and is now being used by all Tier 1 telecom equipment providers. Most vendors have significant investments in ATCA, and some have acquired companies or product lines already based on the architecture. The number of companies using ATCA continues to grow, and they are expanding the range of applications covered by ATCA-based systems. A few companies are developing complete ATCA platforms in-house, but most are using COTS solutions for chassis, blades and system integration. This allows equipment providers to leverage the investment made by their suppliers in developing common platforms and components.

Scores of companies are shipping ATCA, Advanced Mezzanine Card (AMC) and MicroTCA products, ranging from connectors to fully configured, carrier-class systems. The latest blades integrate some of the most powerful processing devices now available for embedded systems – including the Intel Xeon 5600 series – and ATCA performance is being taken to a new level with the introduction of 40-Gigabit Ethernet (40GE) switch blades just two years after the first 10GE switch blades were introduced. AMCs and the smaller MicroTCA platform add another dimension to these systems, increasing system flexibility and meeting the requirements for smaller systems and more demanding environments.

The ATCA market is seeing significant growth, as carriers continue to roll out new systems and IP-based infrastructure. Many vendors have committed to ATCA across multiple markets, developing standard platforms that are used by several product groups. ATCA, AMCs and MicroTCA open up new opportunities for silicon vendors, systems integrators, original equipment manufacturers (OEMs) and service providers. As with all paradigm shifts, there will be winners and losers, making this a key market to watch.

ATCA, AMC & MicroTCA Market Update & Five-Year Forecast identifies and analyzes the full spectrum of vendors developing ATCA, AMC and MicroTCA components and systems. The report includes not only granular information on the components and systems themselves – of interest to system OEMs and service providers – but also insights into how the overall market is developing – of interest to a wide audience, including investors.

DOWNLOAD TABLE OF CONTENTS
DOWNLOAD LIST OF FIGURES
PRINT EXECUTIVE SUMMARY

The report evaluates and analyzes the products and strategies of 13 systems integrators and 43 component suppliers. The report also includes a market forecast for ATCA products through 2015, with a breakdown of COTS market share, and presents information on the use of ATCA by 23 telecom equipment providers.

For a full list of included systems integrators, click here.

For a full list of included component suppliers, click here.

For a full list of included equipment vendors, click here.

This report is based on interviews conducted with a wide range of ATCA/AMC/MicroTCA vendors and telecom equipment providers during the four months leading up to February 2011, together with product and volume information supplied by companies. The tables presented in the report are based on product documentation and as supplemental data from our interviews and email conversations. All of the data used in product tables has been provided to vendors for confirmation, feedback and updating ahead of publication. In all, the report contains detailed information and analysis on almost 600 products, including more than 200 recently introduced products from more than 40 different vendors.

The excerpt below lists 14-slot ATCA systems. This is easily the most common ATCA system, providing dual-switch blades and up to 12 other blades in a 19" rack. Most of these systems are supplied with a standard dual-star backplane but are available with a mesh backplane if required.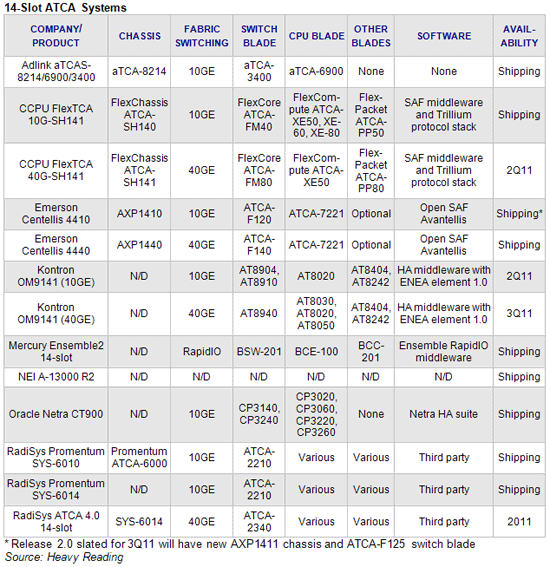 Fourth-generation ATCA platforms with 40Gbit/s switching require switch blades with 40GE ports. The excerpt below shows the 40GE switch blades that have been announced by six vendors. All of these blades have been delayed into 2011 by the late delivery of switch silicon. All of these blades have multicore CPUs, bringing significant processing capability for system management.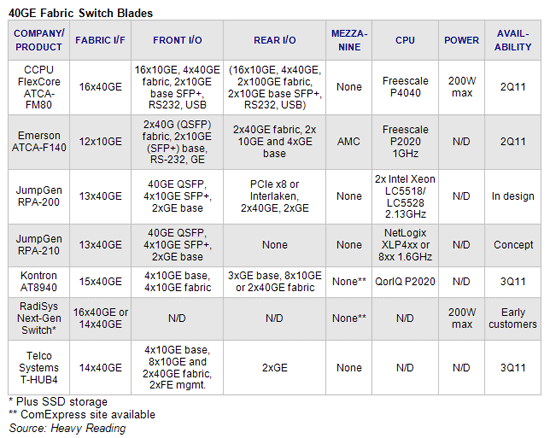 Report Scope and Structure

ATCA, AMC & MicroTCA Market Update & Five-Year Forecast is structured as follows:

Section I includes a full executive summary and report key findings.

Section II examines the dynamics of the ATCA market, providing a market forecast, analysis of the supply chain and COTS market share, ATCA usage and the leading applications for ATCA-based systems.

Section III focuses on the development of ATCA technology, including physical format, system management and application software and operating systems. This section includes details on basic ATCA chassis and systems available from 19 vendors.

Section IV covers ATCA switching architectures and technology, including Gigabit Ethernet (GE), 10-Gigabit Ethernet (10GE) and high-speed alternatives such as InfiniBand and RapidIO. This section includes analysis of announced ATCA switch blades from 12 vendors.

Section V analyzes ATCA node blade functionality, including feature comparisons for current and announced CPU/server, storage, carrier, networking and DSP blades from 22 vendors.

Section VI provides feature comparisons for announced AMC modules from 35 vendors.

Section VII explores MicroTCA architectures and technology, with comparisons of MicroTCA chassis, systems, MicroTCA carrier hubs (MCHs) and power modules from 20 vendors.

Section VIII presents detailed product and strategy analyses for 13 companies that integrate ATCA systems and in many cases develop ATCA components.

Section IX presents detailed product and strategy analyses for 43 companies that manufacture ATCA, AMC and MicroTCA components, but not full ATCA systems.


This report updates and expands on Heavy Reading's previous ATCA research, including:
The report is essential reading for a wide range of industry participants, including the following:
Telecom equipment manufacturers: How does your ATCA/MicroTCA deployment strategy match up to your competition? Which component and subsystem vendors are taking the lead in ATCA, AMC, and MicroTCA product availability? Which products are available, and which are still vaporware? Are your suppliers stepping up to meet your anticipated timetable for ATCA and related products?
Component and subsystem manufacturers Are you ahead of the curve in ATCA and MicroTCA deployment, or are you falling behind? Which product areas present the most attractive opportunities? How is demand for ATCA, AMC, and MicroTCA likely to develop in the systems market?
Systems integrators: How do your partnership channels for ATCA, AMC, and MicroTCA deployment measure up? Are there other potential partners that are capable of delivering products that you need now to meet your clients' needs?
Network operators: How will ATCA's continued development affect your supply-chain relationships? When can you expect to see meaningful cost reductions from the move to ATCA, and how big a cost benefit will you get? Which vendors will be in the best position to deliver the products you need to build your next-generation network?
Investors: Which equipment makers are in the best position to capture market share in this important telecom industry sector? When will this sector begin to show meaningful and sustainable growth?
ATCA, AMC & MicroTCA Market Update & Five-Year Forecast is published in PDF format.