6 100G TRANSPORT EQUIPMENT VENDORS PROFILED

32 pages of analysis covering the challenges and opportunities of high-speed DWDM transport in both the long haul and metro, focusing primarily on 100G

Selected results of a major online survey of 234 respondents from network operators worldwide, regarding their organization's plans for 100G transport

Five-year forecasts for 40G and 100G transport through 2015, broken out by port speed, revenue contribution, line and client side, and more

In-depth examination of the 40G and 100G products and strategies of six leading equipment providers, based on in-depth interviews with equipment suppliers, component and subsystems manufacturers, standards organizations and network operators



STERLING PERRIN
Senior Analyst,
Heavy Reading
Sterling's coverage areas at Heavy Reading include optical networking, cable MSO infrastructure and services, and digital content...

More
To view reports you will need Adobe's Acrobat Reader. If you do not have it, it can be obtained for free at the Adobe web site.


100Gbit/s Transport: Forecast & Analysis
Over the past 18 months, we have seen significant progress in the evolution of 100Gbit/s (henceforth 100G) transport and 100G Ethernet. In 2009, we saw the first commercial shipments of 100G transport in the metro (Ciena and NYSE Euronext) and the long haul (Nortel and Verizon Europe). We have also seen the standardization of 100G Ethernet by the IEEE and 100G transport over OTN by the ITU-T. After years of discussion – and operator demand – the stage is being set for 100G transport to move to the center.

There is much to be done, but with the combination of solid market demand, standards completion and early product availability, the industry is progressing rapidly. This year, we can expect an explosion of field trial activity, more product availability announcements from leading suppliers and additional commercial shipments, paving the way for stronger commercial adoption in 2012.

Meanwhile, 40G has reached wide-scale deployment phase and will continue to capitalize on a market window for high speed transport that will remain open until the 100G supply chain fully matures. Still, even staunch 40G proponents realize that 100G is the technology endgame and that even 40G opportunities will be severely limited without a solid 100G roadmap in place.

With the 100G endgame in mind, 100Gbit/s Transport: Forecast & Analysis tackles the challenges and opportunities of high-speed DWDM transport, in both long haul and metro, with a focus on 100G. The report presents a comprehensive forecast of the 40G and 100G transport opportunities, with breakouts by port speed, revenue contribution, line and client side, and more. In addition, this report tallies 100G trial and commercial deployment activity by supplier and operator and includes detailed profiles of the leading 100G transport suppliers and their customers.

DOWNLOAD TABLE OF CONTENTS
DOWNLOAD LIST OF FIGURES
PRINT EXECUTIVE SUMMARY

The analysis in this report is based on survey results from two prior Light Reading/Heavy Reading primary research projects:
The Road to 100G Transport Networks: A Heavy Reading Multi-Client Study (June 2009)
Light Reading Benchmarks: 100G Survey (August 2010)
In the 100G benchmark survey, Heavy Reading surveyed 234 respondents from network operators worldwide about their organization's plans for 100G transport. One question asked respondents to estimate the effect of 100G deployment on their company's five-year capex plan. Nearly 70 percent of respondents indicated 100G would have a definite impact on their capex budget in the next five years, with more than half identifying 2011-2012 as the timeframe in which that impact would begin to be felt, as shown in Excerpt 1.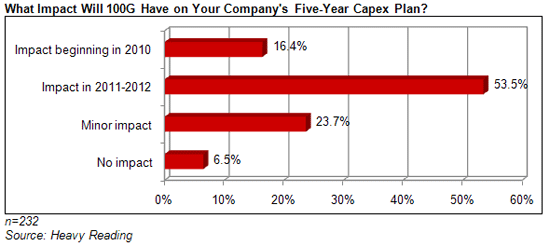 In addition to the survey findings, we have conducted in-depth interviews with leading equipment suppliers (including those profiled in this report), component and subsystems manufacturers, standards organizations and network operators, between August 2010 and February 2011. Based on these in-depth interviews, we produced the set of six vendor profiles in this report.

For a full list of the vendors profiled in this report, click here.

The report also includes Heavy Reading's five-year forecasts for 40G and 100G transport equipment, including line-side/client-side and long-haul/metro forecasts. Excerpt 2 shows our long-haul DWDM line-side port forecast by revenue share. We expect a significant revenue shift from 10G to both 40G and 100G over the next five years, as operators move their capex to these higher-speed technologies (and systems). While 10G accounts for nearly 70 percent of long-haul DWDM system revenue today, we expect that to drop to one third by 2015. 100G will increase from 0 percent today to claim a 37 percent share of long-haul DWDM system revenue by 2015.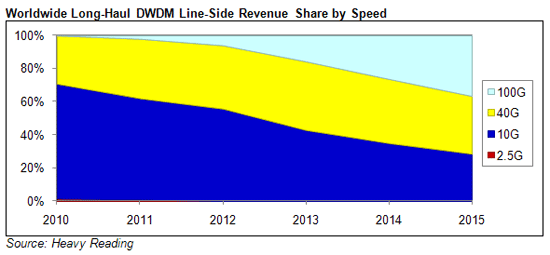 Report Scope and Structure

100Gbit/s Transport: Forecast & Analysis is structured as follows:

Section I includes a full executive summary and report key findings.

Section II provides a detailed market overview of 100G technology, including discussion and analysis of 40G technology. The market overview includes key technology discussions, as well as extensive lists of 100G customer deployments and trial activity.

Section III provides detailed forecasts for the 40G and 100G DWDM market by revenue and by line-side and client-side port shipments. Breakouts are provided by geographic region, application and equipment type, among others.

Section IV profiles six major optical systems suppliers, examining their products and strategies for both 40G and 100G transmission.

The report is essential reading for a wide range of industry participants, including the following:

Network operators: Which technology providers are best positioned to serve your needs high-speed DWDM transport equipment? How far along are your competitors in evaluating suppliers, running field trials, and deploying equipment? Which standards groups and initiatives are most important in shaping the 40G and 100G market? Which modulation formats and techniques will vendors employ for high-speed DWDM transport?
Equipment vendors: What transport capabilities are network operators most interested in, and on what timeframe? How does your high-speed DWDM transport equipment portfolio compare to those of your competitors? What pricing will network operators expect for 40G and 100G equipment, as compared with 2.5G and 10G? Which modulation schemes will be used for 40G and 100G transport, and how will that shape the market going forward?
Investors: Which technology suppliers are best placed to benefit from the transition to higher-speed DWDM transport equipment? How is the business case for 100G transport being made, and how can it be made more compelling? When do network operators expect to make purchasing decisions for higher-speed transport equipment, and how will that influence winners and losers in this dynamic market?
100Gbit/s Transport: Forecast & Analysis is published in PDF format.