29 CABLE NEXT-GEN VIDEO TECHNOLOGY VENDORS PROFILED
9 TV SERVICE PROVIDERS PROFILED
Click here
for a full list of included service providers

66 pages of analysis covering cable operator options for advanced video services and technologies

Results of a major online survey of 57 cable operators worldwide, evaluating their plans for advanced video services

A comprehensive analysis of the key next-generation video services that MSOs are considering and exploring, along with the bandwidth management tools and technologies they will employ to keep their hybrid fiber/coax networks from getting overwhelmed

In-depth examination of the next-generation video strategies of the five leading US MSOs, and profiles of 29 leading providers of next-generation video network technology



ALAN BREZNICK
Senior Analyst,
Heavy Reading
Breznick has tracked the media, telecom, consumer electronics, and broadband industries for more than 20 years...

More
To view reports you will need Adobe's Acrobat Reader. If you do not have it, it can be obtained for free at the Adobe web site.


Exploring Cable Next-Gen Video Services & Strategies
For the past few years, cable operators of all shapes and sizes have been scratching their heads in confusion about the growing bandwidth shortages confronting them. Despite the industry's unprecedented $160 billion investment in new hybrid fiber/coax (HFC) plant and customer premises equipment (CPE) over the past 14 years, its extensive network, headend, equipment, and other upgrades have not created enough capacity to handle all of the new digital video services that cable providers want and need to carry.

In fact, it has become increasingly clear that soaring consumer and competitive demand for precious bandwidth may far outstrip the cable industry's ability to meet that demand, especially in smaller and midsize markets throughout North America. Because of a volatile mix of legacy analog channels, digital video networks, HDTV channels, VoD services, HD VoD programming, DVR applications, broadcast digital must-carry requirements, Internet video downloads, and other factors, cable operators will need more and more bandwidth for video services.

At the same time, the competitive challenges to cable's 60-year rule of the pay TV market are multiplying and intensifying. In the US, for instance, prime cable rivals such as DirecTV, Dish Network, Verizon, and AT&T are aggressively expanding their digital video, HD, VoD, DVR, mobile video, 3DTV, multi-screen video, and other next-gen video service offerings, making a particular impact in smaller metro and rural regions. Moreover, a bevy of popular "over-the-top" (OTT) video providers have emerged to lure viewers away from the TV screen altogether. Unlike cable's other rivals, these OTT players are trying to entice cable subscribers to cut the cord not only on their cable video subscriptions, but on all costly pay TV subscriptions.

In response to these mounting threats, even the smallest cable operators know they must carry increasingly more "bandwidth-hogging" video services to remain competitive with their main satellite TV telco video rivals. They are now scrambling for ways to deliver more digital cable networks, HDTV channels, VoD programming, HD VoD choices, advanced time-shifting options, mobile video services, and multi-screen video offerings. Many cable providers are also looking to offer a raft of other advanced video services to subscribers, including interactive TV (ITV) applications, 3DTV, Internet video, targeted advertising, video conferencing, and even IPTV.

That much is clear. But what is not yet clear is which video services, or combination of video services, will be rolled out by each cable operator. Nor is it clear when, where, and why each MSO will launch its new video services or in what sequence.

The other big issue is how cable providers will develop and deliver these more advanced video services. Faced with a growing bandwidth shortage, MSOs are already exploring or pursuing a wide range of technologies, tools, and techniques to expand their overall capacity and use their existing spectrum more efficiently. Specifically, they are now deploying or weighing the following approaches to stave off the pending bandwidth crunch:
Analog channel reclamation
Digital terminal adapters (DTAs)
Fiber node segmentation
Switched digital video (SDV)
1GHz plant upgrades
MPEG-4 video encoding
Higher quadrature amplitude modulation (QAM) modulation
Variable bit-rate encoding (VBR)
Deep-fiber extensions
Fiber-to-the-premises (FTTP) builds
Current or future passive optical network (PON) technology
IP video (IPTV)
Exploring Cable Next-Gen Video Services & Strategies analyzes the advanced video services that cable operators are exploring and testing as the competitive video landscape starts to shift against them. Drawing on the results of a survey of cable operators worldwide, the report looks at the positioning of cable operators in the competitive video market – as well as the positions of their main rivals. It then focuses on the new video services that hold the most promise and the new home equipment that will be required to deliver them. The report also examines the various bandwidth management tools, technologies, and techniques that cable operators can leverage today. It analyzes the different bandwidth management options, compares and contrasts them, and weighs the costs and benefits whenever possible.

DOWNLOAD TABLE OF CONTENTS
DOWNLOAD LIST OF FIGURES
PRINT EXECUTIVE SUMMARY

The report provides detailed profiles of the five leading US MSOs – Comcast, Time Warner Cable, Cox, Charter, and Cablevision Systems – and explains their diverse strategies for delivering advanced video services and clearing enough bandwidth to deliver them. The report also profiles more than two dozen technology vendors operating in the next-gen video market, spelling out their strategies, products, customer wins and losses, strengths, and weaknesses.

For a full list of the service providers profiled in this report, click here.

For a full list of the vendors profiled in this report, click here.

Cable operators today can choose from an expanding list of devices to handle video content for their customers, including dual-tuner HD DVRs, DTAs, next-gen set-top boxes (STBs), digital gateways, smart remotes, or applications for connected devices. The range of options is stretching and redefining the traditional meaning of an STB, as emerging devices are helping cable serve multiple screens and add more interactive and on-demand features. The excerpt below outlines the many hardware and software solutions that broaden the scope of how cable operators can use STBs and other devices.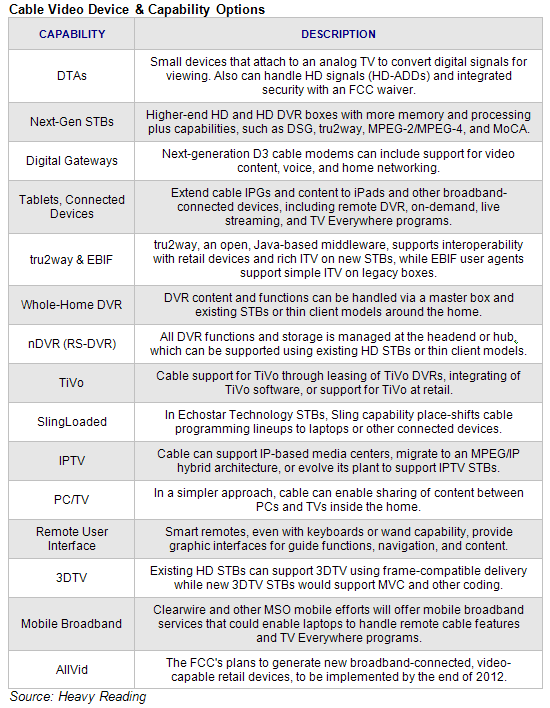 Report Scope and Structure

Exploring Cable Next-Gen Video Services & Strategies is structured as follows:

Section I includes a full executive summary and report key findings.

Section II provides a general overview of the competitive video landscape for cable operators today, focusing first on cable providers, and then on their two main video rivals – satellite and telco TV providers.

Section III catalogs and describes 12 of the advanced video services that cable operators are planning to develop and deploy. Drawing on the results of our global survey of cable operators, this section also ranks the popularity of each service with providers.

Section IV delves into the increasingly wide variety of digital video STBs that the cable industry is developing and deploying, comparing and contrasting the different types of STBs and assessing their suitability for IP video.

Section V examines the various bandwidth optimization strategies that cable operators are considering or pursuing to increase their capacity for advanced video services, analyzing the costs and benefits of each strategy and spotlighting examples of deployments by various MSOs.

Section VI profiles the five leading US MSOs, focusing on their next-gen video strategies.

Section VII provides in-depth profiles of more than two dozen equipment, software, and system suppliers serving or seeking to serve the cable video market.

The report is essential reading for a wide range of industry participants, including the following:

Service providers: What advanced video services are most in demand from video customers? What technologies and tools are available to enable cable operators to use their existing spectrum most efficiently? How can advanced video technologies help cable providers stave off growing threats from telco, satellite, and OTT competitors? Which technology providers are best positioned to serve your needs for next-gen video capabilities in the network and user equipment?
Equipment vendors: Which advanced video services and capabilities are most coveted by service providers, and what are their preferred strategies for implementing them? How will future trends in bandwidth demand shape requirements for advanced video technologies? What methods are cable operators exploring to optimize their HFC networks to stave off a bandwidth crisis? How do your next-gen video technology plans map to those of your competitors?
Investors: Which technology suppliers are best placed to benefit from the transition to next-gen video services? How is the business case for next-gen video being made, and how can it be more compelling? What kinds of network upgrades will cable operators require to support competitive video services, and what will these changes mean for their future capex budgets? How will the competition between cable operators and telco, satellite, and OTT upstarts influence winners and losers in this dynamic market?
Exploring Cable Next-Gen Video Services & Strategies is published in PDF format.