13 MOBILE NETWORK EQUIPMENT SUPPLIERS PROFILED

42 pages of analysis examining how voice and SMS services can be offered over LTE networks, and how IMS can be used to introduce new, interoperable rich-media communications services

A breakdown of the long-term commercial outlook for voice and SMS as key revenue-generating applications in the mobile industry.

A comprehensive discussion of the key strategic options available to mobile operators to support real-time communications services over 4G/LTE and converged 2G/3G/LTE networks, including both interim and long-term options

Analysis of the positioning and strategies of 13 leading suppliers of mobile network equipment for supporting voice over LTE and rich-media communications



GABRIEL BROWN
Senior Analyst,
Heavy Reading
Gabriel Brown tracks wireless technologies and services for Heavy Reading, focusing on wireless data networking technologies such as 3G/HSPA, WiMax, and LTE. He has covered the wireless data industry since 1998...

More
To view reports you will need Adobe's Acrobat Reader. If you do not have it, it can be obtained for free at the Adobe web site.


Voice Over LTE, IMS & the Future of Rich-Media Services in the 4G Era
Long Term Evolution (LTE) deployments are gathering pace around the world, driven by end-user demand for higher performance and operator desire to efficiently enable new applications. LTE is the preferred next-generation mobile broadband technology and will have a dramatic impact on the mobile services landscape. Advanced markets are set for a major transition to 4G/LTE over the next five years, with the industry expecting to see rapid penetration of LTE-capable devices in the subscriber base.

However, support for toll-grade, carrier-provided voice and SMS services over LTE remains a challenge. Formally called Evolved Packet System (EPS), LTE is an all-IP network architecture designed for data. It does not yet adequately support legacy circuit-switch (CS) domain services, which is a problem insofar as these two applications account for more than 80 percent of global mobile service revenues, and may be more profitable than data.

The urgency of this problem is debatable. Voice revenue has plateaued in mature markets and is now on the decline in absolute terms, in per-unit terms, and, in some markets, even in terms of time subscribers spend on the phone. With data revenue increasing rapidly, there is reluctance to invest in a declining revenue stream, even such a significant one. The industry prefers to invest in data capability that will help support future growth.

When early specification work on LTE started, it was assumed that by the time it was ready for deployment, IP Multimedia Subsystem (IMS) would be sufficiently advanced that a packet voice solution would already exist and would be relatively simple to "drop on top" of LTE. In reality, however, LTE development has been faster than anticipated and IMS has been much slower – especially in the mobile environment. This has resulted in the development of an "IMS gap."

How serious this gap is depends on each operator's broader LTE and services strategy. Nonetheless, it is virtually universally accepted by operators that interoperable, real-time communications services are of value to their subscribers, and that it is their place to provide such services. Being able to call anyone in the world with a phone number is tremendously powerful. A wide range of optimized, value-added services have been built on this platform, including emergency calling, roaming, intercept, and numerous commercial applications.

There is therefore a need to support voice over LTE to at least the same standard as operators do today in circuit-switch 2G/3G networks. There is some urgency, in that the commercial battle for mobile services and applications is fierce. Operators view it as important to compete in the services layer against over-the-top (OTT) Internet players, and securing their role as custodians of high-quality, interoperable, billable, truly mobile voice service is a vital weapon in their armory. From there, operators can innovate with richer, more sophisticated services. The risk in reacting too slowly is that Internet players may absorb voice into other applications and business models and start to erode the mobile operators' revenue share.

Voice Over LTE, IMS & the Future of Rich-Media Services in the 4G Era explores how the mobile industry's two most lucrative applications – voice and SMS – can be offered across LTE networks, and how IMS can be used to introduce new, interoperable rich-media communications services, such as video- and presence-based communication, messaging, collaboration, and conferencing. The report examines revenue trends in voice services and explores the impact of commoditization on operator business prospects.

At the network level, the report also assesses the strategic options available to mobile operators to support real-time communications services over 4G/LTE and converged 2G/3G/LTE networks. This includes interim options such as CS fallback, SIP-enabled mobile switching centers (MSCs), convergence servers, and Voice over LTE Generic Access (VoLGA); as well as the long-term, strategic shift to IMS, which starts with the GSM Association's Voice over LTE (VoLTE) initiative and evolves to Multimedia Telephony (MMTel) services based on 3GPP IMS.

DOWNLOAD TABLE OF CONTENTS
DOWNLOAD LIST OF FIGURES
PRINT EXECUTIVE SUMMARY

The report also analyzes the positioning and strategies of 13 leading mobile network equipment suppliers. For a full list of the vendors ranked in our survey, click here.

It is agreed across the industry that IMS is the target architecture to support LTE voice and "multi-media telephony" services, but in light of the various challenges associated with IMS's lack of maturity, some players are looking at interim options. These are described in the excerpt below.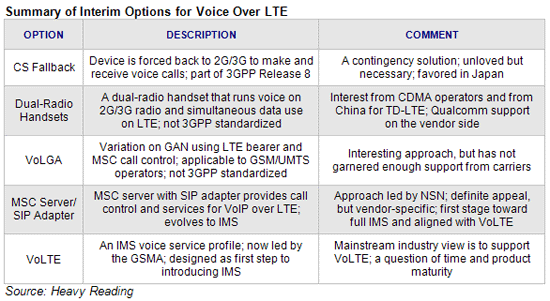 Report Scope and Structure

Voice Over LTE, IMS & the Future of Rich-Media Services in the 4G Era is structured as follows:

Section I includes a full executive summary and report key findings.

Section II examines the mobile voice market, including the importance to operators of voice and SMS, the key revenue-generating applications in the mobile industry, as well as the longer-term commercial outlook for these services.

Section III looks at the outlook for operator-provided, interoperable, real-time rich media services as a way to command a price premium and compete in the value-added services market.

Section IV covers technical approaches to delivering voice over LTE data networks and at some other network factors, such LTE coverage, that will help determine the voice technology strategy.

Section V explores the implementation of VoLTE as the first step to true voice over LTE and the eventual migration to full IMS and MMTel services.

Section VI notes alternative approaches to supporting voice over LTE, including retaining the 2G/3G network for voice calls using CS fallback, dual-radio devices, and VoLGA.

Section VII analyzes the positioning and strategies of 13 leading suppliers of mobile network equipment.

The report is essential reading for a wide range of industry participants, including the following:

Network operators: How relevant will voice and SMS be to the all-IP, data-focused LTE future? How can advanced LTE services help operators combat the threat from providers of over-the-top services? Can real-time, rich-media communications services transform the mobile telecom sector into a more agile competitor? Which suppliers are in the best position to meet your needs for voice over LTE technology?
Equipment vendors: What interim options are available to enable voice services over LTE, and what are the benefits and drawbacks of each? Is your company's voice over LTE story aligned with the needs and desires of network operators, or should you adjust your approach? How important is the ability to provide operators with end-to-end RAN and core technology? What opportunities exist for specialist suppliers in the LTE arena, either as independent contractors or partners of a larger supplier?
Investors: What catalysts are driving the deployment of 4G/LTE networks? What will the advent of IMS-based, interoperable rich-media services mean for the future of the mobile industry? How will the various interim options for supporting real-time communications over LTE influence winners and losers in this dynamic market? Which operators are best prepared to deal with the erosion of legacy voice/messaging revenues? Which suppliers are best placed to benefit from the transition to IMS technology?
Voice Over LTE, IMS & the Future of Rich-Media Services in the 4G Era is published in PDF format.