13 FIBER ACCESS EQUIPMENT VENDORS RANKED

36 pages of analysis covering network operator opinions on emerging next-generation PON technologies

Full results of a major online survey of 99 network operator professionals working for 72 different companies

A comprehensive analysis of the key standards governing NG PON technologies, including their main features, advantages, and drawbacks

Examination of the criteria network operators consider when choosing suppliers of NG PON equipment and which equipment suppliers they prefer



GRAHAM FINNIE
Chief Analyst,
Heavy Reading
Graham Finnie has been researching telecom for more than 20 years, formerly as a journalist and latterly as an analyst and consultant...

More
To view reports you will need Adobe's Acrobat Reader. If you do not have it, it can be obtained for free at the Adobe web site.


Next-Gen PONs & Fiber Access: A Market Perception Study
Over the past year or so, interest in next-generation passive optical networks (NG PONs) has grown rapidly, driven partly by the standardization of new PON variants by both the Institute of Electrical and Electronics Engineers (IEEE) and International Telecommunication Union (ITU), partly by vendor investment in a new category of PONs based on WDM, and partly by a sense that current-generation fiber-to-the-home (FTTH) products, including PON products, will run out of horsepower in the middle of the decade as end-user demand spirals beyond 100 Mbit/s.

Several vendors, including major telecom equipment manufacturers such as Alcatel-Lucent, Huawei, and ZTE, are already actively promoting the merits of NG PONs, and beginning to launch equipment in anticipation of potential demand; at the same time, vendors such as ADVA, LG-Nortel (now Ericsson), and Nokia Siemens Networks have been pushing the merits of a new approach based on WDM.

With standards now completed and vendor solutions emerging, next-generation PONs are beginning to attract more attention from network operators. Network operators expect that demand for access bandwidth will continue to grow, and that this will eventually translate into a need for new fiber access solutions, especially to deliver new high-speed applications to both homes and businesses.

How quickly that translates into real, significant demand for NG PON platforms is more problematic. there is widespread regional and national variation in FTTH plans, penetration, and technologies in use, creating challenges for vendors in creating a single solution that fits all builders and situations.

Next-Gen PONs & Fiber Access: A Market Perception Study presents results of a major online survey probing network operator opinions on NG PON technologies, conducted in the first quarter of 2010. The survey polled 99 professionals working with 72 different network operators. Among other things, the survey sought information in the following areas:
Recent and anticipated demand for bandwidth among main categories of users
Current and near-term plans for deployment of current-generation fiber access products
Knowledge of and interest in NG PONs
Catalysts to deploy NG PON equipment
Attitudes to different kinds of NG PONs and their use cases
Barriers to deployment
Key required features of NG PON equipment
Ranking of potential vendors in this area
Next-Gen PONs & Fiber Access: A Market Perception Study also examines key underlying demand issues, including historic and expected growth in bandwidth demand; and reviews the key standards governing next-gen PONs, examining their main features, advantages, and drawbacks.

DOWNLOAD TABLE OF CONTENTS
DOWNLOAD LIST OF FIGURES
PRINT EXECUTIVE SUMMARY

The survey also asked respondents about the criteria they use to choose suppliers and about their preferred potential suppliers of NG PON equipment. For a full list of the vendors ranked in our survey, click here.

Initially the intention of standards-setters was to try to get agreement on a single international standard for NG PON instead of the two standards that currently exist. In practice, despite strenuous efforts and some agreement on certain basic technologies, this proved impossible and there are two distinct standards, as well as several proprietary proposals around WDM PON. The main strengths and weaknesses of these technologies are set out in the excerpt below.
As the excerpt below shows, interest in NG PONs is already fairly high, with more than half of respondents to our survey saying that their company is already investigating or monitoring NG PONs. Interest in WDM PONs is already almost as high as interest in TDM PONs, while 1-Gbit/s Ethernet attracted the most current interest – most likely because this is already a relatively mature technology, with wide availability of equipment and some services already deployed. Only a small percentage of respondents said they had no plans to use any next-generation technology.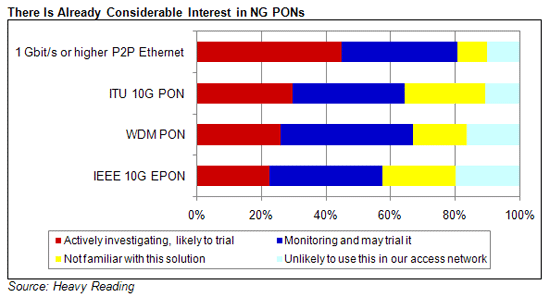 Report Scope and Structure

Next-Gen PONs & Fiber Access: A Market Perception Study is structured as follows:

Section I includes a full executive summary and report key findings.

Section II provides an overview of the key NG PON technologies and standards, their major features, advantages, drawbacks, and a timeline for product deployment.

Section III presents survey demographics and a list of selected companies that took part in the project.

Section IV examines demand factors and includes material from the survey on expected demand for bandwidth and high-end applications in future, as well as other research in this area by Heavy Reading and others.

Section V looks at current attitudes and plans for deployment of NG PONs and at the major barriers to deployment.

Section VI looks at network operator attitudes to the major vendors and their published plans in the area.

Section VII summarizes the report and offers some recommendations to vendors.

The report is essential reading for a wide range of industry participants, including the following:

Network operators: What catalysts are driving the development of NG PONs? Which suppliers are in the best position to meet your needs for next-generation access technologies? How will the use of NG PONs affect your business model going forward? What technologies are your competitors employing for different applications? What impact will the evolution of mobile broadband have on fiber penetration?
Equipment vendors: How interested are network operators in NG PONs? How do your NG PON development plans map to those of your competitors? Which NG PON standards do operators prefer, and for which applications? How fast is bandwidth demand rising industrywide, and how will future trends in bandwidth demand shape requirements for advanced access technologies? What criteria do network operators use when choosing suppliers for their fiber deployment plans?
Investors: Which suppliers are seen as best placed to benefit from the transition to next-generation fiber access technologies? Can NG PONs really meet all the varied needs of consumer and business customers, or will complementary solutions be needed? How is the business case for next-generation access technology being made, and how can it be more compelling? What barriers must sellers of NG PON equipment overcome? How can they keep costs of new solutions contained, while still making a viable business case?
Next-Gen PONs & Fiber Access: A Market Perception Study is published in PDF format.