16 MULTICORE PROCESSOR & SOFTWARE VENDORS PROFILED

59 pages of analysis covering the development of high-performance multicore processors for networking applications, including general-purpose multicore processors, integrated multicore processors, and 10- to 100-Gbit/s network processors

A review of multicore operating systems, development tools, and applications software available from three leading software vendors

In-depth profiles of 13 multicore processor vendors and a competitive analysis of their products, including full feature comparisons for both current and forthcoming offerings

Detailed product matrices examining key features – including power, price, and availability – of more than 60 different multicore processor products and product families



SIMON STANLEY
Analyst at Large,
Heavy Reading
Simon Stanley is Founder and Principal Consultant at Earlswood Marketing Ltd. Over the last six years, Stanley has written extensively for Heavy Reading...

More
To view reports you will need Adobe's Acrobat Reader. If you do not have it, it can be obtained for free at the Adobe web site.


Multicore Processors for Network Systems: A Heavy Reading Competitive Analysis
Multicore processors are now the heart of almost every type of networking device. Over the past eight years, multicore processors have developed from simple devices integrating two general-purpose cores into highly integrated system-on-chip devices with up to 100 cores and hardware acceleration for security and low-level packet processing. Multicore processors can be programmed in C or other high-level languages and are directly supported by multicore operating systems (OSs) and applications software from companies such as 6WIND, Enea, and Wind River.

The market for multicore processors in networking continues to grow. Many companies are using multicore processors for functions that were previously handled by application-specific integrated circuits (ASIC) or field-programmable gate arrays (FPGA). This has enabled telecom equipment vendors to develop a small number of generic packet-processing blades that can be customized in software to meet different application and service requirements. Multicore processors are the key to meeting carriers' and other customers' demanding requirements for flexible systems.

The first integrated multicore processors, using 130nm and 90nm technology, were introduced in 2004. The development of 65nm and 40/45nm silicon technology has allowed the integration of significantly more memory, high-performance cores, and enhanced network interfaces. The latest multicore processors integrate more than 12MB of cache memory and more than 100-Gbit/s networking input/output (I/O) bandwidth.

Multicore Processors for Network Systems: A Heavy Reading Competitive Analysis surveys vendors developing high-performance multicore processors. As such, it not only provides granular information on the components themselves – of interest to chip manufacturers and purchasers – but also provides insights into how the overall market for multicore processors is likely to develop – of interest to a wide audience, including carriers and investors.

The report is based on interviews conducted with 11 multicore processor vendors in the second quarter of 2010, previous interviews with all the vendors covered, and product documentation supplied by these vendors. These in-depth interviews also offer insight into how the market for multicore processors is likely to develop in the future.

DOWNLOAD TABLE OF CONTENTS
DOWNLOAD LIST OF FIGURES
PRINT EXECUTIVE SUMMARY

This report delivers a complete competitive analysis of network processors from 13 components vendors, covering more than 60 different products and product families, as well as three suppliers of multicore software. For a full list of companies analyzed in this report, click here.

The report offers detailed information on all types of high-performance multicore processors, including:
General-purpose multicore processors: Multicore processors based on general-purpose CPUs that can be used in high-performance networking systems
Integrated multicore processors: Multicore processors with integrated packet processing instructions, hardware acceleration engines, and networking-specific interfaces
10/100-Gbit/s network processors: Network processors with a mix of high-performance packet engines and hardware acceleration engines
There are six manufacturers with integrated multicore processors in production: Broadcom, Cavium, Freescale, NetLogic, Oracle, and Tilera. The highest-performance product from each company is shown in the excerpt below.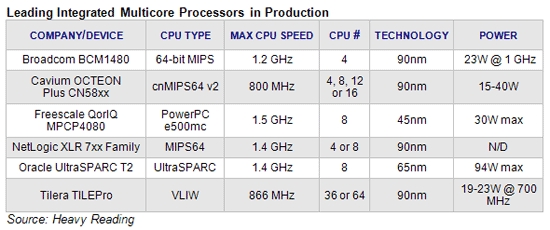 Report Scope and Structure

Multicore Processors for Network Systems: A Heavy Reading Competitive Analysis is structured as follows:

Section I includes a full executive summary and report key findings.

Section II presents an overview of multicore processor applications and architectures, including generic block diagrams.

Section III focuses on general-purpose multicore processors, including detailed vendor profiles and a competitive analysis of products now in production and announced products not yet available in production quantities. Full details for these products are presented in Appendix A.

Section IV covers integrated multicore processors, with detailed vendor profiles and full feature comparisons for both current and forthcoming offerings. Full details for these products are presented in Appendix B.

Section V includes detailed vendor profiles and feature comparisons for current and announced 10- to 100-Gbit/s network processors. Full details for these products are presented in Appendix C.

The report is essential reading for a wide range of industry participants, including the following:

Equipment manufacturers: Which component vendors are taking the lead in multicore processor availability? Which suppliers hold the advantage in delivering the price/performance and power consumption targets you need? What is the current state of the art for network processors, and how will that change in the future? What kinds of performance gains can you expect from products that are still in development or just now coming to market?
Components suppliers: How does your current product line compare with the competition? Will your product plans keep you a step ahead of your rivals, or do you need to revise your strategy to keep your competitive edge? What are the likely demand trends for different types of network processors? Are you in position to capitalize on those demand trends?
Investors: Which components suppliers have the strongest product lines, and which ones are more likely to struggle for customer acceptance? Which suppliers are in the best position to capture market share in this evolving product category? What are the hot private companies in this sector, and what are their prospects for profitability? Where is the most significant growth coming in this market, and which new products will meet that demand?
Multicore Processors for Network Systems: A Heavy Reading Competitive Analysis is published in PDF format.